Back in the 1970s, when "the battle for the Bible" was still being waged full force, James Packer gave what was for me a memorable address on biblical authority at a Wheaton College conference. He surprised no one by affirming his own strong support for the idea of biblical inerrancy. But then he went on to remind us that holding to an inerrant Bible by itself does not guarantee orthodoxy. We must, Packer said, be clear about the fact that the Bible points us to God's supreme revelation in our Lord and Savior, Jesus Christ.
What has stuck in my mind is the way Packer illustrated his point. He quoted from the hymn, "Break Thou the Bread of Life": "Beyond the sacred page, I seek Thee, Lord." In our devotion to the authoritative written Word, Packer said, we must always allow it to point us to the worship and service of the living Word.
A few years ago I was meeting with one of my doctoral students at Fuller, discussing a draft of one of his dissertation chapters. Something he said in our conversation reminded me of Packer's point, and I quoted the hymn-line to my student. "That's great!" he said. Then, being of a generation for whom lines from old hymns do not come to mind automatically, he asked me for the reference.
I reached to a shelf in my office where I keep several hymnals, choosing in this case The Trinity Hymnal — the edition originally compiled and published by the Orthodox Presbyterians. To my surprise, they had a different version of that line: they had us seeking Jesus not "beyond" the Bible but "throughout" it.
This is not the first time I have discovered a word change in The Trinity Hymnal. In "To God Be the Glory," for example, the editors have the Lord opening the life-gates so "that we may come in," rather than implying that all might gain entrance. I get the point — limited atonement all the way, even in our hymn singing.
I also get the point of "throughout" versus "beyond." And, frankly, it is an important point. In the ongoing sexuality debates in mainline Protestant circles, it is all too frequent that someone will counter an appeal to Scripture with the claim that "our authority is not a Book but the Jesus who calls us to a non-judgmental love of neighbor." (That is an exact quote from a recent conversation with a liberal Presbyterian.)
The truth is that we need both the Packer version and the The Trinity Hymnal version if we are going to be clear about God's will for our lives. God's written Word points us to the living Lord. But we know the mind of the living Lord only by paying close attention to what he teaches us in the written Word. Both "beyond" and "throughout" the sacred page. Of course, it is hard to incorporate both words into a sing-able hymn. But whichever word we use when we sing in church, we should be thinking clearly these days about the other version.
Richard J. Mouw is the president of Fuller Theological Seminary.
"Speaking Out" is Christianity Today's guest opinion column and (unlike an editorial) does not necessarily represent the opinion of thepublication.
Related Elsewhere:
Previous Christianity Today stories related to hymns include:
Psalms, Hymns, and Spiritual Songs | Worship music engages the eyes, not just the ears and tongues. (Slideshow, May 30, 2007)
'Hymn for Easter Day' | Charles Wesley's 'Christ the Lord Is Risen Today' bringsalleluia's historical significance to modern audiences. (March 24, 2005)
We Are What We Sing | Our classic hymns reveal evangelicalism at its best. By Mark Noll (July 12, 1999)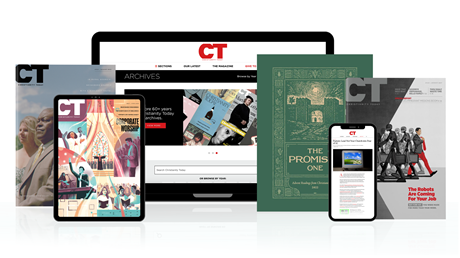 Annual & Monthly subscriptions available.
Print & Digital Issues of CT magazine
Complete access to every article on ChristianityToday.com
Unlimited access to 65+ years of CT's online archives
Member-only special issues
Subscribe
Finding Christ Throughout — and Beyond — Scripture
Finding Christ Throughout — and Beyond — Scripture