Translating 'the Son'
Thank you for Collin Hansen's cover story on translating the Bible for Muslim readers ["The Son and the Crescent," February]. Are we to be honest with the integrity of the translation, or do we compromise academic integrity for better comprehension? My mind says we must retain the integrity of Scripture by translating accurately. My heart says the purpose of Scripture is to communicate Christ's love and sacrifice on our behalf.
Paul became all things to all men so that he might save some. What might have been more important to him in translation issues? Can we trust Christ to accomplish his purpose with a less-than-accurate translation? I would rather err on the side of the compassionate Christ than on the side of the legalistic Pharisees.
Bob Nudelman
Chester, Virginia
I commend Collin Hansen for trying to give a balanced account of the difficulties. But a quote from me (p. 23, col. 1) appears in a context that suggests I oppose Rick Brown's approach. My 2005 article actually speaks favorably of Brown and his views at more than one point. For instance: "Rick Brown indicates that in some contexts one may use an expression like 'spiritual Son of God' to head off the misunderstanding. In such a context the less literal translation may be better in representing the meaning." And, "Thus Brown's suggestion … involving the use of footnotes and other aids, may prove superior in the long run."
Vern Poythress
Professor, Westminster Theological Seminary
Philadelphia, Pennsylvania
Christianity Today helpfully got to the crux of Bible translations: We must consider not only how we understand the text but how it will be heard by the listener. A couple minor facts that Collin Hansen may not have had space to include:
In the two International Journal of Frontier Missions articles Hansen mentioned, Rick Brown added some qualifications for any non-literal wording of "Son of God" in Bible translations: (1) using expressions like "God's beloved Christ" is just one of six approaches described; (2) different wording could be used only where it was roughly synonymous, meaning there was no change of meaning in the sentence; (3) whenever a non-literal wording is used, a literal translation of "Son of God" must be provided in a footnote, along with an explanation of its meaning in that passage; and (4) in passages where the term refers to the pre-existent Son, the eternal Word of God, the translation and explanation would need to match that meaning.
Greg H. Parsons
Global Director, U.S. Center for World Mission
Pasadena, California
Qur'anic and Islamic perceptions erroneously interpret "Son of God" as a physical relationship producing a son. Muslims' identity is inextricably linked to perpetuating this idea. As representatives of God, our role is not to accommodate a false reality, but to help Muslims realize that their identity has been falsely constructed and tied to something not based in reality. We need to help Muslims understand that letting go of this error will not end in self-destruction.
As God's ambassadors, we are to be faithful to the text while lovingly helping Muslims disentangle their identity from the misunderstood conflict to discover the God who took on flesh. This Messiah came destroying Satan and all his works, removing our shame by adopting us into his family as children of God.
Roy Oksnevad
Muslim Ministries Program, Wheaton College
Wheaton, Illinois
Gospel-Centered Sex
Let's assume that Mark Regnerus's description of marriage—men pay with marriage to get sex, while women pay with sex to get security and commitment—is sociologically accurate ["Sex Economics 101," February]. Then his three church action steps are helpful. We should emphasize marriage as a developmental priority, help Christian young people meet each other, and challenge men to woo women.
But the Christian call to discipleship is based on theology, not sociology. Jesus challenges us to reject manmade realities and live in the reality of the gospel. That reality is one in which God loves all equally, and each relationship is an exercise in conforming to that reality. The church must first realize that the gospel informs all relationships, most certainly marriage. On that basis, we can use sociology to bring marriage into the reality of the gospel—not the other way around.
John Torgerson
Wisconsin Dells, Wisconsin
The Few, the Proud
I'd like to thank Chuck Colson for his focus on doctrine ["Doctrinal Boot Camp," February]. I am 22, grew up in church, and rarely hear doctrinal preaching any more. People my age who claim to be Christians think premarital sex is just fine, entertain serious thoughts about evolution, and compromise on the authority of Scripture. My generation needs doctrine, but we can't get it because no one teaches it anymore.
So pastors, help my generation learn the truth of the Scriptures, or at the very least, stop complaining about the younger generation if you won't help us.
Leah Sargent
Greenville, South Carolina
As an older adult, I will not be sending any young recruits to Colson's boot camp. It's one thing to stop teaching basic doctrine, quite another to equate living "by the rules" with the Christian faith. Jesus explicitly contradicts this approach many times in the Gospels, calling us to follow him instead of a set of principles.
Colson is also wrong about the goal of Christian discipleship: "to conform to the truths of the Christian faith … ." Rather, we are to be transformed into the image of Jesus by the power of the Spirit as we behold the face of God.
Gary Looper
Dallas, Texas
Correction: The February cover story incorrectly summarized a statement from Richard Yarbrough as saying some African "believers" think God has no son. Yarbrough was referring to African Muslims.
What got the most comments in February's CT
41% The Son and the Crescent by Collin Hansen
8% Doctrinal Boot Camp by Chuck Colson
Readers' Pick
The most praised piece in February's CT
Words That Nourish
Marilyn Chandler McEntyre
Worth Repeating
"Twitter is a great tool to overthrow Middle East dictators, but too limited to expose heretics in Christendom."
Ron Hodgman, on why Christians should read Rob Bell's new book on hell rather than engage it online before it releases.
CT Liveblog: "Rob Bell's Upcoming Book on Heaven and Hell Stirs Blog, Twitter Backlash on Universalism," by Sarah Pulliam Bailey
"This stuff has no business being in a place of worship, unless your god is social responsibility."
Mark Miwerds, on political and social agendas being discussed in a church building.
CT Politics: "Michelle Obama Marks Campaign Anniversary at Andy Stanley's Megachurch," by Sarah Pulliam Bailey
"We can't accept everything out there, but Christians need to be a witness in the midst of reality, not apart from it."
Maggie J., in response to readers who disagreed on what Christian movie-goers should watch or recommend.
CT Movies: "The Most Redeeming Films of 2010"
"We have done a number of marriage classes and Sunday school classes and always feel like freaks. They don't describe us and our desires and needs."
Diane Adams, explaining how she and her husband struggle to fit the expectations designated by gender.
Her.meneutics: "When Gender-Based Parenting Goes Too Far," by Caryn Rivadeneira
"Why do we need to blame someone for being single? It's not something to be 'fixed.' It's a life stage, not an affliction."
Dani, responding to the heated discussion of the book review of Marry Him.
Her.meneutics: "Are Single Women Too Picky?," by Bonnie Field
Related Elsewhere:
The February issue is available on our website.
Letters to the editor must include the writer's name and address if intended for publication. They may be edited for space or clarity.
E-mail: cteditor@christianitytoday.com
Fax: 630.260.8428
Have something to add about this? See something we missed? Share your feedback here.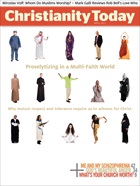 This article is from the April 2011 issue.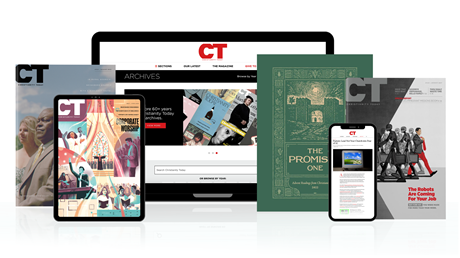 Subscribe to Christianity Today and get access to this article plus 65+ years of archives.
Home delivery of CT magazine
Complete access to articles on ChristianityToday.com
Over 120 years of magazine archives plus full access to all of CT's online archives
Subscribe Now
Readers Write
Readers Write