An article titled "The Evangelical Adoption Crusade" appeared Friday in The Nation, lodging a hard-hitting critique of Christians and adoption. Those who disapprove of Christian adoption efforts do so for many reasons. Some are troubled by real and perceived ethical concerns. Some feel an orphan's ethnicity matters more than their need for a family. Some have encountered purported Christians who bear little resemblance to Jesus. But whatever the motives, supporters of Christian adoption and orphan care can gain most not by merely dismissing the critics but by learning from them—even when we disagree profoundly with their claims and conclusions.
Such is the case with "The Evangelical Adoption Crusade." Author Kathryn Joyce spent more than a year seeking to find and amplify what she feels are the worst flaws of the Christian adoption and orphan care movement. But while the article may distort as much as it reveals, Christian orphan advocates would do well to listen to Joyce's concerns. Even if mistaken in many regards, a critic will almost always wake us to legitimate issues if we're attentive. Several vital reminders, in particular, can be taken from this article:
Affirm the complexity and engage it wisely. Every orphan's story includes tragedy, and bringing healing to tragic circumstances is never simple. We must acknowledge this and talk frankly about hard issues like how to do more to hold fragile families together and how to appropriately honor birthmothers. If we're serious about loving orphans well, we must do the hard work of study, preparation, and continual recalibration. The history of efforts to help the needy—both secular and religious—is rife with good intentions gone amuck. Christians should lead the way in always pairing compassion with knowledge.
Ensure that we work with trustworthy organizations. Whether in adoption, orphan care, or any other noble effort, there are always plenty of charlatans. There are also many others with good intent but poor practices. Confirming the quality of an organization before working with it is one of the most important things we can do. (This is one important purpose of the Christian Alliance for Orphans.)
Root out irresponsibility. Even the very best social movements have reckless and unhelpful elements on their fringes. As people of integrity, Christians should be the first to root out irresponsible practices among self-labeled Christian organizations. We must do this gently and graciously at first, but if the behavior persists, we must take aggressive action to bring change.
Make clear that we care for orphans because it reflects God's heart. The article depicts many Christians as adopting simply to proselytize. This is hard for me to imagine given the immense cost, sacrifice, and lifelong commitment of adoption. (There are far easier ways to share one's faith.) But still, the author's perception reminds us that our language and manner should never imply that adoption is merely a scheme to "get souls into heaven." Yes, Christians desire that every person would know the love of God personally, including orphans. But we care for orphans foremost as a reflection of the heart of God, who himself is a "father to the fatherless" and "sets the lonely in families" (Ps. 68).
Admittedly, "The Evangelical Adoption Crusade" misrepresents much and misses even more. It bends the intention of quotes offered by thoughtful adoption advocates who were willing to be self-critical. It presents the reckless Baptist group arrested in Haiti as the emblem of Christian adoption and describes this episode (perhaps wishfully) as "what most people will remember about adoption in Haiti." It misses almost entirely the growth of special needs, older child, and foster adoptions. It ignores the growing vigor among Christians to match international adoption with all manner of in-country care and localized adoption efforts.
Ultimately, "The Evangelical Adoption Crusade" spotlights many complex questions and sad stories, but misses the far larger reality. That reality is that there are millions of children who will wake tomorrow morning without the love of mother or father. Many of them live in orphanages and on the streets. These children need families. Yes, great wisdom must be applied in discerning what is truly best for each child. Some can be reunited with relatives. Some will need to spend years in an institution. But a great many, we can pray, will find the love and belonging of family via adoption, both local and international. 
Christians must always pair compassion with knowledge in caring for orphans, and even an article like "The Evangelical Adoption Crusade" is an important means for weighing how best to do so. But it provides no excuse to ignore the cry of the orphan. The world is hurting, and to address this hurt wisely will always come with difficult questions. But we dare not turn from sacrifice and hard decisions and return to comfortable homes and lives simply because the cost and complexity are too great. That was never Jesus' way—and it must not be ours.
Jedd Medefind is president of the Christian Alliance for Orphans and formerly led the White House Office of Faith-Based and Community Initiatives.
"Speaking Out" is Christianity Today's guest opinion column and (unlike an editorial) does not necessarily represent the opinion of the publication.
Related Elsewhere:
Previous articles on adoption include:
Strong on Zeal, Thin in Knowledge | Lessons from Haiti's arrest of American Christians trying to take children out of the country. By Jedd Medefind (Feb. 2, 2010)
Abba Changes Everything | Why every Christian is called to rescue orphans. (July 2, 2010)
 Churches Adopt Adoption | Churches are getting real about adoption's challenges—and helping families after the child arrives. (July 6, 2010)
 210 Million Reasons to Adopt | Haiti's devastating quake reminds us that orphans matter to God. (April 7, 2010)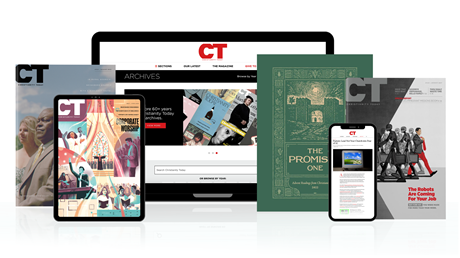 Annual & Monthly subscriptions available.
Print & Digital Issues of CT magazine
Complete access to every article on ChristianityToday.com
Unlimited access to 65+ years of CT's online archives
Member-only special issues
Subscribe
The Adoption Crusade
The Adoption Crusade