And when the sixth hour had come, there was darkness over the whole land until the ninth hour. And at the ninth hour Jesus cried with a loud voice, "Eloi, Eloi, lema sabachthani?" which means, "My God, my God, why have you forsaken me?" —Mark 15:33-34, ESV
Here Jesus speaks a word we could have spoken. Not always, not everywhere. But there are times when this word has become our word, words he may have taken right out of our mouths: "My God, my God, why have you forsaken me?"
Sometimes this word remains unspoken, but the sentiment is a steady reality. There is no great anguish. There are no tears. There is just the daily, ongoing experience of God's absence. We don't feel God's presence in prayer or worship, but we still go through the motions. We read the Bible faithfully, but gain no flashes of inspiration. This reality has become such a part of our lives we don't panic. We recognize that extraordinary spiritual experiences are few and far between and that we live in vast stretches of between. We wouldn't quite say we're forsaken, but neither would we say God is a living reality. But at the end of another dreary day of divine absence, when we turn out the bed lamp and lie still in the dark, waiting for sleep to overtake us, we wonder, Why don't I experience God more?
Sometimes the experience of God-forsakenness is much more keen. You are at a place of deep and profound need. You are staring into the face of death. Or your spouse is. Or your child is. Or you've lost a job or are about to lose a marriage. Or you are losing your faith. But whatever the crisis, it is a crisis. My God, you hang on a cross, and it's excruciating, and this would be an awfully good time for God to show up, to prove that your faith is not ...
1
SoulWork
In "SoulWork," Mark Galli brings news, Christian theology, and spiritual direction together to explore what it means to be formed spiritually in the image of Jesus Christ.
Mark Galli is former editor in chief of Christianity Today and author, most recently, of Karl Barth: An Introductory Biography for Evangelicals.
Previous SoulWork Columns: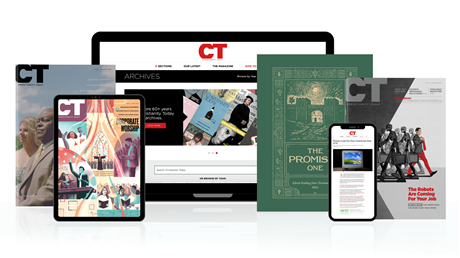 Find hope and historical insight. For a limited time, explore 60+ years of CT archives for free!
Daily devotions from Timothy Dalrymple during this pandemic.
Hundreds of theology and spiritual formation classics from Philip Yancey, Elisabeth Elliot, John Stott, and more.
Home delivery of new issues in print with access to all past issues online.
Join now and get print issues access to archive PDFs.
Mercifully Forsaken
Mercifully Forsaken