true
After about a decade as the reigning queen of contemporary Christian music, Rebecca St. James has been mostly laying low for the last few years—well, at least on the musical front. She's written a number of books (including S.H.E., Wait for Me, and Loved), and, while living in Los Angeles in recent years, she has dabbled in acting, even scoring the lead role in the pro-life movie Sarah's Choice.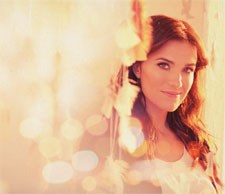 The big news out of RSJ's camp these days is two-fold: She's done her first album in almost five-and-a-half years; I Will Praise You releases today through Reunion Records. And she's in the midst of planning for her late April wedding to Jacob Fink, a musician she met last year through mutual friends in LA. (He proposed on Christmas Day; she made the announcement on January 3. The wedding will be in Los Angeles.)
So now the young woman who has been, in a sense, the poster child for purity is about to get married. The girl who sang "Wait for Me"—a song asking her future husband, whoever he might be, to save himself for marriage—will soon move from Ms. to Mrs.
We recently caught up with St. James to discuss her new album, her engagement, the challenges of waiting—of occasionally "kind of dying emotionally," as Rebecca puts it—and how she's grown in recent years.
Congratulations on your engagement!
Thank you. It's incredible. And long awaited!
Jacob proposed to you on Christmas Day. Was that a surprise?
Totally. It was the first time I've ever brought a guy home for Christmas; I had spent Thanksgiving with his family. He kept on saying, "This is going to be the best Christmas ever," and I was like, "Well, I hope you enjoy hanging with my family, and I hope you're not disappointed." I had no clue he was planning [to propose]. It happened in my parents' backyard in the snow. It was absolutely magical.
What does Jacob do?
He's a bass player in a band, so we're navigating all the schedules now. After we're married, I'm going to do my shows for maybe three days every couple of weeks, and then be with him the rest of the time.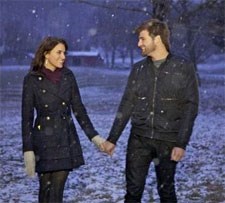 You're not going to fire your bass player and hire Jacob?
No! (laughing). I've always hated the idea of my husband playing for me or managing me or doing anything like that. So, that's not going to happen.
Are you going to keep your stage name as a musician?
Yeah. And I'll be Rebecca Fink for everything else.
Do you see yourselves writing music together?
Absolutely. He's very creative on a whole lot of levels, and I look forward to that.
You've long been known as the face of practicing purity, the girl who sang "Wait for Me." How will that role change as a married woman?
I'll obviously still sing "Wait for Me," because it's one of my more known songs. But now I'll be able to tell the end of the story; getting married is the fulfillment of that purity message. And for that message to have its true power, this wedding had to happen in God's timing, not mine. A friend spoke that into my life years ago: "You will get married, because it's the ending to that story and the beginning of a new one." So I feel the incredible significance of this season in my life. On a ministry level, there's just so much more power for the Holy Spirit to move through that message because of our marriage. We've talked about this in our premarital counseling.
You're 33, so you've practiced waiting for a while. I know some Christian singles—men and women—who get tired of waiting for sex and finally say, "I'm going for it."
Yeah.
Did you ever feel that way, or did you ever doubt your own message and think, Is this really worth it?
It's not that I doubted the message. It's more that I just struggled with loneliness and even feeling a bit embarrassed, you know, being in my thirties and not married. I think our culture caters to people who are married. It's just much more socially accepted to be married in your thirties …
Especially in evangelical circles and in the church?
Yes, exactly. Now, I've honestly found it easier living in LA because there are so many career people, especially women, in their thirties—single women who are focusing on careers. I think it's harder in the South and in middle America to be single. I didn't feel as much pressure in LA, and I think that was God providing for me in a way. I have a lot of single friends, and it's not like they've all gotten married and I'm not. I think God for that!
But I have struggled with loneliness. I've questioned, "God, do you have somebody for me? Have I written the song about nobody—in my case, anyway? Maybe it was just a song for other people to sing?" I've wondered, Is it even your plan? Deep down I believed he did have someone for me, but in my weak moments I questioned that. A few years ago, I felt like God called me to take my hands off of that dream to get married, and to entrust that dream entirely to God to the point of saying, "If it's your will for me to be single, then I trust that you have a very good reason." That was a grieving time. That was hard, and I had to come back to that place quite often—to find the balance between still hoping that there is somebody, to where you kind of die emotionally, going, "Woe is me." That's where the balance comes in, and it's very challenging.
Were there times when you shook your fist at God?
There have definitely been times where I have been angry with God and disappointed with him in that area, and in other areas too, with life not panning out how you think it will. In your late teens and early 20s, you're so idealistic, thinking, If I do things in the right way and if I pursue God, life is going to be easy. And it's not, you know? Life is life. Bumping up against real life and realizing that it's not perfect and idealistic was challenging for me. But God has also taught me to hope in him despite my circumstances.
You've spent part of the last few years pursuing acting. Was that just a phase?
I never intended to give up music and turn solely to acting, but I'm happy with how everything turned out while I pursued it. Now, music is the focus, but I'm still looking at other acting opportunities; we've got two on the table right now for other films. I've been involved in five or six films since I've been in LA, and it's been an awesome journey. And if the right opportunities come along, I would love to continue acting, because I love the art form.
It's been almost 5½ years since your last studio record. Does this feel sort of like a "comeback" for you?
That's a long time, but it doesn't feel like a comeback, because I've still been singing and doing shows and writing music. But to do a full-length new album, it's been a while.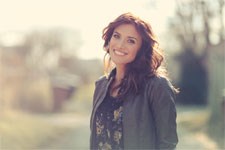 So why now?
It just felt right. I've had some time to be away from the art form of music enough to appreciate it in a fresh, new light. They say change is as good as a holiday, and I think the change of focusing on films and books predominantly for a while really refreshed me for music.
It's a straight-up worship album, and not a pop album. Why?
It just felt like the right approach. It's only my second worship album—well, not counting one I did when I was 13 in Australia! Worship has always been, ever since I first started, an essential part of what I feel called to do. For this album, I wanted fresh worship songs to engage people with God.
You sound a little different on this album, a bit more mellow and restrained.
It's interesting you picked up on that. It's a softer part of my voice, and that's happened over the last few years. It's just a different season in my life.
It's definitely not your rock voice.
Exactly. It's not quite as intense or in your face as my old sound. It's much more of a peaceful, easier tone for me at this stage in my life.
I had to laugh at some of the song titles—about God, or your fiancé? Ha!
I know! (laughing)
"You Never Let Me Go." "You Hold Me Now." And my favorite, "In a Moment."
Don't forget "You Make Everything Beautiful"! (laughing) Actually, my brothers are going to sing that at our wedding, actually.
The press kit that came with your new album says it's "a culmination of a powerful season of spiritual and personal renewal." Elaborate on that.
It's true. There's a freshness that I have now that I didn't have a couple of years ago. I could have chosen to put an album out a couple of years ago, but it wouldn't have had much heart or soul or passion, and I don't want to do that. So I'm bringing it out now, when there is that sense of renewal on a personal level because of all that God's done in my life. And being in love and starting a whole new life, that's renewing, healing. It's just a lovely season, and it just feels very good to have a new album at this time.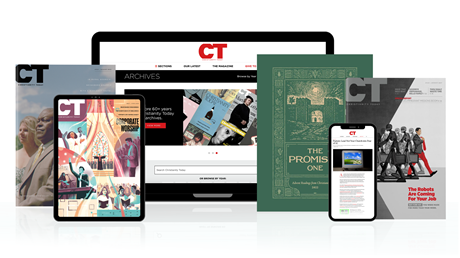 Annual & Monthly subscriptions available.
Print & Digital Issues of CT magazine
Complete access to every article on ChristianityToday.com
Unlimited access to 65+ years of CT's online archives
Member-only special issues
Subscribe
The Wait Is Over
The Wait Is Over