The Magazine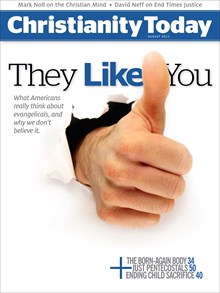 This feature is for subscribers only:
Subscribers get full print and digital access, including:
10 award-winning print issues
Standard and Reader Friendly PDFs of each issue
Full web access to ChristianityToday.com
20+ years of magazine archives
Table of Contents
In Every Issue
Do They Like Us?
Yes, so let's move on.
No More Band-Aids: Shannon Sedgwick Davis Wields Law to Halt Genocide
Why the president of the philanthropic Bridgeway Foundation says money alone won't fix the problem.
Loading