true
Emma Stone was hardly alone in her ignorance about daily life for many African-Americans in the Deep South during the days of segregation, at a time when the civil rights movement was just gaining speed.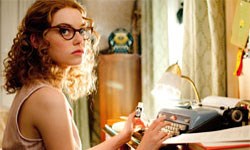 Stone is only 22, and she grew up in Arizona, a long way from the tensions that still sometimes rear their ugly head throughout those southern states. But this summer's busiest actress (Easy A; Crazy, Stupid, Love; Friends with Benefits) now knows the story quite well thanks to her lead role in The Help, opening nationwide tomorrow.
In the film, Stone plays Skeeter, a new college grad who wants to publish the story of several black maids in 1960s Mississippi. Stone learned plenty about their lives in preparing for the role, in reading the best-selling Kathryn Stockett novel upon which the film is based, and through conversations with co-stars Viola Davis and Octavia Spencer, who play two of the maids—"the help"—in the movie.
"I found myself learning the history of the time period in the Deep South," Stone said in a recent post-screening Q&A attended by CT. "Being raised in Arizona, my knowledge of the time period consisted of the stories of Rosa Parks and Martin Luther King, Jr. That's it. How are so many people from my generation not aware? This just happened. And yet we learned so much about ancient Roman history.
"On a personal level, I'm so grateful this film came into my life. It shone light on this period in history that I knew remarkably little about. I felt like Skeeter and I were learning at the same time."
Spencer (Seven Pounds; Dinner for Schmucks), who plays the feisty, outspoken Minny Jackson, had some reservations about playing a maid. "The first time I read through the manuscript I was a little taken aback," Spencer said at the same Q&A. "There was the dialect. But as I continued to read, I realized Kathryn wasn't making a typical maid story. She was sharing from a perspective that hadn't been done before and I thought that was really refreshing. It was one of the most special things I'd read in a long time."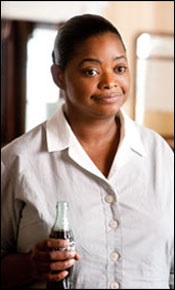 Spencer, friends with Stockett and director Tate Taylor for years, admits being in the film wasn't always easy. "It was a very oppressive time in those days," she said, "and that wasn't a great mindset to be in every day. But it made me realize how much we've forgotten and how grateful I am. Even though Minny and Aibileen and Skeeter and all these women are fictitious, they represent scores of real people. I felt compelled to be so grateful for my life today and all the opportunities I have, and I think that's what made The Help even more meaningful to be a part of."
Davis had plenty to say about the film and her role as Aibileen, a withdrawn maid who takes her Christian faith very seriously.
"It wasn't just a chance for me to create a character that was interesting and complicated," Davis (Doubt; Eat Pray Love) said in the film's production notes. "But it was also a chance for me to be in a movie that illuminated a part of our history that we have a tendency to be silent about." She also admitted a reluctance to play Aibileen because of the "stigma attached to playing a maid in 2011," but notes that her mother, Mary, who spent years as a maid, was part of her inspiration.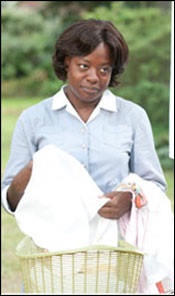 "[My mother] had an eighth-grade education," Davis told The Chicago Sun-Times. "It's not that she wasn't capable. It's not that she didn't have gifts. She didn't have the opportunity to live out her gifts. It's the saga of being a woman of color in those days and knowing there were no choices for you.
"A huge generation of African-American women went to their graves without ever uttering a word about their real hopes and aspirations. Nobody ever asked them, 'What do you want to do with your life? What are your dreams?' No one invested in their potential. It was just understood that they would live the lives of their grandmothers and mothers. That seems so foreign to us now—a generation where everyone wants to make his or her mark. Our mothers gave us that baton to dream big."
Maid from memories
Stockett wrote her first novel, The Help, in the aftermath of 9/11. Taylor, her childhood friend and director of the movie, says he was in Los Angeles and Stockett in New York when they had a phone conversation "about how everything was different and nothing felt right. She said, 'You know what's weird? The only thing that would make me feel better right now is if I could go meet with Demetrie'—the woman who worked for her family for 32 years."
These memories of the black maid who helped raise her inspired Stockett to write a novel, which took her five years to complete. The Help received 60 rejections from literary agents and Stockett was close to giving up on the story when she gave it to her friend Taylor to read. "I was blown away. I was moved by the truth of the story, about these unlikely women coming together to create change in Mississippi in 1963."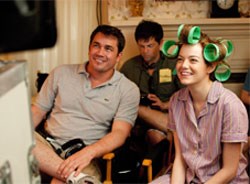 Taylor had been raised by a black maid himself. "This was our childhood. Kathryn and I weren't quite raised like the characters in the book, because we were raised in the '70s. But our mothers were single moms who had to work. And they, like the women in the story, needed to get help with the children. Kathryn and I like to refer to the women who raised us as our co-mothers. Mine was Carol Lee and hers was Demetrie."
Taylor encouraged Stockett to resist giving up on the project, and said that if it didn't get published, he would make it into a film. And when plans were underway for the movie, in 2009 Penguin Books finally published The Help, which stayed on the New York Times bestseller list for 103 weeks, six of those at number one.
In the movie, bringing these characters together in a believable way was a huge task for Stockett and Taylor. "These women would not have been allies at that time for reasons of race and class," Taylor says. But there was something in each of these women that recognized they needed each other to be agents of change.
"It's easy to be quiet," Taylor says. "You think that there is no benefit from speaking up, or maybe you are just lazy and want to go with the status quo. But I think what this book shows people, and I hope the movie will show people, is that the smallest thing can affect change.
"I hope The Help will make people stop and consider their past and start sharing their own personal stories about what someone meant to them. It's honoring these people, past and present, because these characters are heard and seen in this movie and that serves as a touchstone for remembrance and tribute for the people watching."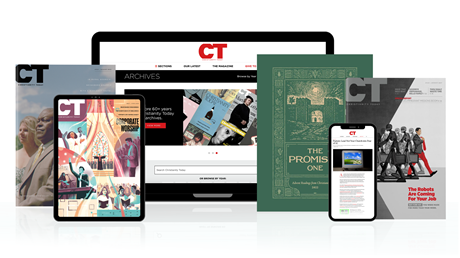 Annual & Monthly subscriptions available.
Print & Digital Issues of CT magazine
Complete access to every article on ChristianityToday.com
Unlimited access to 65+ years of CT's online archives
Member-only special issues
Subscribe
Cast and director of 'The Help' tell their stories
Cast and director of 'The Help' tell their stories