true
By the time he was in his mid-teens, Ben Hall was playing guitar like Merle Travis, Chet Atkins, and Charlie Louvin, winning thumb picking contests left and right. By the time he was a student at Nashville's Belmont University, Hall had caught the eye of Louvin himself, prompting the legend to ask, "When can you go to work with me?"
Hall said he had to finish college first, to which Louvin replied in a huff, "You don't need to be in school. You are meant to be playing that guitar!"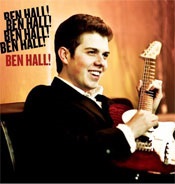 The two reconnected in the summer of 2007, on Louvin's 80th birthday. Louvin invited Hall to join him on tour, and the rest is history. Louvin died earlier this year at the age of 83, but not before he had introduced the young Hall to the world—and to his record label, Tompkins Square, which released Hall's solo debut in March. The album features some terrific guitar picking as Hall covers classics by Travis, The Louvin Brothers, Roger Miller, Woody Guthrie, a few jazz standards, and more. (Click here to hear a sample.)
We recently caught up with Hall, who first started playing at the age of 6, to talk about the album and his unique style of music. The 22-year-old Hall talked to us from his Nashville home.
How would you describe the music you play?
I like to call it hillbilly Jazz. It's heavily influenced by the sounds of Merle Travis and Chet Atkins, my two favorite guitar players and musical heroes. Almost everything on the album is centered on the thumbstyle technique—the thumb plays the bass notes and chords while the first two fingers play melody and harmony notes. It gives the listener the idea of hearing more than one guitar, and it also comes in handy when I can't afford a band.
What turned you on to this type of music?
At the age of six, I discovered traditional country music, by way of my dad's reel-to-reel tape collection. He had everything imaginable: Johnny Cash, Hank Williams, Bob Wills, Charley Pride, etc. I immediately fell in love with the music. Everything about it intrigued me, and I soon began to dig deeper in my own time, reading books and buying my own music. Soon, I discovered the sounds of Chet Atkins, casually trying my hand at imitating the distinct sound. But, the pivotal encounter happened when I was 12 years old on a family vacation to the quaint town of Mountain View, Arkansas. I was introduced to Comer "Moon" Mullins, a relatively unknown champion thumbpicker. I had never heard anything measuring up to how he played. He was kind enough to take some time showing me a few licks, and within two hours, I had the thumbpicking bug. My musical tastes haven't been the same since.
Why don't we hear more of this kind of music?
The traditional style of thumbpicking is on the decline. Like almost every other genre of music, preferences have changed in time, and the style has become more progressive. Amazing players like Tommy Emmanuel have introduced listeners to a brand new way of using this style. However, I'm sure Tommy would be the first to tell you there's nothing quite like Merle's way of playing.
Merle Travis revolutionized guitar playing, paving a way for several to make a career out of playing solo guitar in country music. Chet Atkins is the most famous example of a Travis protégé. Although Travis didn't invent the style, he took it to the spotlight in the 1940s. It was a brand new approach, and he should always be credited for increasing the efficiency of one guitar.
What role did Charlie Louvin play in your life?
Charlie Louvin was a hero from the first time I heard the Louvin Brothers. One of the highlights of my life came when I met him in June 2007 while I was at Belmont. I couldn't join him at that time, but I was fortunate enough to be able to work many dates with him over the next three and a half years.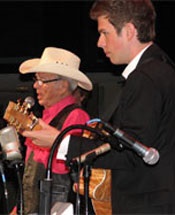 As a musician, he taught me harmony and the importance of living a song before trying to interpret it for an audience. I know he lived every song he ever sang. The feeling in his voice is unmistakable. But more importantly he taught me many life lessons. For instance, Charlie believed in taking his music much more seriously than he took himself. Even at 83 years old, he never acted like a star. He even walked out on stage with the band. He never hid from his audience. Such a wonderful example of humility, graciousness, and modesty, but he always took the music seriously. Charlie Louvin went above and beyond my expectations.
How did you react to the news of his death?
I was at home in Nashville when I got the news. He and I shared a very close friend who called me about 5:30 a.m. Nobody was surprised of the outcome, although his fight with the cancer was remarkable. Even in his very last days, he was still teaching lessons of persistence and determination. I've never seen anyone fight it like he did. Thankfully, we had a nice visit exactly a week before he died. Although he slipped in and out of coherence, we had a brief sentimental conversation that I'll treasure forever.
Don't get me wrong, Charlie was not an easy person to get know, and he was not always an easy person to understand. But I always felt like I understood him, and I had a good view of a tender side that many people never saw. We both shared the love of photographs, and I always admired a huge picture of him and Roy Acuff, displayed in the Louvin Brothers Museum. The picture featured the two legends side by side, walking down the hallway of the Grand Ole Opry House. On my first night of working with him at the Opry, we walked down a hallway and Charlie suddenly stopped and said, "Right here is where that picture of Acuff and me was made. I bet we could get that photographer to take a picture just like it of me and you." Well, that picture means everything to me. It doesn't just remind me of my first night at the Opry and fulfilling a lifelong dream, but of Charlie's subtle way of trying to capture a special moment—and make a rookie kid's night that much brighter. He was one of a kind.
Who are your musical role models today?
I'm still looking back for influence, although Nashville is full of great musicians today. I just have a passion for keeping the traditional sounds of yesterday's music alive.
Tell me about your spiritual journey, and how your faith affects your music.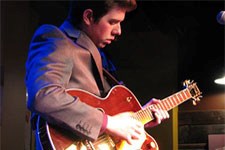 My faith is the reason for the music. God laid this talent in my lap, and I think he expects me to use it for the betterment of the world around me. Because of the music, I've had so many encounters with people all over the world. In fact, my best friendships have all been made because of the music. It is such a beautiful way of a communication, a universal language that reaches many people.
I pray for daily growth and development in my spiritual walk. At this point in life, although my future may seem uncertain, I've found a peace that only comes from God. I'm trusting him for the directions.
On your new album, you only sing on a couple songs. Do you prefer instrumentals?
I enjoy singing, but I don't consider myself a singer. Instrumentals allow for a little more creativity on my part.
You only have one original on the album, "Mimi and Me." Do you prefer to cover others' songs?
I seldom feel inspired to write my own tunes; it's just not my strong suit. There are too many great songs out there, without me clouding the market with questionable melodies.
What do you hope listeners get out of the album?
I hope they hear the passion that I put into these pieces. Each song has certain significance and importance to the album. Maybe it'll help to introduce some folks to thumbstyle picking.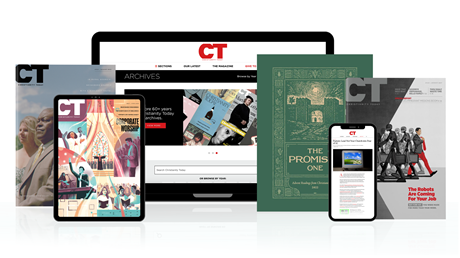 Annual & Monthly subscriptions available.
Print & Digital Issues of CT magazine
Complete access to every article on ChristianityToday.com
Unlimited access to 65+ years of CT's online archives
Member-only special issues
Subscribe
Louvin' the Music
Louvin' the Music