Shock and disgust. Those words best describe the public's reaction to PETA's most recent campaign. In a decision that can only be described as true to form, the 31-year-old Virginia nonprofit has once again chosen a campaign method that overshadows its own cause.
Continuing its by-any-means-necessary approach to animal advocacy, People for the Ethical Treatment of Animals announced the launch of its own porn site. Peta.xxx will include pornographic material mixed with graphic images of animal abuse. Spokeswoman Lindsay Rajt justified the tactic explaining, "The racy things we do are sometimes the most effective way that we can reach particular individuals."
Perhaps my favorite response to the misguided idea came from a Feministe writer who sarcastically speculated, "Definitely sounds like an effective way to get people to go vegan—associate animal cruelty with sexual arousal. I see absolutely no potential downsides."
Jokes aside, PETA's new campaign marks an escalating pattern of misogyny. Most of us are familiar with PETA's "I'd rather go naked than wear fur" campaign, in which celebrities pose nude. PETA has also employed numerous body-shaming tactics that included a billboard picturing a fat woman with the caption "Save the Whale, Lose the Blubber. Go Vegetarian." In another ad that numerous airports banned from the walls of their security lines, a woman's body was pictured through the lens of a body scan with the following words printed across her lingerie: "Be proud of your body scan: Go Vegan." It should also be noted that neither ad pictured the woman's face.
Animal rights and women's rights are by no means mutually exclusive, which is one of the most unfortunate things about PETA's strategy. We do not have to choose one cause over another, but PETA clearly has. If the objectification of women somehow promotes its agenda, then so be it.
But perhaps even more unfortunate is that PETA's methods obscure their own message, a message that Christians need to hear. No, I am not talking about the importance of caring for animals, for which there is ample scriptural support and Christians have long supported. Instead, I am referring to the theological component of animal cruelty, an issue that Christians are less likely to consider but has entirely captivated PETA, whether they recognize it or not.
PETA's work, as misguided as it frequently is, strives to accentuate the evil of innocent suffering. For Christians, this concept is a theological one and it is deeply connected to the center of our faith. For PETA, it is the center. Both groups would hold to the idea that the innocent should not suffer, so when an animal suffers and dies at the hands of humanity for no reason at all, many viscerally understand the wrongness of it.
This reaction is quite possibly a God-given one. In fact, it sheds an important light on the history of our faith as it relates to animals. More specifically, it helps us to understand the practice of atoning sacrifices that we find throughout the Old Testament.
It is easy to read Old Testament accounts of sacrifice and assume it was an easy, commonplace practice. Perhaps it was for some people. But I suspect the sacrifice of animals was meant to entail more than a dispassionate, forensic exchange. There is a reason Israelites did not atone for their sins through sterile monetary payment or the neat sacrifice of corn. Animal sacrifice, in addition to satisfying the punishment for our sin, was a horrific visual. It forced the Israelites to see the ugliness of their sins. They witnessed the evil of their transgressions and learned that sin has real and tragic consequences.
Whether the Israelites recognized it or not, those animals did not deserve to die. It was not fair that they should bear the punishment of their owners' sins. When an Israelite offered a goat or a lamb to be sacrificed, a part of him should have been sickened by the act. Animal sacrifice was a theological portrait.
Of course, the death of an innocent animal is nothing compared with the death of an innocent God. Jesus, the perfect Lamb, satisfied the punishment for our sins once and for all. Whenever we feel disgust at the suffering of an innocent animal, it is but a taste of the despicableness of the Crucifixion.
With this salvation history in mind, our approach to animal suffering should be situated within the larger story of Christian sacrifice. When we recoil at the thought of animal cruelty, our spirits remind us of the tragedy of sin and the suffering that has been endured on our behalf, not only by animals but more importantly in Christ. That is why I sympathize in some small part with PETA's work: They are responding to a divine revulsion against the brokenness of the world as it is manifested in our treatment of animals.
Of course, PETA also exemplifies the danger of divorcing that innate recognition from the gospel. For PETA, animal rights is an idol to which all other agendas must bow, including human flourishing. While Christians, unequivocally, cannot abide cruelty against animals, neither can we abide the objectification of women or any other movement that belittles or abuses God's creation. PETA's original intent may have been noble, but their methods ultimately remind us that freedom and justice for all is to be had in Christ alone.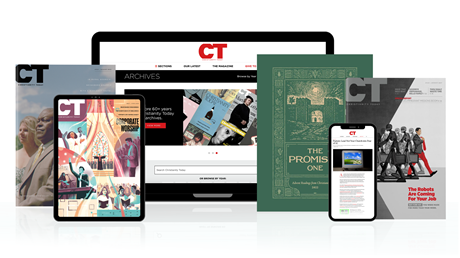 Annual & Monthly subscriptions available.
Print & Digital Issues of CT magazine
Complete access to every article on ChristianityToday.com
Unlimited access to 65+ years of CT's online archives
Member-only special issues
Subscribe
PETA to Launch Porn Site
PETA to Launch Porn Site