"That's not real, right?"
As a friend and I walked through downtown Manhattan, a bus wrapped in an ad featuring a Victoria's Secret model—who was at once alarmingly taut and seductively squishy in all the right places—zoomed past us.
"No sweetie," I assured her, "it's not real." I confess, it was a little matronizing.
Though my intelligent friend suspected that the image had been digitally doctored and that the model likely had not eaten a carb in months, she was clearly rattled by the smooth two-dimensional Amazon beauty who had just zipped by.
Had she been walking London's cobbled streets, she would have been afforded greater protection from the unwanted visual assault.
British activists, recognizing the negative impact of aesthetically improved photos of human faces and bodies, especially on women and girls, lobbied Parliament in 2009 for the regulation of digitally altered images. As a result, the current UK Code of Non-broadcast Advertising, Sales Promotion and Direct Marketing (CAP Code) was enacted September 12, 2010. The British Advertising Standards Authority (ASA), which regulates the legality, decency, and truthfulness of ad campaigns, became responsible for monitoring and penalizing advertisers employing unrealistic digital enhancements.
This week, complaints were lodged against ads for Lancome and Maybelline, ads featuring international beauties Julia Roberts and Christy Turlington. The ads were pulled by the ASA for being overly airbrushed. Parliament member Jo Swinson, of Britain's Liberal Democrat Party, which originally pushed for the legislation, was responsible for notifying the ASA about the offensive ads. Swinson told the BBC that she believes the problem is more widespread than the two beauty campaigns.
Since I am unable to find a single ad in American women's magazines, either mainstream or Christian, that has not been retouched, I am convinced Swinson is right.
Though it was never Parliament's intention, I believe the ASA's ongoing work decidedly reflects the priorities of Jesus and his Father. That, in 2009, those in power recognized the correlation between the proliferation of unrealistic images and the rise of disordered eating was prophetic. That the government has chosen to respond by protecting girls and women, boys and men, from harmful images that lie about who they are resonates with the voice of Jesus, who confronted agents of the one he called " father of lies" (on identity issues no less!). By denouncing that which dangerously diminishes personhood, the ASA bears the fragrance of the present reign of God on earth as it is in heaven that was ushered in by Jesus.
Did I just cross a weird line between religion and politics?
Yup, I believe I did. And yet James, the brother of Jesus, defines religion that God accepts as pure and faultless as this: "to look after orphans and widows in their distress and to keep oneself from being polluted by the world" (James 1:27). I realize that James wasn't thinking of Photoshop. Today, though, protecting the vulnerable and keeping one's self from being polluted by the world describe the actions of Parliament and the ASA on both counts.
If you're offended right now, then you're tracking along quite nicely. Political conservatives, who generally have no interest in the government regulating one more thing, should be miffed. Simultaneously, liberals who think that "protection" of widows and orphans and girls and boys smacks a little bit of patriarchy ought, also, to be irked.
Hear me: I'm not suggesting that a big old man in the sky should prescribe what vulnerable developing girls should and should not see. Nor am I maintaining that the government bears sole responsibility to teach that every human being has infinite value because she or he is created in the image of God (Genesis 1:27). I am, though, suggesting, insisting, that these are the responsibility of Christians.
Though I have been deeply concerned about the media's impact on hearts and minds, until the ASA's action last week, I simply did not have the imagination to conceive of what they've been able to achieve. The work of the ASA, though, has sparked my Christian imagination. I am hopeful that the spark will catch fire among other American Christians who are passionate about denouncing untruths about the creation that God has called good. Let us dream together.
Margot Starbuck is the author of Unsqueezed: Springing Free From Skinny Jeans, Nose Jobs, Highlights and Stilettos (IVPress, 2010). More @ www.MargotStarbuck.com.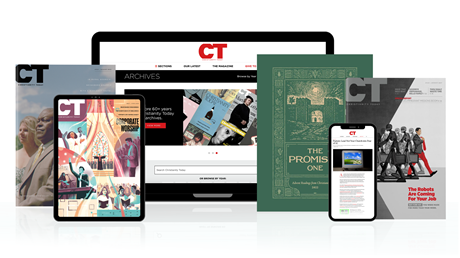 Annual & Monthly subscriptions available.
Print & Digital Issues of CT magazine
Complete access to every article on ChristianityToday.com
Unlimited access to 65+ years of CT's online archives
Member-only special issues
Subscribe
Photoshop, Patriarchy, and Protection of the Vulnerable
Photoshop, Patriarchy, and Protection of the Vulnerable