Fellow Her.meneutics writer Jennifer Grant recently published a memoir, Love You More: The Divine Surprise of Adopting My Daughter (Thomas Nelson), that traces her and her family's decision to adopt her youngest daughter, Mia, from Guatemala. Mia became a sister to Jennifer's biological children, Theo, Ian, and Isabel, when she was 16 months old. I had a chance to interview Jennifer recently about the story of the Grant family, as well as the ethical and theological challenges and gifts surrounding international adoption.
How did you and your husband decide you wanted to adopt?
In Love You More, I write that "the idea of adopting a child lingered in me like a song you cannot get out of your head. I felt like someone was missing. After the miscarriage, I could not shake the feeling that my kids were meant to have another sibling. As the fourth and youngest child in my own family, I sometimes felt like I was waiting for our fourth to come home and complete our family picture."
And then I had an experience—a mystical one that I describe in the book. It felt like God had sent me a certified letter announcing that we would adopt.
What were the greatest challenges in adopting Mia?
Once we had accepted her referral and had a name and a picture, it was miserable to have to wait to bring her home. It was an emotionally draining time, one in which I learned, at least a little bit, to let go of control, live with uncertainty, and trust God in new ways.
your book, you anticipate a question many people ask: Why adopt internationally rather than domestically?
When my husband and I began the adoption process, I felt certain that God would nudge us toward the country, the agency, and the program that would lead us directly to our child, wherever she was. I believe if God had wanted us to adopt domestically, as several friends have done, we would have felt the pull to do so. But the daughter God matched us with happens to have been born in another country.
What is the current state of international adoption?
The international adoption system is a broken one. It's too expensive. Children have been stolen. Birthparents have been misled. These actions are pure evil, but they are not the norm. The truth is, millions of orphans and vulnerable children need families.
The recent story of one adoptive mother who chose to return her son to Russia is kick-in-the-gut sad. Regarding this story, I wondered: Did that mother have a close, supportive community with whom she could be honest? Did she know other parents who had adopted older, formerly institutionalized children? What were her resources?
I appreciate the work of organizations such as Both Ends Burning, PEAR (Parents for Ethical Adoption Reform), and others that work to repair this broken system.
You write, "I believe God nudges us toward the people with whom we're meant to share our lives. And, sometimes, I think God uses adoption to rip away the curtain that keeps us blind to poverty and suffering." In what ways has Mia's presence in your family ripped away the curtain?
Adopting Mia made me ask, Who is my child? Just the ones I gave birth to? Just the ones who share my name and live in my house? I feel very attached to all of my children, but adopting Mia has made me feel more attached to other children, both in my neighborhood and around the globe. It's kept me from accepting the values of the cult of family and putting my own kids' needs and potential in such a central place that the needs and potential of other kids are invisible to me.
What are the connections between our adoption as the "sons of God" and the process of adoption?
In Romans 8:14-16, Paul writes, "For as many as are led by the Spirit of God, they are the sons of God. For ye have not received the spirit of bondage again to fear; but ye have received the Spirit of adoption, whereby we cry, Abba, Father." We are, to use the phrase that often describes families who were formed by adoption, God's "forever family." My mind has flashed on those verses when I see my husband and Mia chatting or being affectionate together. She lives in the happy knowledge that her daddy really loves her.
What responsibility do you think Christians have to the world's orphans?
Christians absolutely have a responsibility to the poor, including orphans.
It's not optional. Having said that, I don't think that means everyone should adopt a child. There are countless ways to obey God and care for orphans. We can sponsor children through organizations such as Save the Children, World Vision, and Chikumbuso Women and Orphans project. A great resource for individuals and churches is Kay Warren and Saddleback Church's Orphan Care Initiative. She lists six ways every church can be involved in orphan care.
Does Mia know you've written a book about her?
Oh yes, she knows! I spoke at length with Mia before signing onto the project. She was pleased by the idea and said she hoped that more kids would have families because we were telling her story.
She is a girl who has a heart for orphans. For instance, for the past few years, at her request, her friends haven't brought presents to her birthday parties but instead have made donations to projects we love and support. These include Chikumbuso Women and Orphans project, and an orphanage in Haiti called Crèche De L'Enfant Jesus.
Mia has an advance copy of the book and is reading it now—interspersed with the other books she's reading: a book of Far Side cartoons, Island of the Blue Dolphins, and Poppy.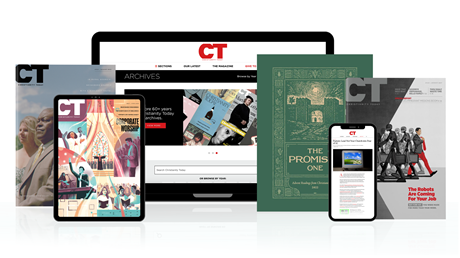 Annual & Monthly subscriptions available.
Print & Digital Issues of CT magazine
Complete access to every article on ChristianityToday.com
Unlimited access to 65+ years of CT's online archives
Member-only special issues
Subscribe
When God Told Us to Adopt
When God Told Us to Adopt