Europe restricts stem-cell research
LUXEMBOURG The European Court of Justice barred patents on medical processes that destroy human embryos. Europe's top court ruled against Oliver Bruestle, a German researcher who invented a mechanism to convert stem cells into nerve cells. Bruestle protested that European researchers would still use embryonic stem cells and that their discoveries would be patented by scientists abroad. Roman Catholic bishops and the European Center for Law and Justice supported the court's decision.
Military bans religious discrimination
EGYPT Military rulers prohibited all religious discrimination in Egypt after 25 people were killed and 200 injured when soldiers disrupted a Coptic protest march. The measure, demanded by protesters incensed over a string of church burnings, holds a maximum penalty of nearly $17,000. The Egyptian government also promised to form a commission to examine religious violence, church building permits, and sanctions against demonstrating outside worship buildings. Egyptian human rights organizations estimate that 100,000 Coptic Christians have fled the country since March because of sectarian attacks.
Bible translators adopt new standards
SIL International and Wycliffe Bible Translators released new guidelines that affirm literal renderings of "Son of God" in the majority of cases in Muslim-culture translations. But in places where the phrase may imply that God had sexual relations with Mary, alternative translations that maintain the concept of "sonship" can be used. In June, the Presbyterian Church in America declared that alternative translations for sonship were unfaithful to the biblical text.
Court upholds sanctity of life provisions
MEXICO The Supreme Court upheld two state provisions that say life begins at conception. The provisions in San Luis Potosi and Baja California are 2 of 17 similar state provisions enacted after a 2007 Mexico City law legalized some abortions. Seven of eleven judges ruled the Baja measure unconstitutional, but eight votes were needed to overturn it. President Felipe Calderon said in a statement that Mexico is committed to the right to life. Mexico's governing parties have strong ties to the Roman Catholic Church; members of both the National Action Party and the historically secular Institutional Revolutionary Party have visited the Vatican.
Candy cane case continues
The U.S. Fifth Circuit Court of Appeals affirmed that public school students have the right to "private, non-disruptive, student-to-student speech," even if it's religious. But it also granted immunity to two Plano, Texas, principals who told students they couldn't distribute religious-themed candy canes and pencils. The ban was unconstitutional, the court said, but the rules were unclear: "The general state of the law in this area is abstruse, complicated, and subject to great debate." Several other parts of the same long-running lawsuit await rulings.
Longstanding missions groups merge
Two flagship evangelical organizations have merged to create a new, 35,000-missionary body reaching every country in the world. The Mission Exchange (formerly the EFMA) and CrossGlobal Link (formerly the IFMA) merged to cut down on competition and overlap between their programs, said Marv Newell, CrossGlobal Link's executive director. Last year, Pioneers-USA merged with Arab World Ministries to combine strengths to better plant churches in Muslim-majority countries.
Homeless shelter can require religious activity
The Boise Rescue Mission can require clients to take part in religious services and classes, and even require them to convert, the U.S. Ninth Circuit Court of Appeals ruled. People seeking services at the mission don't have protected rights to its programs, the court said. Janene Cowles and Richard Chinn had sued, saying they were coerced into religious activities. The federal Department of Housing and Urban Development had already rejected the discrimination complaint on the grounds that the rescue mission fell under a religious exemption.
Suicide bomber attacks Saddleback affiliate
INDONESIA A suicide bomber injured more than 20 Sunday worshipers inside a sister church of Rick Warren's Saddleback Church. The bombing at the 700-person Pentecostal Bethel Full Gospel Church in Solo City, Central Java, was the nation's first by suicide. A day later, police found a bomb in front of Maranatha Church in Maluku province, which saw religious violence last fall. Indonesian president Susilo Bambang Yudhoyono said the bombing was a terrorist attack and not sectarian.
Baptist convention might drop "Southern"
The Southern Baptist Convention may change its name in order to better plant churches by escaping regional associations with the word Southern, president Bryant Wright announced in September. New members and baptisms in the 166-year-old denomination have declined in recent years, and a 2006 poll found that respondents liked Southern Baptists but disliked the denomination. A committee considered a name change in the 1970s but recommended against it. Some Baptists complained that Wright formed the unofficial task force without first securing approval from the executive committee or convention.
Tourists deported for religious activity
INDIA A U.S. pastor was deported from India and banned from returning after officials claimed he violated his tourist visa by attending a religious music festival organized by the Church of God. William Lee's removal follows the deportation of three women in June for allegedly proselytizing the poor in a coastal town. Jonathan Racho, South Asia manager for International Christian Concern, said many tourists travel to India for religious meetings and ceremonies and are typically not deported.
Gay ordination spurs denomination dropouts
A Wisconsin church ordained the Presbyterian Church (USA)'s first gay clergy member after July's denominational vote to approve such actions. The move spurred Sacramento's Fremont Presbyterian Church to vote 427 to 164 to leave the denomination. First Presbyterian Church in Enid, Oklahoma, also withdrew from the PC(USA). Meanwhile, the Presbytery of Greater Atlanta is considering whether to create a new presbytery or split into several smaller governing "covenant communities."
Churches allowed to host tent cities
Religious facilities in Seattle can host tent cities for the homeless indefinitely without notifying neighbors under a new ordinance approved unanimously by the city council. Churches will not need a permit and face no limit on the number of such communities; two currently exist in Seattle. The city's homeless shelters are full and council member Nick Licata, who sponsored the ordinance, said this is one solution to the problem.
Convicts choose between church and jail
The police chief in Bay Minette, Alabama, is giving nonviolent offenders who would normally serve jail time an alternative option: church. Offenders who opt for church can attend a church of their choosing but must show up every week for a year and check in with the pastor and the police department. More than 50 churches in the county are participating. Police chief Mike Rowland said this would save his department $75 in jail costs per inmate per day.
Capitol Bible study groups sue
Bible study group Capitol Commission is suing Bible study group Capitol Ministries for trademark infringement. Both serve politicians in several state capitols. Pastor Ralph Drollinger, leader of Capitol Ministries, started a Bible study in Washington, D.C., three years ago. Capitol Commission president Jim Young claims trademark infringement because Drollinger's group also uses the name Capitol Commission, and claims that donated funds are being diverted because of the confusion. Capitol Commission's trademark application is stalled because it is too similar to another trademark.
Related Elsewhere:
See Christianity Today's news section and liveblog for more news updates.
This article is from the December 2011 issue.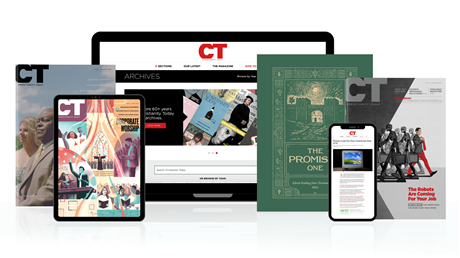 Find hope and historical insight. For a limited time, explore 60+ years of CT archives for free!
Daily devotions from Timothy Dalrymple during this pandemic.
Hundreds of theology and spiritual formation classics from Philip Yancey, Elisabeth Elliot, John Stott, and more.
Thought journalism that inspires you to think more deeply about your faith.
Europe Restricts Stem-Cell Research, Egyptian Military Bans Religious Discrimination, and More
Europe Restricts Stem-Cell Research, Egyptian ...