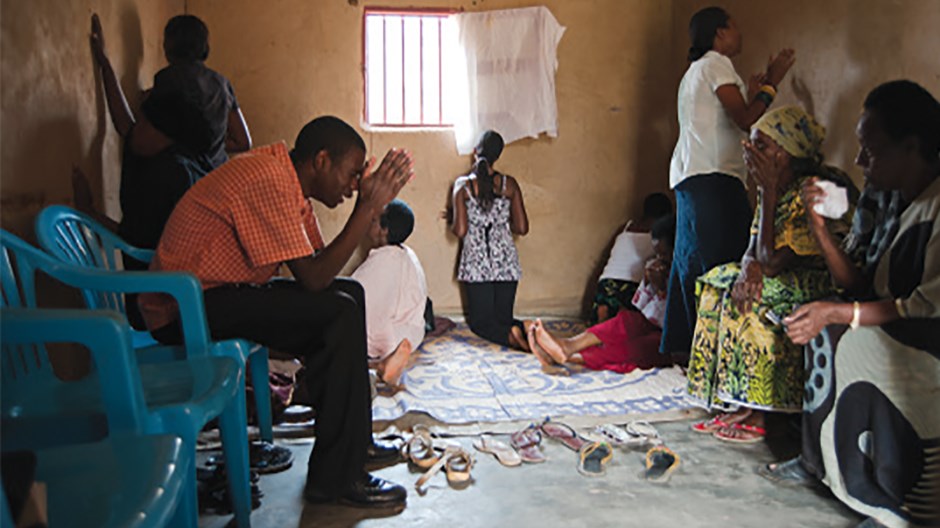 Image: Tyler Hutcherson
Pastor Dan Muhire can't forget how his Aunt Anizia withered away long before she died at age 50. She survived the 1994 Rwandan genocide, but her husband and five sons were murdered. Anizia recovered physically after the government replaced the house she had lost. But inside, she still suffered.
"Someone would come to greet her and she would say, 'Why are you greeting me? They have killed my children. Is there hope for me?'" Muhire recalled.
"She would walk aimlessly without knowing where she was going, and then come back in the night." As Muhire spoke at the Worship Center Church in Kigali, voices in the next room cried out to God in the native language of Kinyarwanda. Their singing, clapping, and drumming seemed to strengthen Muhire's resolve.
"We need to give people [hope] to live today by showing them there is life tomorrow. My auntie died because there was no sense of living again."
The Worship Center Church is one of a multitude of new, independent Pentecostal and charismatic churches throughout Rwanda. Most of them have sprung up since 1994. Recovery from trauma is a central feature of these new fellowships.
Pastor Muhire told Christianity Today about a key distinctive of his church: It is committed to addressing trauma holistically for individuals and their extended family. He learned the hard way about the need for a different approach. After his aunt died in 2003, her 33-year-old daughter mysteriously died in her sleep less than 12 months later.
"If there was a church, or counseling, if my aunt was somehow shown the meaning of living again, of why she survived, I believe she would have stayed [alive] longer," Muhire said.
The Big Shift
Before the genocide, Rwanda was considered the most Roman Catholic country in Africa. It was 63 percent Catholic with a population of 8 million in the mid-1990s, according to Anne Kubai, former head of religious studies at the Kigali Institute of Education.
In the 18 years since the genocide, the overwhelmingly Catholic demographic shifted quickly and enormously toward Protestant and independent churches. Dramatic population growth has fueled the shift. Rwanda's post-genocide population dipped to 5.4 million; now experts project that it will exceed 11.5 million by the end of 2012. Of 19 sub-Saharan countries surveyed, Rwanda has seen the most significant rise in Protestant faith, according to a new Pew Foundation report. The country is now 38 percent Protestant, and of those Protestants, Pentecostals are the most sizable group.
The genocide changed everything. In 1994, neighbor turned against neighbor as extremist Hutus killed about 1 million minority Tutsis and Hutu moderates who supported them. The church hierarchy, both Catholic and mainline Protestant, emerged with blood on its hands. Catholic priests were among the guilty. Some lured their parishioners into churches, only to let murderers in next. Other priests failed to speak out against ethnic violence in time to prevent the worst of it.
Andrew Rusatsi, a seminary professor in Nyakibanda, Rwanda, said many Rwandans felt betrayed by the Catholic Church's involvement. "They embraced other churches—Protestant, Pentecostal, and Restoration churches, which have been proliferating like mushrooms," Rusatsi said. Protestant church leaders were also implicated in the genocide, but to a lesser extent.
After the genocide, a new brand of churches emerged: Pentecostal congregations started by Tutsi refugees returning to their homeland after decades of living in neighboring countries to escape persecution. In Uganda, Tanzania, Congo, and Kenya, Rwandan refugees had encountered the emotionally expressive Pentecostal faith.
Gerard van't Spijker, a retired religion professor and Protestant pastor in the Netherlands, has researched Rwanda's post-genocide church growth. He said refugees wanted to start their own churches in Rwanda for two key reasons: First, the refugees spoke English (Rwanda is a Francophone nation). Second, refugees didn't want to associate with the traditional church, which they said aided the genocide.
The new churches quickly gained momentum. In one year, from 1997 to 1998, the number of new Christian churches in Rwanda doubled, reports Van 't Spijker. And they looked and felt different from traditional churches: People sang loudly, danced freely, spoke in tongues, let tears stream down their faces, and proclaimed visions from God.
Charismatic expression has shown up in a few Roman Catholic and Anglican parishes. Rusatsi called this fluid and expressive movement "wonderful" because it allows traditional Rwandans to worship in new ways, while retaining much of the liturgical form of existing church services.
Rusatsi said more traditional churches would probably embrace the charismatic style, but leadership has so far been cautious. "We're trying to get out of the formulas to allow more personal spontaneity," Rusatsi said.
Pain in Public
A traditional Rwandan proverb, "The tears of a man flow into his stomach," reflects the cultural norm that pain should be held tightly inside. But since 1994, more individuals have opened up about what happened to them during the genocide.
Jamie Aten, a psychology professor and head of the Humanitarian Disaster Applied Research Lab at Wheaton College (Illinois), has studied how Christians cope with trauma after disaster, war, or a large conflict. He told CT that having a survivor verbally recount the traumatic event can help him heal emotionally and spiritually because it gives him a sense of control over the experience. Individuals have to share that story on their own terms after they become comfortable in a particular environment.
Creating that environment has become a crucial new role for the new churches in Rwanda. Timothy Longman, author of Christianity and Genocide in Rwanda, said Rwandan society is tolerant of religious expression, so individuals feel at ease praying aloud, whereas they would not shout or cry out in public for any other reason.
Life-changing testimonials are not hard to find. From Butare, a university town south of Kigali, genocide survivor Claudine Bakayisanga told CT during a phone interview, "This kind of freedom can cause you to dance, to cry. You can do whatever you want knowing you are before the true and loving Father."
The Pentecostal church's emphasis on a personal relationship with God drew Bakayisanga, a former Catholic, to join the Assemblies of God church in Butare five years after the genocide.
Bakayisanga said she was not a comitted Christian when she first came to the church in August 1999. She was struck by the spontaneous prayers being poured out at the church. Religion for her had been a formality. She had repeated the same written prayers at every Mass, but said the prayers didn't express her personal needs.
"With this [new] kind of prayer, you just express yourself and say, 'God, I am angry about this,'" Bakayisanga said. "When you say it, you get relief in your heart."
Going to the Assemblies of God church helped Bakayisanga let go of the pain that haunted her. A year after joining the church, she was able to forgive the man who had killed her father, even though he had not asked for forgiveness.
"You can feel pain even if you are Christian, but that pain is covered by knowing there is God," Bakayisanga said.
"There is an emptiness in the heart. But with God, this emptiness is changed. Your heart has a hope. It helps to have that hope."
The Source of Healing
Reports of visions and miraculous healings abound in Rwanda's new churches.
Bernard Bucyana, a pastor at Christian Life Assembly in Kigali, said these effects are rooted in a theology that perceives God as tangibly and actively involved in people's lives. Whereas other Christians view visions and miraculous healings as suspect, the Pentecostal heritage carries an expectation that believers will experience God in everyday life.
"People feel that God initiated a way of salvation, a way of redeeming people, and because of that they want to completely immerse themselves in him," Bucyana said.
Paul Gasigi, a pastor in Butare, said the visions he experienced during and after the genocide lifted his fears and gave him relief. He had become a Pentecostal Christian before the genocide, and in 1999, he started the Assemblies of God church in Butare.
On the last day of the genocide, Gasigi had visions of the battle raging outside his house, and he prayed in tongues when he could not find the right words in his native language. Both the vision and the tongues gave him peace.
But after the genocide was over, Gasigi could not help asking God, "How could you allow this to happen? Did you close your eyes?" He wrestled with anger and pain, secretly taking pleasure when genocide perpetrators were punished and ignoring Hutu orphans on the street. "I was a Christian, but full of pain in spirit," he said. "I had no forgiveness in me."
'There is an emptiness in the heart. But with God, this emptiness is changed. Your heart has a hope.'—Claudine Bakayisanga
At 2 A.M. on a summer night in 1995, Gasigi heard his name called three times: "Paul. Paul. Paul." He cried out to God, and said he heard a voice telling him to read the Book of Jonah. Gasigi was struck by how angry Jonah was after finding out God had forgiven the people of Nineveh, who had repented.
"I asked God, 'what do you want to tell me?'?" Gasigi said. "He said, 'Paul, don't be angry with my people who don't know how to differentiate right from wrong. Be angry with the Devil.' It was like a wind of forgiveness blew into my heart. I started crying and said, 'Lord, I forgive them.'?"
Aten attributes God as the source of healing, and yet says that physiological changes that accompany such religious experiences help to explain feelings of relief. Biochemicals associated with positive feelings are released in the brain, and stress levels fall.
"You'll often hear people say they feel so much closer to God during those times," Aten said. "It's hard for any of us to imagine what it'd be like to live through genocide, but just imagine the sense of isolation."
Gasigi said that when people experience the Holy Spirit, they can leave trauma behind. "Trauma is something that destroys," he said. "When you are filled with spiritual fruits, there is no room for trauma, because you are filled with hope."
'Earthly Relevant'
Pentecostal and charismatic churches have brought a fresh perspective to many Rwandans struggling with trauma, said seminary professor Rusatsi. At the same time, he said, the movement should "cool down" and mature in order to avoid harmful excesses.
"When you meet people who have been traumatized, they're ready to embrace any god or goddess," Rusatsi said. "But after some time, they have to put the whole thing in balance."
Rusatsi said an overly emotional faith might become harmful if it abandons reason and common sense. He said some Pentecostal Christians are known to open their Bibles randomly and proclaim God is speaking to them without taking the time to study God's Word.
Van't Spijker said he received credible reports that Christians had prayed to find "troublemakers" in the church—for example, someone who had caused an illness—which resulted in false accusations.
But the more established Pentecostal churches in Rwanda use accountability methods to prevent abuses. In such churches, a member speaks to a group of elders before giving a public testimony, Van 't Spijker said.
Muhire said Pentecostal churches built purely on emotions would not sustain themselves. He said Pentecostal churches in Rwanda preach a message that is "heaven-minded and earthly relevant." This approach connects with Rwandans at their point of need—caring for orphans, counseling survivors, and helping Rwandans find "hope beyond the grave."
"In the church, what we're doing is not fiction. The Pentecostal churches are preaching a true message of the Word of God, and that message changes people."
Catherine Newhouse is a journalism, religious studies, and international studies major at the University of Missouri.
Related Elsewhere:
Previous Christianity Today coverage on Rwanda includes:
Reconcilable Differences | Fifteen years after genocide, Rwanda is showing signs of healing. (June 19, 2009)
Purpose Driven in Rwanda | Rick Warren's sweeping plan to defeat poverty. (September 23, 2005)
Hunting the Big Gazelle | Why Rick Warren may succeed where others failed. (September 23, 2005)
Forgiveness 101 | Rwanda is becoming a lab for testing new models of Christian forgiveness. (April 1, 2004)
Healing Genocide | Ten years after the slaughter, Rwandans begin to mend their torn nation with a justice that is both biblical and African. (April 1, 2004)
Have something to add about this? See something we missed? Share your feedback here.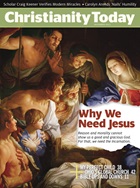 This article is from the December 2011 issue.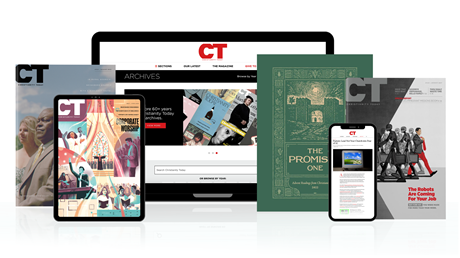 Annual & Monthly subscriptions available.
Print & Digital Issues of CT magazine
Complete access to every article on ChristianityToday.com
Unlimited access to 65+ years of CT's online archives
Member-only special issues
Subscribe
Pentecostal Renewal Transforms Rwanda after Genocide
Pentecostal Renewal Transforms Rwanda after Genocide