Exploring the Word
I read with great interest "How to Read the Bible" [October], and appreciated J. Todd Billings's emphasis on a theological interpretation of Scripture. But there is a conundrum, as he points out: We derive our theology from our Bible, but our theology drives our interpretation of the Bible.
I believe that if we link a contextual interpretation of Scripture (literary, grammatical, and cultural/historical) and an understanding of genre with a theological interpretation, we will resolve the challenge of bringing God's ancient, unchanging truths to a 21st-century audience that desperately needs transformation in Christ.
Michael Lundberg
Montrose, Colorado
As a pastor, Bible scholar, and Christian, I take issue with Billings's thesis. He presents a theological reading of Scripture as superior, when it can be either superior or inferior. In fact, he presents one theological read as if it were the only one available.
I wonder if the answer is not preferring one approach to reading the Bible, but rather rejecting a postmodern attitude that "all readings are equally good." There is usually something to be gained from every approach, and all have their strengths and weaknesses. A theological reading is no more or less open to abuse and errors than any other kind. It's the ability to be self-critical, in any and every reading of the Bible, that makes for powerful, life-altering interpretations.
Kirk Baker
Williamson, New York
Liberal Minds
I'm not at all surprised that people who read the Bible hold to a personal ethos that is often described as liberal ["A Left-Leaning Text," October]. As a "reading, politically conservative literalist," I have much in common with people across the political spectrum when discussing societal ills. We part company because my faith demands a personal response, whereas they tend to demand governmental action. If Aaron B. Franzen pushed his research further, I imagine he would find this to be the common point of disconnect.
Ray Hesketh
Fairlawn, Ohio
The subtitle of "A Left-Leaning Text" inspired me to read it and see why Franzen's conclusion seemed so wrong. I am the poster child of his readers: I have read the Bible every day for as long as I can remember. Apart from his conclusion, I fit his explanation of how I read.
The Bible is hard to read and even harder to understand. People don't expend the effort on it unless they consider exact meaning important. Thus, dedicated Bible readers like me tend to read everything carefully, including surveys. Words mean what the words mean; they are not necessarily code for political policies, left or right. Unless adequate care is taken to disambiguate code words in surveys like Franzen's, entirely wrong conclusions might be—and often are—inferred.
Tom Pittman
Bolivar, Missouri
Giving Water
I was disappointed in Christianity Today's investigative report "Drilling for Truth" [October]. I've known Jim Hocking for decades and support the ministries of ICDI in prayer and dollars, without reservation. I do not know a man of God with more compassion for the people he serves, more integrity in the way he conducts his business, more vision for empowering the Central Africans he's pouring his life into, or more humility about the amazing things God is doing through ICDI. God give us more Jim Hockings!
Gladys Deloe
President, Grace in ACTION USA
Winona Lake, Indiana
Salute to the Senator
Thank you for your tribute to the late Mark Hatfield ["Unexpected Political Hero," October]. He was indeed a dedicated Christian with strong faith in Jesus. I remember him as a tall, thin teenager at Salem High School, Salem, Oregon. He was a great debater, active in theater and music, and a bit controversial even then. In the Senate, he was always true to his beliefs about "unnecessary wars" and patriotism as a substitute for true worship.
Hatfield was a person of genuine integrity, kind to adversaries, and a true believer—a rare breed in politics today.
Carolyn Campbell Estes
Mulberry, Indiana
How We Met
In "The Village Green: Cyberspace Romance" [October], I think Leslie Ludy makes a mistake in dictating how God can or cannot bring two people together, and also in overemphasizing "the story." Since my wife and I met on eHarmony, our story won't live up to the cultural ideal, but that has never been our goal. We joined eHarmony because close friends and family believed it could be good for us, even though neither of us was actively searching for a spouse. While we resisted at first, we weren't about to tell God how he can accomplish things. Does God not get as much glory from our marriage as he does from Ludy's sister-in-law's?
The manner in which my wife and I met may not be an incredible love story worthy of Hollywood, but how our relationship started is hardly the point.
Matt Wistrand
Wheaton, Illinois
Law vs. Love
For years, we've heard the prediction that the cultural acceptance of feminism, then homosexuality, will eventually lead to an acceptance of polygamy ["The Big Love Strategy," October]. Why do Christians seem so shocked that worldly people will act in worldly ways, and want those ways to be legally sanctioned?
Rather than spinning our wheels trying to litigate these matters in court, perhaps we should focus on proclaiming the gospel and striving to be the agents by which God's Spirit changes hearts and minds.
John Mitchell
Sparks, Nevada
What got the most comments in October's CT
29% How to Read the Bible J. Todd Billings
23% A Left-Leaning Text Aaron B. Franzen
6% The Big Love Strategy Chuck Colson and Timothy George
Readers' Pick
The most praised piece in October's CT
Power Washed by God
Carolyn Arends
Worth Repeating
Compiled by Elissa Cooper
"These events are unabashedly a part of our culture, not a part of my theology."
Bethany, explaining how women's ministry activities (such as baking) do not fulfill her spiritual needs, and why she avoids them.
Her.meneutics: "Why It's Your Job to Break the Women's Ministry Stereotype," by Sharon Hodde Miller
"An organization does not cease to be a religious organization just because it serves the poor and hungry in material ways and doesn't confine its help to prayer and religious teaching."
Cooker, discussing the conflict between World Vision and three former employees. The case was one of several religion-based hiring cases before the Supreme Court this year.
CT Liveblog: "Supreme Court Won't Hear World Vision Hiring Case," by Ted Olsen
"The idea of sitting down with protestors over pizza isn't a bad one, as long as the ultimate objective is to bring them a Christian witness."
John G., affirming the positive effect of Jim Wallis and other Christians' participation in Occupy Wall Street protests while disagreeing with the purpose of the worldwide event.
CT Politics: "Sojourners Among Those Occupying Wall Street," by Tobin Grant
"Casinos are not the most honorable business, but this just makes Christians look shady too."
Scott, commenting on Holy Rollers, a documentary about card-counting Christians in Las Vegas.
CT Entertainment Blog: "What Happens in Vegas … with Christians?" by Mark Moring
Related Elsewhere:
The October issue is available on our website.
Letters to the editor must include the writer's name and address if intended for publication. They may be edited for space or clarity.
E-mail: cteditor@christianitytoday.com
Fax: 630.260.8428
This article is from the December 2011 issue.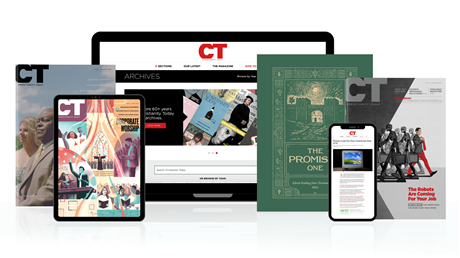 Find hope and historical insight. For a limited time, explore 60+ years of CT archives for free!
Daily devotions from Timothy Dalrymple during this pandemic.
Hundreds of theology and spiritual formation classics from Philip Yancey, Elisabeth Elliot, John Stott, and more.
Thought journalism that inspires you to think more deeply about your faith.
Readers Write
Readers Write