true
The Descendants is a grown-up movie about grown-up problems, and that alone makes it rather old-fashioned. When's the last time you saw a studio picture that didn't seem to care one about the coveted teenage demographic? Here we have a movie about a man struggling with the stuff of life and death—terminal illness, a tumultuous marriage, and infidelity. Major business decisions, parenting problems, a family in turmoil. Showing grace and forgiveness to the people who have wronged him the most. This is grown-up stuff, all right, and the movie doesn't take it lightly.
It is perhaps rather unsurprising that the movie stars the perennially grown-up (and old-fashioned) George Clooney, who brings great intelligence and feeling to a film in which he is the emotional center. It is more surprising that this comes from director Alexander Payne, who also co-authored the screenplay. Payne's past movies (Sideways, About Schmidt) have also been about grown-ups facing tough circumstances, but those movies seemed to invite a certain sense of scorn at the failings of their characters—or at least, they encouraged us to laugh at foolish behavior. There's a time and a place for that, but The Descendants is disarming in its riches of empathy and compassion. My favorite thing about it is how Payne's camera lingers on people's faces for so long, allowing us to search them for human dignity. We find it even in the characters we like least.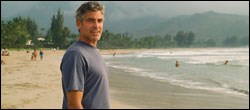 The face we see the most, of course, is Clooney's. He plays Matt King, a successful Hawaiian lawyer who's facing a tough case—namely, the proposed sale of his family's land, which could result in a major windfall for his bankrupt cousins but ultimately prove detrimental to the community at large. This is one of the many problems he's facing, and it's the one the movie lingers on the least. His wife Elizabeth is in a coma, and his daughters—ages 10 and 17—are wildly disrespectful of their dad, their mom, and each other.
Critics are praising The Descendants for being "real." What they mean is that the movie is about characters facing true-to-life problems for which there are no great solutions, and that its main character thinks through his challenges and ultimately handles them like an adult. That's something else I love about it: Every time Matt is confronted with something, we get a shot of him thinking it through, and when he reaches a decision, we can't help but feel like it's the wise one.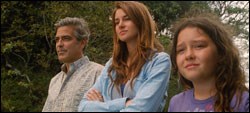 Which is not to say that the film makes Matt out to be a saint. Far from it. He is not a very good parent, and we receive strong suggestions that he is not a very good husband. But he values goodness and tries to act graciously and reasonably. He rarely loses his cool, and when he does, it's understandable.
He finds out very early in the movie that his wife will soon be dead—and that she has been cheating on him. Matt tracks down the man she was sleeping with, and we watch as his face cycles through different emotions. Is he going to punch the guy? Expose the guy's infidelity? Matt seems unsure himself; he is thinking it through, grasping for the right thing to do. What he does, in the end, is not at all devoid of anger and indignation, but it is also startlingly gracious.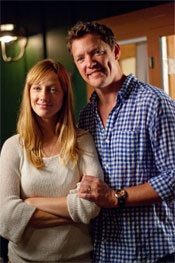 We never hear from Elizabeth herself. She is in a coma throughout. This would make it easy for the filmmaker to use her either as a sort of punching bag or as a silent, suffering saint, but The Descendants does neither. Matt and his older daughter, Alexandra, both have turns to vent their frustrations to Elizabeth. They call her some ugly names, and say some hurtful things—and who could blame them? But even Elizabeth gets her moment of empathy; Payne's camera lingers on her, too, in her final moment in the film, as Matt reflects on the happier times in their marriage. There is also a painfully ironic scene in which Elizabeth's father praises his dying daughter for being a faithful and devoted wife, saying she deserved better. Again we see the flicker of thoughts across Matt's face as he weighs the possible responses—and he arrives at what I think is the noblest and kindest one, but I won't spoil it here.
The Descendants includes some very funny moments, but also great sadness, anger, and grief. But more than anything, it's a movie of great empathy. Judy Greer plays the wife of the man Elizabeth was being unfaithful with; her few scenes make for some of the most amazing moments of kindness and grace I've seen on the big screen this year. But this movie is full of moments like that, which is ultimately what makes it a pretty great film.
Talk About It
Discussion starters
Do you think Matt is a good man? Do you think he is a good father? A good husband? For each, why or why not? What does he do well in each of those roles, and what might he do better?
What are some instances of grace and kindness in the film? Do you think all these situations are appropriate? Do you think Matt should have confronted Brian Speer differently, or revealed the truth to others about his wife's infidelity?
Does Matt make the right decision with the land deal?
The Family Corner
For parents to consider
The Descendants is rated R for language and sexual references. This is a movie about grown-ups facing grown-up issues, and they fairly frequently use language that's not appropriate for kids, including many vulgarities and a few blasphemies and sexual euphemisms. There's also a scene of Alexandra in a very skimpy bikini.
Copyright © 2011 Christianity Today. Click for reprint information.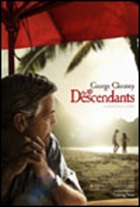 Browse All Movie Reviews By: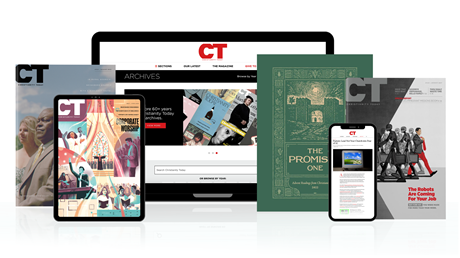 Subscribe to Christianity Today and get access to this article plus 65+ years of archives.
Home delivery of CT magazine
Complete access to articles on ChristianityToday.com
Over 120 years of magazine archives plus full access to all of CT's online archives
Subscribe Now
The Descendants
The Descendants