true
Shaun Groves burst onto the Christian music scene a decade ago with his debut album Invitation to Eavesdrop, which garnered six Dove nominations, including New Artist and Song of the Year for the chart topping hit "Welcome Home." He toured with Bebo Norman, Jars of Clay, and Michael W. Smith. He made a second record, Twilight. But even with the success, Groves was reevaluating his purpose.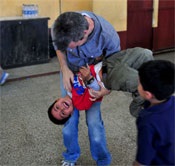 Today, Groves has left much of the CCM scene behind. He still writes songs, but is also a speaker, blogger, and spokesperson for Compassion International, a Christian child advocacy ministry. We recently spoke with Groves about what drives him today.
When you first started in Christian music, what were your goals?
I had no great ministry goal. I just wanted to feed my family and make music. I felt like God had given me a few things to say, mainly to challenge Christians to know God and make him known.
How did you feel after your first album was such a success?
For years, I had insecurities about not having been successful at things I thought I should have been successful at: athletics, academics, and making money. I didn't feel valuable in high school because I was none of those things. The genius of God is that he gave me what I wanted—success, a sense of popularity, money—so that I could see that they were just new responsibilities. It intensified the questions I was asking myself: Why am I here? What is my purpose? [The success] was a tremendous responsibility and opportunity, and I didn't want to waste it.
When did you sense your goals beginning to change?
When I was on the road with other musicians, I heard why they were doing what they did. I saw what I did and didn't want to be. I had good mentors—older guys at my church—that helped me figure out my purpose. Sometimes touring was frustrating because I was singing in front of people and I'd connect with people afterward, but immediately have to leave. At the time, I was discipling a group of teenage guys at my home church. I missed those connections while I was away.
What was your thought process as you prepared your third album, White Flag?
At that time, I co-taught a Bible study for college students in Nashville. As I taught through Acts and the Sermon on the Mount, my life looked boring compared to what I was reading. I sensed that success as I had known it was coming to an end because all of the artists at my label (Rocketown) were having a hard time selling records. I knew my third album could be my last so there was extra incentive for me to make it meaningful, to be more purposeful than ever. I often joked that I was writing my last words. I never wrestled so much with what I wanted to say. I felt that, in some sense, I hadn't fulfilled the opportunity I'd been given, and I wanted to make it count.
By then, you were also connected with Compassion International.
I met some of the Compassion staff in 2001 when I toured with Bebo Norman, who was a spokesman for Compassion. They knew I wanted to make an impact through my music. They also knew I was writing my last album and wanted to capitalize on the time I had left with my label. They saw that I was focusing more on missions so they invited me on a trip to El Salvador to meet my sponsored child, Yanci.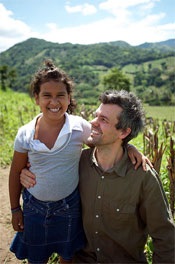 Even before I left, my wife Becky and I were talking about the home we'd just built—our dream house—and about how many resources we'd put into something so temporary. We were feeling the need to be lean, to be ready to go church plant or move overseas. A few days before my trip, we'd put a "For Sale" sign in our yard.
When I met Yanci and saw what Compassion did, I totally bought in. It is the church working to care for the most vulnerable in Jesus' name. It's evangelism, empowering the local church to do the work of Christ, and requiring the first world to notice and meet the needs of others. I sat down with them after the trip and said, "I'm yours."
God's calling isn't as complicated as I had made it out to be. It's just need meeting my ability. I have the ability. I have a platform. And I can use it to meet needs.
What do you do with Compassion?
Wess Stafford, the president of Compassion, over breakfast in Ethiopia, helped me think through various ways I could serve Compassion's children. He said I was most valuable to the children as a spokesperson. So today I don't do any speaking or singing unless I can represent Compassion at the same time.
I go to 80 cities a year to play a concert, speak, or preach on Sunday mornings, at no charge to the church or the public. On Sunday mornings and at college chapels I preach the "Good News of the Kingdom." The invitation is to participate with God in doing his will on earth as it is in heaven. I use Scripture to show that God's will is not only the forgiveness of sin, the granting of eternal life, but also economic equality, staving off starvation, healing sickness, fathering orphans, justice. This requires action on the part of Christ followers—generosity, simplicity, lots of sacrifice, and hard work. I explain that by sponsoring a child through Compassion a person is giving resources to the local church in the third world, enabling that body of believers to love their neighbor, to meet the physical and spiritual needs of a child.
How has your work with Compassion affected your personal life?
Before I met Yanci, poverty was just a statistic, an idea, or something I'd read about. But to smell it and to walk through it has changed my life. Yanci is just a kid just like my kids. She likes to laugh, swing, sing songs, play with dolls. The only difference between Yanci and my kids was where she was born, something that was not her fault. She wasn't just a child I sponsored, but a real person with real needs.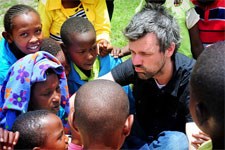 We sold our dream house and moved into a smaller one that enabled us to sponsor more children. We have many neighbors who don't know Jesus. Becky and I decided that our house would become a Compassion project—kids come by for snacks after school or to swing in our hammock.
I can teach my kids about generosity and compassion with some authority. Having made some sacrifices, I can tell them that Jesus is all we need with a straight face. Each of my three children sponsors a child through Compassion and gets to see how God uses their money. For example, after Yanci, her mom, and her sister became Christians, Yanci prayed for her dad and asked us to pray for him. He was an alcoholic, in a gang, and refused to attend church. He finally gave in and went to church, where eventually he became a Christian and now is a Compassion volunteer. I got to tell my daughter Gabriella that her money and sacrifice helped that happen.
How has your Compassion work changed your perspective on the U.S.?
I came back from one Compassion trip really mad. Having just left a church of 150 people in Uganda who were trying to meet the needs in their community with few resources, I played at a large church that had just spent a million dollars overhauling their sound system. I saw Jesus in the third world, but not here. I didn't say anything or write about how I was feeling, but I felt mean. Becky told me to chill out. She reminded me that the Bible doesn't just say to love poor people. We can love our neighbors right here at home, many who are hurting and experience the greatest poverty, the poverty of spirit. They experience poverty in their marriages and there are kids without parents. I started developing a deeper compassion for people around me.
How has your definition of ministry changed over the years?
It's a lot looser than it used to be. It's basically this: Was I faithful today? Did I tell the truth? Did I live with integrity? Was I patient with people? Did I love people well? Was I fully present with each person? How is my relationship with God? Am I being faithful where I am?
How has your definition of success changed?
I've sung in an arena of 36,000 people, sold out all the CDs I brought with me, and felt unsuccessful because I knew my heart wasn't right. I've also played at concerts where only seven people showed up and we all felt like family at the end of the night. Numbers and money aren't success.
My third album wasn't as successful sales-wise, but it was the most successful in terms of people. Prior to Compassion, concerts provided me an opportunity to encourage and connect people who needed a church, discipleship, or prayer. Now, everyone who walks through the doors either has a need met or meets the needs of others. I regret not having figured that purpose out before.
What's next for you?
Even though I haven't been on the radio in five years, if anything, I've had more opportunities to speak and play concerts. I'm still writing and recording some. (Groves is planning a summer release of a new album called Third World Symphony.) It took me a while to write again after the third album because the songs I wrote felt trivial. How do you put words to the experience of walking through a slum in Calcutta? Writing a song felt like a waste of time, but I've finally figured out how to write from the changed person that I am. I've realized that it is something I enjoy and, if nothing else, it chronicles what I've learned.
Looking back at childhood, I see that this calling is a lifetime in the making. I still haven't arrived. Hopefully, there will be greater dependence on God, greater obedience, and new opportunities. I'm still in the middle of the story.
Learn more about Shawn Groves on his website. Christine Hoover, a writer in Charlottesville, Virginia, writes about her life as a church planting pastor's wife at hooverhousehold.blogspot.com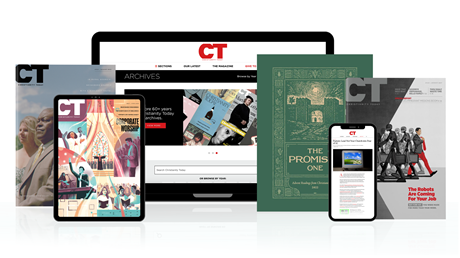 Annual & Monthly subscriptions available.
Print & Digital Issues of CT magazine
Complete access to every article on ChristianityToday.com
Unlimited access to 65+ years of CT's online archives
Member-only special issues
Subscribe
Overflowing with Compassion
Overflowing with Compassion