Most television sports fans put up with commercials to enjoy the privilege of watching the game. When it comes to the Super Bowl, I'm one who puts up with the game to have the privilege of watching the commercials. For this high and holy feast of American culture, marketing geniuses pull out all the stops to create some of the most memorable ads of the year. It's a day when America's magnificent marketing muscle is flexed in all its splendor.
As such, Super Bowl Sunday reminds us how much marketing permeates our life. If Jesus is "in, with, and under" the bread of Communion (at least according to Martin Luther), then marketing is "in, with, and under" every facet of American life. Estimates as to how many ads Americans view each day range widely—250 to 5,000—but even the low figure boggles the imagination. We swim in the waters of advertising, we are nursed on marketing milk, we breathe the air of the latest offer—choose your worn-out metaphor!
It's not surprising, then, that a church immersed in this environment would find it almost impossible to conceive of evangelism as anything but a form of marketing. If companies have slogans that make promises to customers, churches must have them as well. From "The family church, where everyone is welcome," to "The place where transformation happens," to "Every day in every way, growing closer to God," or whatever, the message is: Join this church, and you'll get some benefit.
Then there's the ubiquitous use of come-ons: Sundays when clowns or magicians or celebrities come to church to attract visitors. And the giveaways to first time visitors: coffee mugs, Starbucks cards, pens, Bibles. And the marketing cards (though we call them "Welcome Cards") for visitors to fill out so we can follow up. And on it goes.
The church's greatest marketing tool is its pastor, of course. That's why there's such a demand for pastors who are both charismatic (in the non-spiritual sense!) and savvy, because churches know that their chief selling point is the personality of the chief operating minister. Pastors are encouraged to talk about themselves in their sermons as much as they talk about Jesus, because, after all, people want to identify with their pastor. Thus the ubiquitous use of personal illustrations from the pastor's life and family—they're funny, engaging, and make the church that much more attractive to newcomers.
Along the way—in sermons, in church slogans, and implicit in special evangelistic or missional events—are the promises. The therapeutic: Things will go better with Jesus. The practical: You'll find ideas for life. The transformational: You will be all that you can be. And whether the church is draped in the Disney-like efficiency of the megachurch or the counterculture of hipster rebellion, coolness is often an implicit part of the mix.
This should not shock or alarm us. Immersed as we are in a Super Bowl culture, what else is a church supposed to do? We think we have a "product" (albeit head and shoulders above any other product) to "sell." And we think we have to use good marketing if we're going to get people to buy into Jesus. Though I'm clearly no fan of this approach, let's face it: it often works. Many people come to faith and join churches by such means (even if they then have to spend years unlearning what such a method implies: that faith in Christ is a deal or transaction). So while I poke fun, I don't think it wise to condemn a method a gracious God is willing to stoop to use.
Still, I believe there is a better way to reach out to those who don't know how close God is to them. It's a way that is much more in accord with the gospel we proclaim.
First, note three basic assumptions of marketing culture. First, people are basically in pretty good shape; they just need one more product or service to make their lives complete. Second, people just need an attractive offer to entice them to accept the deal. Third, life is fundamentally a deal, an exchange; companies offer goods and services, and we get them into our lives when we pay for them. As they say, there is no free lunch.
Note how the gospel's assumptions turn these ideas on their heads. First, people are "dead in their trespasses" (Eph. 2:1). That is, their situation is utterly hopeless. They don't need improvement as much as resurrection to new life.
Second, because they are dead, an attractive offer is not going to do any good. It would be like a salesman walking into a morgue to convince corpses to buy life insurance.
This is why Paul is so emphatic about how we come to faith in Christ. Replacing phrases like "plausible words of wisdom" with something contemporary, note how he describes his initial evangelistic visit to Corinth:
And I, when I came to you, brothers, did not come proclaiming to you the testimony of God with persuasive marketing techniques. For I decided to know nothing among you except Jesus Christ and him crucified. And I was with you in weakness and in fear and much trembling, and my speech and my message were not framed in marketing logic, but in a demonstration of the Spirit and of power, that your faith might not rest in the wisdom of men but in the power of God (1 Cor. 2:1-5).
Only the Spirit can bring the dead back to life. As Paul told his protégé Titus:
But when the goodness and loving kindness of God our Savior appeared, he saved us, not because of works done by us in righteousness, but according to his own mercy, by the washing of regeneration and renewal of the Holy Spirit (Titus 3:4-5).
Faith is pure gift, pure miracle, pure work of the Spirit. There is nothing we can do to bring this about. "Without any possibility on our side," wrote Karl Barth in his exposition of the Apostles' Creed, "God's great possibility comes into view, making possible what is impossible from our side. It is God's gift, God's free gift not prepared for by anything on our side."
It also is true that we can do nothing to prevent this from happening. No matter how hypocritical, uncool, or marketing inept a church is, the Spirit moves people to give their lives to Jesus and his church. If the Crusades, the Salem witch trials, and the Inquisition were not enough to sabotage the appeal of Christian faith, singing moribund hymns with a bunch of old ladies (or whatever else embarrasses us about the church today) will not stop the Holy Spirit.
Third, if the gospel is a transaction, it is a transaction that is offered and completed by the same party: God. God does not offer forgiveness on the condition that we repent. There is no quid pro quo, no this-for-that, no exchange. Instead, he offers forgiveness so that we might repent and enjoy abundant life! So there is, in fact, a free lunch.
To put it in commercial terms: Our credit rating is in the double digits. Our home is in foreclosure. Chapter 11 is our middle name. And yet along comes a developer who gives us the deed and the keys to a mansion. Naturally, in order to enjoy our new home, we need to open the door and step in. God wants us to enjoy a real participation in his life. But this is not a quid pro quo or a condition—the house is already ours—as much as it is simply the way we enjoy the gift. (That some refuse to enjoy the gift and do so stubbornly, for eternity, is a great mystery. But it does not change the miraculous and gracious nature of the gift.)
So if there is nothing we can do enable or prevent the Spirit's converting work, what are we supposed to do? Here are three ideas.
For one, we can stop marketing the faith as if it were a product in the marketplace. We can stop thinking it our job to convince or cajole people.
Second, we can do what Jesus told us to do. He did not tell us to market our neighbors, but to love them. That means refusing to treat them as potential customers or clients who need to be talked into something. What made us think non-Christians would enjoy that type of relationship with us in the first place? Instead, we are called to love, to take the initiative to get to know others, to not hold their sins against them, to be generous with our time and goods, to be faithful and kind, and so forth.
This requires a lot more effort, discernment, and sacrifice—and the grace of the Holy Spirit!—than any evangelistic campaign we might work up (which may be another reason we'd much rather market people).
Third, when we have the opportunity to tell another about Jesus, let's avoid come-ons, rhetoric, sales pitches, and pressure. Just a simple explanation of what Jesus has done on the cross and is doing in our lives. Francis de Sales, author of the devotional classic Introduction to the Devout Life, was one of the most effective preachers of his day (late 1500s, early 1600s). But his "method," if we must call it that, was simple. His motto was: "He who preaches with love, preaches effectively."
In order to share the gospel that announces God's extraordinary love to dead sinners, doesn't it make sense that instead of trying to cajole people into faith with marketing techniques, we would simply love them as God loved us all?
Mark Galli is senior managing editor of Christianity Today. He is author of many books, including the forthcoming Chaos and Grace: Discovering the Liberating Work of the Holy Spirit (Baker).
Related Elsewhere:
See also our January 2009 cover story, "Jesus Is Not a Brand."
Previous SoulWork columns include:
One Wedding and Six Funerals | What it can mean to participate in the life of God. (January 20, 2011)
Blessed Are the Poor in Virtue | Why some people may want to abandon New Year's resolutions as soon as possible. (January 6, 2011)
Me? Favored? By God? | The remarkable announcement to Mary—and us. (December 22, 2010)
SoulWork
In "SoulWork," Mark Galli brings news, Christian theology, and spiritual direction together to explore what it means to be formed spiritually in the image of Jesus Christ.
Mark Galli is former editor in chief of Christianity Today and author, most recently, of Karl Barth: An Introductory Biography for Evangelicals.
Previous SoulWork Columns: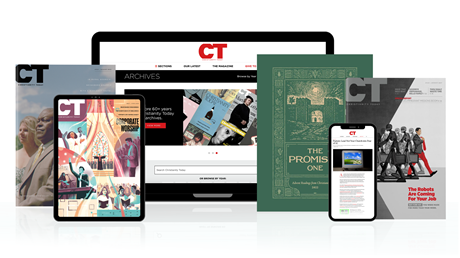 Annual & Monthly subscriptions available.
Print & Digital Issues of CT magazine
Complete access to every article on ChristianityToday.com
Unlimited access to 65+ years of CT's online archives
Member-only special issues
Subscribe
Super Bowl Evangelism
Super Bowl Evangelism