Reviews

|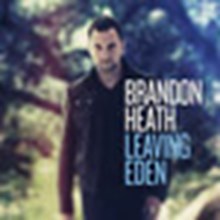 Style: Organic alt-rock; compare to David Wilcox, Bebo Norman, Josh Groban
Top tracks: "Light in Me, "Your Love," "Stolen"
Brandon Heath is an artist who sounds best on a car radio—or at a live show. The thumping bass, rollicking piano interludes, and slightly raspy voice converge into a big sound that works well on a powerful stereo system. On his third release, the Dove Award-winning male vocalist of the year, who co-wrote the megahit "Give Me Your Eyes," tackles big issues. He sings about the end of the world on the title track and about dying to self in order to live again (on "Stolen").
Unfortunately, while the album is front-loaded with sure-fire radio hits and thoughtful lyrical content, Leaving Eden leaves a bit to be desired. The last few songs sound underdeveloped and lack his characteristic charm, and Heath's experimentation ends up falling flat—but at least he's not just re-writing his previous hits with different words.
Eden does start on a high note. The title song is about how the world is growing cold but we can cling to the hope of heaven. Then, "Light in Me" illustrates how Christ makes us shine in a dark world. For "Your Love," Heath teamed up with songwriting guru Jason Ingram for a catchy foot-stomper.
Heath is all about embracing the minor details of life and realizing God is in control. While writing songs for Eden, Heath met with healthy criticism from his record label. He obviously took their advice, at least on the first three songs. Then, the trouble starts.
"It's Alright" sounds like Josh Groban got lost on his way to a Michael Bublé concert. "It's alright, everything will be okay" Heath sings, belting out the high notes. Okay, but fans want more Bebo, less Sandi Patti. Heath is ...
1