To one-piece or two-piece? That was the question for many Miss America hopefuls in 1997, when, for the first time in 50 years, the pageant allowed two-piece swimsuits. Pageant organizers say the swimsuit part of the competition, dubbed the feminist-friendlier "Lifestyle and Fitness" section in 2001, is about showing contestants' fitness, poise, and posture. Others have charged it's about boosting TV ratings, which have been sluggish in recent years. In 1995, Miss America let viewers vote on whether to drop the swimsuit section. Eighty percent said to keep it, while 42 of the 50 contestants said "they did not have a problem with waltzing around in public in swimwear." (One dissenting contestant, meanwhile, called it a "veiled strip show.")
It's hard to believe that just over a decade ago, two-piece pageant swimsuits were taboo for Miss America. In this year's competition, all but one contestant wore a black bikini and high heels. (Apparently pageant officials give contestants few swimsuits to choose from.) The young woman who donned a one-piece swimsuit was not 17-year-old Teresa Scanlan, Miss America 2011, former Miss Nebraska, and a devout Christian. No, the brave one-piecer was 19-year-old Miss Idaho Kylie Kofoed, a Mormon and music major at Brigham Young University.
Why compare Scanlan's and Kofoed's swimsuit decision? Certainly not to question the sincerity of Scanlan's faith. Mandy McMichael, a Duke PhD candidate whose dissertation explores the role of religion in American beauty pageants, attended Saturday's pageant in Las Vegas. She told me, "Because Nebraska has never had a Miss America before I wasn't paying too much attention to her initially. But, on Saturday night, when she was crowned, there was no denying that she was a Christian. It was obvious from her pointing upward and the almost reverent way that she rejoiced in her victory." The pageant program and Scanlan's blog say she will attend Patrick Henry College, which was founded for homeschooling families and prepares students to "shape our culture with timeless biblical values and fidelity to the spirit of the American founding." Scanlan will study government in hopes of entering politics (as have many other pageant winners). Further, Scanlan has made "positive body image and self-acceptance" as they relate to eating disorders her pageant platform. Scanlan recently wrote, "When I found pageantry, I realized that God had prepared me for this competition by creating me to love diversity, and here was the place I could use the talents He had given me."
The Scanlan-Kofoed swimsuit comparison is less about Scanlan's own faith and more about Christianity and physical beauty—and how the two might clash in the world of modern pageants. I want to ask, what would make a Christian Miss America stand out against her pageant peers? Why would a young Mormon woman, but not an evangelical one, dare to buck the ubiquity of bikinis and bronze-tanned skin in favor of something more modest? Can Christian pageant contestants gain the worthy cultural and political influence that usually comes with a pageant crown without losing their souls?
The answer to this last one might be trickier than Scanlan thinks (Carrie Prejean jokes are forbidden at this point). McMichael admitted that Scanlan's faith was not apparent through much of the pageant: "… I didn't see the religious connection immediately. That is, it wasn't necessarily obvious from her on-stage competition. She donned a bikini, performed a non-religious talent, and danced as enthusiastically as the other contestants." It's no secret that contestants go to great lengths to conform their looks to popular notions of female beauty and sexiness: Scanlan herself wore a blonde wig. Further, billboards and Internet banner ads and music videos bombard us with images of women (and even, increasingly, little girls) as half-naked, hypersexual, and available for anyone's visual taking. In our sexualized visual culture, I'm not sure we can see bikinied women strutting on stage in high heels as anything but hypersexual. Thankfully, Miss America does put more scoring weight on contestants' talent and interview (35 and 25 percent, respectively) than on their swimsuits (15 percent). But if the swimsuit portion really is about fitness, why don't contestants compete in athletic attire, as they do in Miss Teen America?
In 2007, Katie Millar, then a neuroscience major at Brigham Young, became a top 10 contestant in the Miss America pageant. Wearing a one-piece swimsuit and a sleeved evening dress with a high back and high neckline, Millar stood out. She admitted she had never worn makeup before entering the Miss Utah pageant. After the pageant, she told KUTV, "When I did make the top ten … the first thing that went through my mind was, 'I get to wear my one piece swimsuit on national TV and hopefully a girl will see that she doesn't have to show a lot of skin to get attention or do well in society today.' "
I hope the same. I also hope Scanlan flourishes at Patrick Henry in 2012 and achieves her goal of "break[ing] down the stereotype of crooked and dishonest politicians, operating instead under character and integrity." But most of all, I hope more evangelical women entering the tricky world of beauty pageants will dare to be conspicuous for Christ—even if that means forgoing those black bikinis or evening gowns with plunging necklines. Faced with the pressure to conform to Miss America's standards of beauty, they might realize that trying to be a modern-day Esther means sacrificing too much self-worth and real beauty for a little bit of power.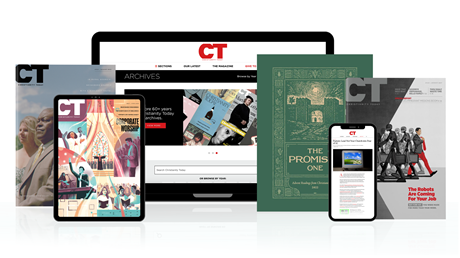 Subscribe to Christianity Today and get access to this article plus 65+ years of archives.
Home delivery of CT magazine
Complete access to articles on ChristianityToday.com
Over 120 years of magazine archives plus full access to all of CT's online archives
Subscribe Now
Miss America and the Bikini Question
Miss America and the Bikini Question