As professional religion reporters looked back on 2010, they ranked the debate over an Islamic center and mosque near Ground Zero—along with a pastor's threat to burn the Qur'an—as the year's top story. The threat of Qur'an burning has dropped out of the headlines. But loud opposition to construction of Islamic centers continues across the country. Outside of Manhattan, metro Nashville became the most prominent of the local controversies (which were legion). Brentwood residents successfully quashed plans for a mosque in their town as plans to convert a historic theater in Antioch into an Islamic center continued despite local opposition. But it was Murfreesboro that got the most attention from national media, the Justice Department, and local politicians. A court has ruled that construction of an Islamic center there can continue, but a legal challenge is ongoing.
Meanwhile, some churches have modeled a much more welcoming approach. At Heartsong Church in Cordova, Tennessee, Steve Stone and his congregants put out a sign welcoming incoming neighbors at the Memphis Islamic Center. The church then allowed these Muslim neighbors to use their sanctuary as a makeshift mosque throughout Ramadan while the Islamic Center was under construction. Stone and Heartsong received extensive national media coverage for their efforts.
For Stone, allowing Muslims to worship on his church's property was a matter of "What would Jesus do?"—a matter of his United Methodist congregation modeling the love of Jesus to strangers, just as Jesus had welcomed them.
Another United Methodist pastor 900 miles away came to a similar conclusion when a neighboring Islamic congregation asked to use his church's space for five months of Friday prayers. Jason Micheli, pastor of Aldersgate Methodist Church in Alexandria, Virginia, shares part of his theological reasoning in a sermon published at Scot McKnight's Jesus Creed blog.
While Micheli uses more explicitly evangelical and exclusivist language than Heartsong and Steve Stone, he similarly defends his decision by appealing to Jesus and Christian love: "[W]hen we say that Jesus is the only way to the Father, we don't just mean our belief in Jesus is the only way to the Father. We also mean Jesus' way of life is the only way we manifest the Father's love. That we would welcome Muslim strangers into our sacred space with no strings attached is not a reduction of what we believe about Jesus (or a betrayal); it is, I think, the fullest possible expression of what we believe about Jesus."
Both of the pastors allowing Muslim worship on their property appeal to the love required of Christians as an authoritative guide for their decision-making.
But it is not self-evident that this duty requires us to provide property for false worship. The theological issues at play come down to whether Jesus' love command also requires leaders to avoid causing undue stumbling; or, as Wesley put it, the command to do good works includes avoiding causing or leading others to harm, whether they are believers or unbelievers. Does facilitation of false worship violate the love command?
Absurd extremes of Qur'an burning and protests over mosque construction illustrate the fact that the love command requires theological interpretation in order to be correctly applied. A Terry Jones apologist might argue that the love command dictates a demonstration. At the other end of the spectrum, Herman Melville's Moby Dick gives a classic illustration of the overuse of the love commandment, as the Presbyterian Ishmael argues himself into idol worship with Queequeg using "biblical" reasoning:
What is worship?—to do the will of God—THAT is worship. And what is the will of God?—to do to my fellow man what I would have my fellow man to do to me—THAT is the will of God. Now, Queequeg is my fellow man. And what do I wish this Queequeg would do to me? Why, unite with me in my particular Presbyterian form of worship. Consequently, I must then unite with him in his; ergo, I must turn idolater. So I kindled the shavings; helpd [sic] prop up the innocent little idol; offered him burnt biscuit with Queequeg; salaamed before him twice or thrice; kissed his nose; and that done, we undressed and went to bed, at peace with our consciences and all the world.
What are the options between (for example) mocking the Qur'an and shared worship? There are many intermediate steps to take short of facilitating worship: sharing recreational space and recreational activities, dining together, evangelism, clarity on the exclusive claims of Christ, and—in our American context—supporting the right of others to publicly assemble for worship are all important facets of the love command.
Significant theological issues and pastoral concerns are at play here, and they are not limited to the narrow question of sharing worship space. Similar issues arise as a congregation ends its tenure. As smaller churches close their doors and larger churches move for more space, the question of other faiths and church property becomes acute. One PC(USA) congregation put their property on the market only to receive an offer from a Hindu congregation, to the consternation of a fair portion of the Christian congregation.
But even if they decline that offer, there are many ways in which churches may be unfaithful stewards of the property God has put in their hands, and it is not clear that other faiths are the worst possible option. What if the alternative is putting the property into the hands of a drugstore selling the morning-after pill, or a gas station marketing lottery tickets and pornography to the poor?
A host of related questions also arise, and the slippery slope turns out not only to be steep, but wide. Could a Christian architect, plumber, or lawyer in good conscience work to design, build (or work up closing papers for) a building for Hindu worship? Given that our Buddhist neighbors often establish altars in their houses, should we then resist participating in the construction of their homes? Would we, as a Christian congregation, perhaps desire someday to purchase property from another faith or a heretical sect? Does that warrant the use of the Golden Rule? Does the Golden Rule apply to congregations as it does to people?
Ultimately, as these and other questions confront us, the answers may be a matter of wisdom rather than obvious application of biblical teaching. They will also reflect the deployment of broader theological principles such as the sacramental nature (or lack thereof) of space and place.
Jason B. Hood is Scholar-In-Residence at Christ United Methodist Church in Memphis and blogs at The Society for the Advancement of Ecclesial Theology.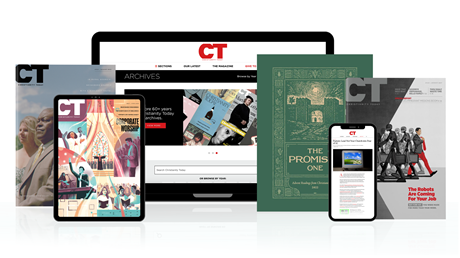 Annual & Monthly subscriptions available.
Print & Digital Issues of CT magazine
Complete access to every article on ChristianityToday.com
Unlimited access to 65+ years of CT's online archives
Member-only special issues
Subscribe
Muslims in Evangelical Churches
Muslims in Evangelical Churches