Thou Shalt Write CT
I appreciated Mark Noll's erudite consideration of the King James Version Bible ["A World Without the KJV," May]. The work of translation is as much a work of interpretation, and the fact that today's popular translations are just a few decades old should give us pause. Reading a modern translation alone, it's easy to err in the way C. S. Lewis once described: "Every age has its own outlook. It is specially good at seeing certain truths and specially liable to make certain mistakes. We all, therefore, need the books that will correct the characteristic mistakes of our own period. And that means the old books."
James Cain
Lawrenceville, Georgia
Like Noll, I was raised on the King James Version, but when The Living Bible appeared, I put my KJV on the shelf and never looked back. I don't deny its great cultural influence, but it uses a language I don't use, only recognize. Cultures and languages change, and the Bible must speak readers' language.
Tim Drown
Jakarta, Indonesia
I found it interesting that the King James Version didn't find universal acceptance at first, especially among dissenters and Catholics. How ironic that today's staunchest defenders of the KJV tend to be independent fundamentalist Baptists, spiritual descendants of the very dissenters who opposed the KJV—and who tend to be deeply suspicious of the very hierarchies that the KJV was intended to preserve.
Dale A. Schoening
Bussey, Iowa
Orthodoxy's Outreach
Conversation between the Russian Orthodox Church and the church worldwide can only be a healthy thing ["From Russia, with Love," May]. At the same time, it's clear that gospel proclamation is not always welcome in Russia. Evangelical groups have endured what we would see as persecution and denial of basic human rights, even imprisonment, for teaching the gospel. Hopefully as the global church engages the Russian Orthodox Church respectfully, the Church's openness to the global church will bring needed change.
Gaylan Mathiesen
Fargo, North Dakota
As a Pentecostal, I have come to deeply respect Orthodox churches. The more I read the works of the church fathers, the more I see what my own theology has neglected. In general, Orthodox theologians have a much higher view than Protestants of the Trinity and the presence of God's Spirit in the believer. I disagree with parts of Orthodoxy, but I expect that in heaven I'll disagree with my own theology as I hold it now.
Rob Dunbar
E-mail
India's Other Christians
"Migrating Ministry" [May] highlighted the great work God is doing among refugees, but misidentified Nagaland as "India's only predominantly Christian state." I recently spent three weeks in Mizoram, where about 90 percent of residents are Christian. I met refugees who had fled Burma's brutal regime and were forced to convert to Buddhism, and a missionary whose husband was kidnapped and jailed by the regime. Unlike John Monger, many of the refugees can't go to a Christian college in India and be resettled in America. But among the refugees, the Mizoram church can offer refuge and hope.
Jenny Yang
Director of Advocacy, World Relief
Baltimore, Maryland
Faithfully Fibbing
I appreciated "The Seven Levels of Lying" [May], but wrestle with Sarah Sumner's conclusion that lying is always wrong. Sometimes "lying" is the most practical solution. I've checked boxes online that said, "I have read the terms of the license agreement," when I have not. Am I obligated to read it just because attorneys have forced companies to write encyclopedic legal agreements?
A more poignant example: Recently I came back from Africa with gifts from a ministry staff member to expedite shipping in the U.S. Passport control asked if anyone I didn't know had given me items to carry. Technically the answer was yes, but practically the answer was no—which I told the agent—because even though I didn't know the staffer personally, I knew she worked for our organization.
I appreciate that the Holy Spirit makes me aware of something I have said that was untrue and needs correcting. That's real life.
Bob MacLeod
Orlando, Florida
Certainly we all lie too frequently, but I question Sumner's thesis that there are no exceptions to the no-lying mandate. I have never been in a situation like Corrie ten Boom's, but have been in one that I hope Sumner never faces. I tried to find "creative ways to speak the truth in love" to my mother during the final years of her life, and succeeded occasionally. I lied to her more than once as she succumbed to the torments of Alzheimer's, when she would plead for me to answer the question, "My mother and father aren't dead, are they?"
Diane Grant
Concord, California
It's instructive that the lowest circles of hell in Dante's Inferno are reserved for those who have committed sins of "fraud": flattery, hypocrisy, theft, sowing of discord, false witness, and treachery. Dante had been politically active earlier in life, and he must have seen that sins of deceit undermine the very possibility of relationship and community.
Marilyn Lundberg Melzian
Rolling Hills Estates, California
The Blessed U.S.
I concur with John Fea: Americans did not found a Christian nation ["Cherry-Picking from the Past," CT Review, May]. But the Second Great Awakening helped imprint Christianity on the emerging culture. Few Americans from 1800 to 1960 would have challenged the Christian identity of America. Further, Jesus' command to "make disciples of all nations" implies that a state can become Christian. Yet most Christians run from the suggestion, preferring an unspoken alliance with secularism.
Bill Payne
Ashland, Ohio
What got the most comments in May's CT
53% The Seven Levels of Lying by Sarah Sumner Volf
13% A World Without the KJV by Mark Noll
7% The Village Green: What''s Wrong with Credit Card Debt? by Ron Blue, John G. Stackhouse Jr., Mary Hunt
Readers' Pick
The most praised piece in May's CT
A World Without the KJV
Mark Noll
Worth Repeating
compiled by Elissa Cooper
"The whole setting-the-date thing reminds me of the boy who cried wolf. Yes, the Lord will return. He says he will. That's all I need to know."
ms muse, on the prediction that the world would end on May 21, 2011.
CT Liveblog: "Should Christians Care about Harold Camping, May 21, & Doomsday?," by Sarah Pulliam Bailey
"Clearly Jesus thought the problem was in the person doing the lusting. Why have we continually instead tried to put the blame and responsibility on the woman?"
Sue, on how the church should view survivors and perpetrators of sexual assault.
Her.meneutics: "Beyond SlutWalk: A New Conversation about Sexual Assault," by Katelyn Beaty
"Although his death was of top priority in this war and consequently seen as a victory, Christians should remember that whether or not Osama was evil, God created him."
Teresa, one of many readers to address Christians' reaction to Osama bin Laden's death.
CT Politics Blog: "How Should Christians Respond to Osama bin Laden's Death?," by Sarah Pulliam Bailey
"Just another example that could inspire us to make a better effort in representing Jesus to others. Shouldn't love, respect, and humility come quicker to Christians than judgment?"
Rick, responding to discussion on how to help people understand the gospel.
CT Entertainment Blog: "Brad Pitt: 'I've Got Issues' with Christianity," by Mark Moring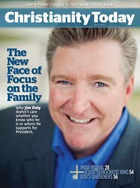 This article is from the July 2011 issue.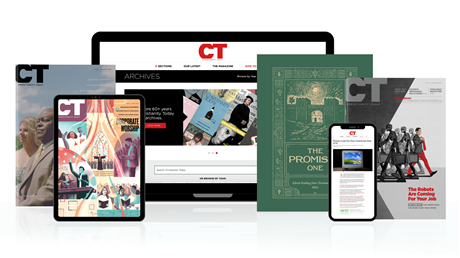 Find hope and historical insight. For a limited time, explore 60+ years of CT archives for free!
Daily devotions from Timothy Dalrymple during this pandemic.
Hundreds of theology and spiritual formation classics from Philip Yancey, Elisabeth Elliot, John Stott, and more.
Home delivery of new issues in print with access to all past issues online.
Join now and get print issues access to archive PDFs.
Readers Write
Readers Write