Campus Crusade for Christ International (CCCI) is embarking on a nine-month mission to change its name to Cru, years after its founder, Bill Bright, wondered whether the evangelistic ministry should alter the brand.
It's already a popular shorthand for the ministry, though other evangelicals often call it simply "Crusade," the half of its name that has caused it problems overseas. The word carries connotations to the Crusades, military conquests by European Christians intended to reclaim the Holy Land from Muslims in the 11th to 13th centuries.
"It's become a flash word for a lot of people. It harkens back to other periods of time and has a negative connotation for lots of people across the world, especially in the Middle East," said Steve Sellers, the CCCI vice president and U.S. national director who is leading the name change project. "In the '50s, crusade was the evangelistic term in the United States. Over time, different words take on different meanings to different groups."
The 60-year-old ministry is one of the largest evangelical parachurch organizations in the world, with about 25,000 staff members in 191 countries and $490 million in annual revenue. Founder Bill Bright always assumed it would become broader than its "campus" ministries at colleges and universities.
"There will be any number of people who will say, 'Finally, it's about time you changed your name.' On the other extreme, there might be people who have been part of the ministry who think, 'Oh, you've gone liberal. You've changed your mission,'" Sellers said. "We don't shy away from our desire to communicate the gospel."
With the name Crusade, Sellers said people might conjure images of people being forced into something.
"We think the name of Jesus and his love is the most attractive thing on the planet, and to do anything to make it seem forced or that we're trying to cram it down anyone's throat is just not necessary," Sellers said. "We're constantly trying to eliminate things that are a barrier or obstacle."
The change will be implemented in the United States, since leaders of the international ministries affiliated with CCCI operate as individual organizations. Sellers estimates that of the 191 country affiliates, 95 percent have already changed their name. Among them is the Canadian affiliate, which changed to Power to Change Ministries in 2007.
Bright, who founded the organization in 1951, brought up the question of changing the ministry's name to the board in the late 1970s and early '80s but never followed through. CCCI's board approved the decision to change the name two years ago. The staff began with a white board and considered 1,600 unique names, Sellers said.
"Since Cru began as a nickname at the local level in the mid-90s it has taken on much of the positive equity of the organization without any of the negatives," the organization said in a FAQ posted on its website. "Like Google, Starbucks, and other abstract names, we expect to fill Cru with meaning as it embodies all that we are as we go to the world with the gospel."
Campus Crusade is not the first organization to distance itself from the term. In 2000, Wheaton College removed its Crusader mascot and eventually became the Thunder. Only this year, the school unveiled a physical mascot, "Stertorous 'Tor' Thunder," a 2-person mastodon costume weighing 99 pounds (the largest mascot in the NCAA). In 2002, evangelist Billy Graham began using the word "mission" to describe what he always called "crusades." His son Franklin Graham and evangelist Luis Palau call their gatherings "festivals," while Greg Laurie uses "crusade."
Scott Moreau, professor of intercultural studies at Wheaton College, welcomes CCCI's name change because its current brand causes some confusion internationally, though he anticipates that people might suggest the ministry wants to be politically correct. Moreau was on Campus Crusade's staff in Kenya, where the organization was called Life Ministries.
"There's a PC-ish framing that makes people uncomfortable, but my response would be that PC framing is not driving this. It's unnecessarily offensive," Moreau said. "The name, as it currently stands, is not neutral. Its time has run its course as a name of an American evangelical organization. There are already enough stumbling blocks for people coming to Christ."
Moreau estimates that between 10 to 20 missions and evangelism organizations have changed their names in the last decade because of cross-cultural considerations.
In 2007, the Interdenominational Foreign Mission Association of North America (IFMA) changed its name to CrossGlobal Link, citing how the words "interdenominational" and "foreign" have changed meanings since its 1917 inception. The mission organization EFMA changed from its original name, Evangelical Foreign Missions Association, to Evangelical Fellowship of Mission Agencies in 1992 to include domestic missions as members. In 1997, it changed its name again to The Mission Exchange. In 2004, the Conservative Baptist Association changed its name to CBAmerica, and in 2008, the Baptist General Conference became Converge Worldwide.
Other organizations have changed names as their reach has broadened. For instance, the mission organization most widely known as SIM (Serving in Mission) was founded in 1893 as Sudan Interior Mission.
C. Douglas McConnell, provost of Fuller Seminary, notes that many organizations go by their acronyms, like YWAM (Youth With A Mission). "We used to call them "Youth Without Any Money" because that's how they came to us," McConnell said. YWAM, similar to Campus Crusade, requires missionaries to raise their own financial support.
McConnell led efforts at Fuller to change its School of World Mission to School of Intercultural Studies in 2003, because he found that the term world mission was seen as offensive in the Middle East and Central Asia.
"You have these vying constituencies and you have to bring them together while minimizing the damage and make what you think is the best decision," McConnell said. "Donors have all these pleasant memories and you have new recruits barking at the old name and saying it's antiquated. After you make the change, you have all this pastoral and opinion management."
CCCI leaders have discussed changing the name over the years simply because the word campus was limiting, said John Turner, author of Bill Bright and Campus Crusade for Christ.
Campus Crusade has long outgrown its "campus" portion to head other ministries, Josh McDowell's apologetics work, the Athletes in Action sports organization, and FamilyLife, a marriage and family ministry.
In 1979, the ministry produced the Jesus Film, which is now available in 1,129 languages. The ministry says more than 6 billion people have watched the film, which some call the most-watched motion picture of all time. Bright wrote "The Four Spiritual Laws," a popular evangelistic tract that led off with the well-known phrase "God loves you and has a wonderful plan for your life," in 1952. The ministry estimates that it is the most widely-distributed religious booklet, with 2.5 billion printed.
"Changing the brand is risky, but they're pretty savvy," said Turner, who is a history professor at the University of Southern Alabama. "Not a lot of organizations can survive the replacement of their founder. Crusade managed to do that, so I imagine they'll pull this off, too."
Article continues below
Related Elsewhere:
The organization has more information about the name change.
Previous Christianity Today coverage of Campus Crusade includes:
An Unlikely Gay-Straight Alliance | Campus Crusade launches HIV/AIDS outreach with campus gay-lesbian group. (January 13, 2009)
Campus Crusader for Christ | Bill Bright is a compelling, flawed figure in John Turner's historical analysis of postwar evangelicalism. (August 7, 2008)
The Pope We Never Knew | The unknown story of how John Paul II ushered Campus Crusade into Catholic Poland. (April 19, 2005)
Weblog: Campus Crusade for Christ Founder Bill Bright Dies at 81 | Former happy pagan went on to form one of the largest and most efficient parachurch ministries in the world. (July 1, 2003)
Bright Unto the End | In the face of retirement and death, the founder of Campus Crusade says his spirit still soars. (October 1, 2001)
Bill Bright Announces Retirement | Current veep Stephen Douglass to lead Campus Crusade for Christ in July 2001. (July 27, 2000)
Bill Bright's Wonderful Plan for the World | Evangelicalism's power couple closes in on their radical mission. (July 15, 1997)
Campus Crusade Into All the World | Bill Bright leads a spiritual revolution. (June 9, 1972)
Previous articles on the Crusades include:
Onward, Christian Soldiers | God's War is the new standard in the Crusades field (July 19, 2007)
How Could Christians Crusade? | Why followers of the Prince of Peace waged war. (May 6, 2005)
Waging Peace on Islam | A missionary veteran of Asia proposes one way to defuse Muslim anger about the Crusades. (May 5, 2005)
Unholy Wars | Two books document the dangers of mixing church and state. (Jan. 27, 2005)
Christian History Corner: A Muslim Perspective on War | Muslim response to the Crusades showed jihad in action, and while the grievances have changed, the rhetoric still echoes. (Oct. 5, 2001)
Christians Retrace Crusaders' Steps | Christians apologize for ancient wrongs.. (Oct. 7, 1996)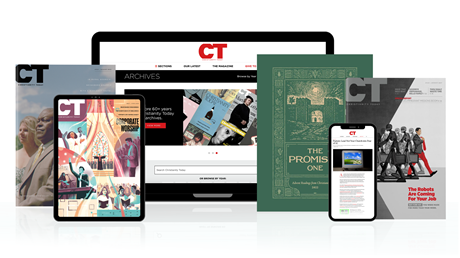 Annual & Monthly subscriptions available.
Print & Digital Issues of CT magazine
Complete access to every article on ChristianityToday.com
Unlimited access to 65+ years of CT's online archives
Member-only special issues
Subscribe
Campus Crusade Changes Name to Cru
Campus Crusade Changes Name to Cru