true
John Michael Talbot has been making music for a long, long time, and he's got an astonishing fifty-three albums to show for it—including the brand new Worship and Bow Down, which releases today. As the title suggests, the project includes worship music aplenty, covering a variety of styles—from light pop to liturgical chant.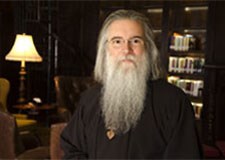 We recently caught up with Talbot—a Roman Catholic who lives in an integrated monastery in Arkansas—for a phone conversation about the new album … and a whole lot more. We talked about his "crossover" appeal to Protestants, his 1978 conversion to Catholicism (and how Keith Green condemned him for it), his days with Mason Profitt (and perhaps a missed opportunity to join The Eagles), his thoughts on "new monasticism," and even his reputation as a "techno-monk."
How would you describe this new album?
It's different from my previous albums because there's a new Roman Missal coming out this year, so there's a need for new liturgical settings. The old musical settings of the Mass no longer work. I did some new settings, and I took them to Oregon Catholic Press, the largest Catholic publisher of music in the world. They got excited about it, but they said they'd like some other great texts as well. They wanted a new setting of Psalm 95, and they wanted a good communion hymn. For the Catholic churches they wanted a good setting of the Hail Mary that really focused on the centrality of Jesus.
I also had some other tunes. One focuses on the use of the Jesus Prayer, which comes from the Christian East, and one comes from the use of the breath in Christian meditation, which goes back to Hesychios the Priest and Diodochus of Photice. And I wanted to do some texts that focus on the trouble that we're going through as a people, so I did a treatment based on the annunciation "Nothing Is Impossible." And I did a setting of Habakkuk, traditionally from Evening Prayer in the Vesper service: "Hinds Feet on High Places."
It all comes at a time in Catholic history in America where Catholics really need encouragement. We've been through some tough times with the sex scandals, and of course all Christians and all Americans are going through tough times with the recession and political polarization.
I also have two new books: The Universal Monk: The Way of the New Monastics just released, and another book coming out at Christmas called The Blessings of St. Benedict. So it's a very busy year for me, but an amazingly creative time. I'm fifty-six years old and I feel like I'm twenty again. I'm just having a blast.
You've long had "crossover appeal" among Catholics and Protestants. Do you often think of Protestants when you're writing lyrics?
I don't usually intentionally manipulate lyrics. Usually I let lyrics and songs just flow out of who I am. I was raised a Methodist, and I come from a long line of Methodist preachers. My daddy was a Presbyterian. My mother believed in free will. My daddy believed in predestination. And because moms usually have the say, I was raised in the Methodist church. My dad was cool with it; he thought it was all predestined anyway!
When I became a Catholic, my grandmother said, "Johnny, now that you're a Catholic you're a better Methodist than ever." When I go into non-Catholic churches, I feel at home—whether in a Methodist setting or a Lutheran setting or an Anglican setting or whatever. Probably the only places I probably don't feel greatly at home in are the big megachurches.
So your reputation among Protestants is not by design. It just happened.
It's who I am. I think if I were to try to manipulate it, it would come off as, well, manipulative. It would come off as artificial. People can sense a fraud. You've got to be who you are. And if you are that in your music, your art, your preaching, writing and your teaching, people go, "Bingo. I may not agree with everything John Michael says, but it ministers to me. There's something coming from Christ to me here."
Somehow when I became a Catholic, instead of closing the doors on most of my non-Catholic inroads, the music has just been a natural bridge between Catholics and non-Catholics. That's something I am enormously grateful for.
The press kit quotes you as saying "the focus of the ministry must be transferred from self to Jesus." Do you think a Christian artist is also by default a minister?
Well, they have to choose it. In Christian music, we have ministers who also entertain. And that's proper, because if you're not entertaining, people are going to go to sleep. But you also have people who are primarily entertainers who also minister.
Are you saying you're not an entertainer?
I think I'm a minister first, but I also pray that I'm entertaining. I hope I can make it interesting for people and keep their attention. But if you're really, really ministering in the Spirit, God has a way of taking care of that, because he's a better entertainer and a better minister than I am.
Do you ever pull out your old Mason Proffit albums and listen?
Oh no. I listened to them years ago. And they were awful.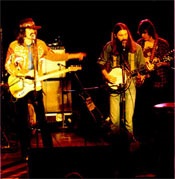 No they weren't!
We had some … We were on the cutting edge of the country rock movement. It was us and the Flying Burrito Brothers, Poco, and the Byrds. But we didn't know how to make a record. Terry [brother Terry Talbot, also in Mason Profitt] told me years ago that Jerry Weintraub, before he made John Denver famous, had offered to put us together with some studio players. He said, "I'm going to make you the biggest thing in America." It was toward the end of our run, we were doing over 300 concerts a year, and we were just exhausted. So Terry said, "No thanks." Now Terry thinks it was the biggest mistake he ever made. But I look back on it and I think it's probably the greatest blessing of my life, because I would have never ended up doing what I'm doing, had we gone down that road. There were rumors that The Eagles really wanted us to join their band …
But you didn't have a peaceful, easy feeling about that?
It wasn't me. It was [Eagles co-founder] Don Henley. He didn't like the fact that we were Christians. But [Eagles co-founder] Glenn Frey said, "Aw, come on. Terry and John are okay." But Henley was very hesitant about our Christianity. I look at that now and I go, man, I'm glad I didn't do all that, because I'm so grateful for the life I've lived. I've had so much more success as a soloist than I had with Mason Proffit, and it's been something that has spiritual and artistic integrity. I've been able to found a community and live this idyllic, exciting life and write books. What else could I have?
What drew you from Protestantism to Catholicism?
A combination of seeing the disunity in the churches I was playing in, and in Jesus music. It broke my heart that Christians were so divided and superficial. I stumbled onto a few things—Thomas Merton and then St. Francis of Assisi. I got into radical gospel living, mystical prayer, contemplative life, and they were all Catholic.
I ended up with this idea of, let's go back to the early church through which the Scriptures came and see if they had at least a substantial agreement on how to live, and then let's apply that to our situation. When I did that, I was shocked to find the primitive expressions of what today we would call the Roman Catholic Church. I wasn't looking to be a Catholic. I didn't even like Catholics. But the Lord gave me a word: "John, she's my first church. I love her most dearly. She's been sick and nearly died, but I'm going to heal her and raise her to new life, and I want you to be a part of her." So, with this monastic and Franciscan thing happening, I really liked what I saw. All that started in 1976 and '77, and in February of 1978, I became a Catholic.
How did your family and friends react?
They all totally understood. I've always been a radical. And when you understand the Catholic faith correctly, it's a radical expression of Christianity. It's not fanatical, but it is radical. It's rooted. Scripture has fundamentals without becoming fundamentalist. It has fundamenta—foundations, in Latin. I found that very liberating. So I made the jump, and I haven't turned back.
I've heard Keith Green wasn't very keen on your conversion to Catholicism. [Green, a Christian musician who died in a 1982 plane crash, essentially called Catholicism a cult in his Catholic Chronicles, writing that "the Roman Catholic Church has constructed one of the most unbiblical doctrinal systems that has ever been considered 'Christian.' … Never has something so black and wicked gotten away with appearing so holy and mysteriously beautiful … for so long!"]
Yeah. I told Keith he had to repent. He didn't, and he died a couple of weeks later. I told Keith, "Do some constructive criticism. There's lots of constructive criticism happening within Roman Catholicism from the inside." I knew several priests that were also friends of Keith, and they said, "Keith, if you're going to do this, do it in a way that's going to build people up in Christ and be something constructive for the church and not something that's just going to slam the door on a lot of people."
Keith died before he had a chance to really mature. [Green was 28.] He did the right thing wrongly. Thomas Aquinas says, "You have to do the right thing rightly in order to do the Jesus thing." We're all guilty of it. A lot of times we try to do the right thing and we just blow it because we do it in the wrong way. I think that's what happened to Keith.
I've read somewhere that you're now known as "the techno monk."
(laughs) Yeah.
You have an iPad and an iPhone?
Yeah, I do.
And you're an animal on Facebook. You're on there all the time!
Yeah. I go on there a few times a day, especially when I'm on the road.
So, is that what the new monasticism looks like?
(laughs). It's the new scriptorium, bud! The Pope has been very clear. He wants people to use not only the internet but social communications, but he wants them to use it well. So I've tried to do it. There are days I want to just chuck it, and there are days when I go this is a huge blessing. I mean, we're getting over two million hits on this thing. Facebook is a great community, especially for people that are shut in. You can reach people all over the world instantaneously.
But, and this is a huge but, it is no substitute for face-to-face relationships and community building. The problem is that it becomes an addiction that keeps people away from real relationships with other people. And because they're not looking at each other eyeball to eyeball, people feel like that they can say anything. And folks are truly, truly nasty with each other. It's over the top. So the ministry of my Facebook page is teaching Christians how to be civil and respectful with each other. I try to get them to share and not argue, to dialogue and not debate, to respond and not react. And I have a real easy solution to people who won't do that. I just block them.
It's vogue these days to fast from technology. Have you done that?
I haven't. I think it's a good idea, but I'm going to stay online. I take this Benedictine monastic perspective on most things, and that is to use things but use them moderately. Have possessions but don't let them posses you. Consume but don't be consumed by what you're consuming.
How about a few comments about your new book?
It's called The Universal Monk: The Way of the New Monastics. It's trying to represent this new movement called the New Monasticism. It goes across the barriers of church affiliation, spirituality, state of life. It's folks of every state of life that feel drawn to a monastic spirituality and living it within their context. And it's being manifested in integrated monasteries where we integrate the charismatic and the contemplatives, spontaneous, liturgical, solitude and the hermitage, and community life.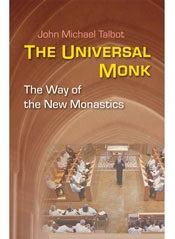 And it brings together states of life. In our monastery we have traditional celibate monks, traditional celibate sisters, singles who can marry, and families. I'm part of the family expression. We would also have domestics, based on the word domicile, who live in their own homes. And we really feel that here in the United States that latter expression is that which most folks can relate to. The phenomenon of people affiliating with monasteries in some way is growing by leaps and bounds. And not just Catholics, but non-Catholics and even some non-Christians. This book tries to address that phenomenon.
Are we reaching a point where the very word monasticism is losing its meaning? I mean, can I live in my home and still have my two cars and our dual incomes and my cable TV … and still be a monk?
You can't be a monk, but you can be monastic. Now the word monk has never stood still. There were all kinds of different expressions of monasteries ranging from solitaries to people who lived in colonies of solitaries to people who lived in strict community, people who lived in cities, people who lived in the wilderness. I actually have a whole section on that in the book. And the New Monasticism is just a new expression of it. But the etymology of the word, strictly speaking, applies only to solitaries. A monk is one who is monos, who is one and alone. But from the start, it applied to communities, so the word began to morph from the beginning, and it's still developing today. But you don't lose the essence of the reality.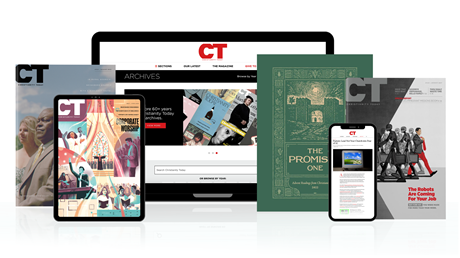 Subscribe to Christianity Today and get access to this article plus 65+ years of archives.
Home delivery of CT magazine
Complete access to articles on ChristianityToday.com
Over 120 years of magazine archives plus full access to all of CT's online archives
Subscribe Now
Mass Appeal
Mass Appeal