President Obama and the Democratic National Committee (DNC) are receiving some criticism over the new head of their religious outreach. In October, the DNC announced Derrick Harkins, senior pastor of Nineteenth Street Baptist Church in Washington, D.C., would lead the 2012 effort. Harkins actively promotes progressive policies, and he also serves on the boards of the National Association of Evangelicals, World Relief, and Faith in Public Life.
His link to evangelicals may be a strength, but it is also causing controversy among some in the Democratic Party's liberal base because of his views on marriage and abortion.
Blowback began when Religion Dispatches senior editor Sarah Posner reported her interview with Harkins from several months ago. Harkins worked closely with the Circle of Protection and Sojourners to lobby for the continuation of anti-poverty programs. Following a press conference held in opposition to the Values Voters Summit, Posner interviewed Harkins about hot button social issues. Posner began with a discussion of same-sex marriage, in which Harkins spoke about the complexities involving the legal status of gay couples. When asked if he supported same-sex marriage, Harkins said, "No, no, no. But again, I'm not a bomb-thrower in terms of saying things that will get a rise out of a crowd because I just don't think that's, again, intellectually honest."
Harkins's position became less clear after a petition advocating same-sex marriage surfaced. AmericaBlog, which covers LGBT politics, reported that Harkins was one of many D.C. pastors to sign a statement supporting same-sex marriage in the District. Harkins's name is listed, but he informed Christianity Today that the petition is erroneous. Harkins did not sign that petition or any other statement supporting same-sex marriage. When the issue was being discussed in D.C., he did not participate. His name was included on the petition without his knowledge or consent.
The DNC sent an e-mail assuring that Harkins supports civil unions for gay couples.
"The crux of Rev. Harkins's political perspective is a fundamental belief in the equal and inherent value of people of all identities and backgrounds—that is exactly why the DNC has tapped him to lead our party's faith outreach program," the e-mail said. "Do I wish Rev. Harkins was on the record as an active supporter of same-sex marriage? Of course I do—just like I wish 100 percent of the American public was in favor of same-sex marriage, including my President." (Americablog attributed this e-mail to Rick Stafford, head of the DNC's LGBT caucus.)
Believe Out Loud interim director Gwen Ashby said Harkins's appointment was disappointing. "It was with a sinking heart, and not a little anger, that I read last week about the appointment of Rev. Derrick Harkins as the new faith outreach director for the [DNC]. Turns out Rev. Harkins, who has a long list of Democratic-leaning affiliations, is opposed to marriage equality," said Ashby. "What a missed opportunity." Believe Out Loud is a coalition "working together to help the Protestant community become more welcoming to gays and lesbians."
Harkins also avoided taking a traditional pro-life or pro-choice position on abortion. In his Religion Dispatches interview, Harkins said he opposed defunding Planned Parenthood but not some restrictions on abortion by state governments, and called for a "conversation" on abortion that included providing social support for women facing an abortion decision:
I do think that to broadly restrict access is not helpful if that is what happens alone, if there are not alternatives that also are put in place, if there aren't things that speak to, again, prevention of pregnancies, if there aren't things that speak to neo-natal care, if there aren't things that speak to pre-natal care. All of those things that need to be part of that larger conversation. What I say to somebody, would I advocate for further access to abortions? Well, no, that's not in my wheelhouse. But I would say if you're going to have that conversation, you better also have a conversation that speaks to the situations that … would prompt a family, especially a poor family, or a woman to seek out an abortion.
Harkins has a reputation for being able to work with both liberals and conservatives on controversial issues. But in a campaign season, his reputation is viewed as a weakness by some on both the Left and the Right. Harkins is pastor of a historic African American church affiliated with both liberal and conservative Baptist associations.
Harkins is also a member of the advisory board for the Religious Coalition for Reproductive Choice (RCRC). RCRC president Carlton Veazey said Harkins was a supporter of the RCRC's National Black Church Initiative, which aims to provide "faith-based sexuality education" and reduced unintended pregnancies in the African American community.
"On the issue of reproductive choice, although [Harkins] and I have different theological views on the moral appropriateness of abortion, he is committed to improving the health of young African Americans through sex education and pregnancy prevention," Veazey said.
When asked about gay marriage and abortion by the Christian Post, Harkins said that the Democratic Party allows for diversity. Pointing to Obama's relatively high success among evangelicals and Catholics in 2008, Harkins said, "I think that those issues, as challenging as they can be, are issues that people certainly wrestled with and considered on a personal level, but at the same time, I think that the president and the Democratic Party has always indicated an appreciation for and a regard for the personal freedoms and liberties that one brings to those very personal circumstances."
Politico reported that the Harkins appointment is the latest effort in two years by the White House to reach out to Christians, including an October meeting with the executive committee of the National Association of Evangelicals. The DNC called the outreach to people of all faiths "a key priority and trademark of President Obama."
"Justice, fairness, and compassion are at the core of religious voters' concerns, and they are central to President Obama and the Democratic Party. Working with religious Americans from across the country, we will ensure that those values are a part of the political conversation heading into this critical election," Harkins said. "People of faith have a home in the Democratic Party, and I have every expectation that people of faith will be a key part of a successful election for Democrats in 2012."
The DNC and the Obama campaign hope that they can repeat their success from 2008. Obama attracted many religious voters, including younger evangelicals. While Obama holds some political positions opposed by many religious voters (namely, on abortion and same-sex marriage), he has formed coalitions with clergy and other religious leaders on issues where there is agreement. The White House has been able to work alongside evangelicals, for example, on immigration reform, poverty, and aid to Sudan.
Obama's outreach to religious voters has also raised the ire of some conservatives. American Values president Gary Bauer said Obama has mixed faith and politics in a way that would be criticized by the media if the President were a conservative Republican.
"A Politico investigation early on in his administration found that Obama had invoked God more often than Bush had over a similar time span," Bauer said. "And Obama often mentions his faith to justify policies that directly contradict common understanding of Christian teaching."
The Institute for Religion and Democracy's Luke Moon said Harkins seems like the perfect choice. "The noticeable lack of outrage about an active senior pastor being hired by a political party seems odd except that it fits nicely into the left's strategy to fracture the traditionally conservative Evangelical vote," he said.
Speaking to the Call for Renewal in 2006, Obama said progressives and Democrats ignored religion at their peril.
"I think we make a mistake when we fail to acknowledge the power of faith in the lives of the American people, and join a serious debate about how to reconcile faith with our modern, pluralistic democracy," Obama said.
In a speech on Wednesday, Obama injected religion into the jobs debate. He noted in a speech today that the House ignored his jobs bill but passed legislation yesterday affirming that "In God We Trust" is the U.S. national motto. "That's not putting people back to work," the President said in Virginia. "I trust in God, but God wants to see us help ourselves by putting people back to work."
Related Elsewhere:
Christianity Today covers more political developments on the politics blog.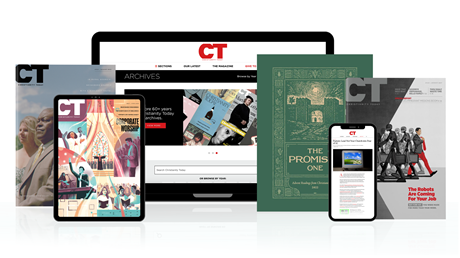 Subscribe to Christianity Today and get access to this article plus 65+ years of archives.
Home delivery of CT magazine
Complete access to articles on ChristianityToday.com
Over 120 years of magazine archives plus full access to all of CT's online archives
Subscribe Now
Democrats Receive Blowback over Outreach to Religious Voters
Democrats Receive Blowback over Outreach to Religious Voters