true
Chris Tomlin has sold tons of records, and more than 40 million people sing his songs in church every week. The man is a corporate worship song-making machine, with four of his compositions in the top 10 of the most sung songs in church, including the current No. 1 CCLI song in the world, "How Great Is Our God."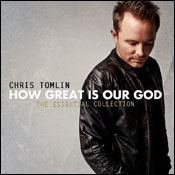 It's fitting that his first greatest hits compilation would take the name of that popular song. How Great Is Our God: The Essential Collection (EMI CMG) released last week, featuring 14 of Tomlin's top tracks, including seven that went to No. 1 at Christian AC Radio. The album includes new renditions of "Forever," "We Fall Down," and a special new "World Edition" recording of the title track, featuring multiple languages and the voices of influential worship leaders from around the globe.
We recently chatted with Tomlin about the new album, his career, and what it's like to have people all over the world singing your songs.
Why did you decide that now was the right time for a greatest hits record?
I've wanted to do it for a few years, and I've been looking for the right time. It's been a little over a decade now since I started, and I've been looking back and thinking Man, God has used so many of these songs in the church. I thought about doing it in 2010, but then I thought, No, I've got too many songs in me right now. I want to make another record first. So I did And If Our God Is for Us. After that, I thought, Okay, maybe now I can put out a collection of songs, a snapshot over the past 11-12 years.
I knew I wanted to call it How Great Is Our God, because Chris Tomlin Greatest Hits sounded dumb, stupid. I guess you could call some of them hit songs, but that's never been what it's about for me. I've tried to write songs of worship, give people a voice to worship God, songs for the church.
You re-recorded the title track with voices from all over the world.
I knew if I ever got a chance to record that song again, I wanted to capture this special thing we've heard around the world. As we've traveled, I would try to learn "How Great Is Our God" in the native language—at least the chorus. It's pretty hilarious listening to me ruin language after language, night after night, in these countries, but people are pretty gracious. It's beautiful to start singing this chorus in Russian or Indonesian or Mandarin, and then see the people just light up, to see how God has used this song. So I've wondered, What would it be like to capture what we've heard, with multiple languages in one song? It's beautiful the way it's come together.
How did it come together?
I asked some worship leader friends who are an incredible influence in their countries if they would sing this in their language. I sent the track to them, and they recorded the vocals in their own language; we didn't fly everybody in to do this. I just said, "Guys, go for it. And we'll put it together." I really was nervous about it. It sounded like a great idea, but would it end up like just a hodgepodge or what? The song is translated in different rhythms, into words with different timing. But I thought, Let's give it a shot.
When we started getting tracks back and started listening, I could not believe what God had done, the way these guys put their heart and soul into this singing. I think that what we captured is something I'll never get to be a part of again. I think it's the best recording I'll ever get to do. It starts off with this Hindi Indian classical singing, and it sets up the song. Then there's this Zulu choir singing a South African rhythm, with the Hindi going over the top of it. And it goes to Indonesian, Russian, Spanish, Portuguese, Zulu, Afrikaan, Mandarin, English. It's just beautiful. I want the whole world to hear it. [The song was recently released as a radio single.]
Do you remember where you were the first time you heard one of your songs on the radio, or being sung by a congregation?
I don't really remember the radio thing as much as I remember the first time it was sung by a group. It was our first Passion conference in 1997. I was in the audience with the students. This melody started playing on the piano, and I thought Man, I've heard that before. And they started singing "We Fall Down," a simple little chorus I'd written. I remember seeing all these people with their hands raised to God singing this song, and it was in that moment I sensed God saying, Look at this. I've given you a gift to write songs that people can worship me with. I want you to run with this. It just so encouraged me, and I was so humbled, tears coming down my face. It was like, How did this happen?
Are you ever home on Sundays?
Almost every Sunday. I lead worship at Passion City Church [in the Atlanta suburbs].
Do you often lead with your own songs, or others?
Whatever is best for the moment. I lead with all kinds of songs, including my songs and songs I'm trying to write for our church. That's where the new songs come from.
Is your church sort of like a laboratory? You'll try out a song on your congregation and that's how you can tell if it's working or not?
That's a good thought, but not really. I mean, I kick it around a lot on my own time before I try it out on the congregation. That wouldn't really be fair. But yes, the very first people who will hear a new song are usually my church. And there are many times where I'm like, Oh, that one did not go like I thought it was going to go. And then there's several times it's like, Oh wow, this is a lot stronger than I thought.
Does that help you decide what songs to put on the next album?
Definitely. Because for me, it's about helping people sing. If people can't sing it, I don't want to put it on there, honestly. It's not about performance for me. It's not about just good listening. I want it to find its way into the fabric of the church.
Do you ever write what we would call horizontal songs?
I try to every once in a while, but it's not where I'm geared up. It's not where God's gifted me. I just want to sit down at the piano and just write a song to God, that's what makes me come alive.
But can't horizontal songs also be glorifying to God?
Well of course. I mean, all music is. Beethoven, Bach, anything. But writing like that is just not what I think about. Horizontal music is fantastic, and God doesn't have a genre. But for me, and the way God's gifted me, what you hear is what comes out of me.
Do you ever write love songs to your wife or lullabies to your little girl?
My little girl is just six weeks old, and we wrote a little lullaby we sing to her. And every once in a while I write love songs, but it's just not in me as much. It always keeps coming back to worship songs.
So those songs will never see the light of day on an album?
That is exactly right. They're private songs, for sure!
How much of a great song is the result of divine inspiration, and how much of it is just good old-fashioned hard work?
My friend Matt Redman says it best. He says, "People come up to me and say, 'Man, God gave me this song.' And then they play it, and I'm thinking, That's got to be because he must not want it anymore." (laughs) That makes me laugh, and it's the perfect way of saying … Well, it's hard to speak for God. I think a good song is the result of a hundred percent of both. It's hard work and it's a gift from God. But it's not like I just sit down with a pen and paper, and the pen just starts writing, moved by God's hand. It is my hand that's writing it. But somehow God was doing it through me. He uses us to be the pen, I guess, in some way. That's the best way I can say it.
What's the difference between a hymn and a worship song?
Two ways of saying the same thing, to me. I just call them songs of faith. I think "Amazing Grace" and "How Great Thou Art" are songs of worship just like "I Can Sing Your Love Forever." When "How Great Thou Art" was written, it was modern for its time. And when "Here I Am to Worship" or "How Great Is Our God" were written, they were modern for their time.
Many churches have abandoned old hymns. What are your thoughts on that?
Just because a song is in a hymnbook and it's a hymn doesn't mean it's a great song. And just because a song is new doesn't mean it's great, either. Churches are trying to find a way of communicating with the people that are coming. But I hear just the opposite, too—a lot of cool, hip churches are just singing the old stuff and older stuff.
For me, it's a combination of things. I've recorded older hymns that we've redone in some way. "Wonderful Cross" is from "When I Survey the Wondrous Cross." And "Amazing Grace (My Chains Are Gone)." Hymns are a huge part of me. But a lot of people haven't grown up in that. Kids that were born in the '90s and now they're 18 and 19 when they're leading, they may not have that library in their repertoire.
The great hymns of faith are going to be around forever no matter what some churches do, because they're so beautifully written.
I doubt if Charles Wesley sat around wondering if his songs would be in hymnbooks after 200 years. Do you ever think about that possibility?
Man, that would be amazing. Maybe there's a couple that might; there may be a few that outlive me. I don't know. I don't know about a hundred years from now, but they might be around for a little bit. But that would be one of the greatest legacies to me. To me, that would be way bigger to me than selling a million records or having number one songs on the radio. That a song could find its way into the fabric of the church, if one of my songs did that, that would be unbelievable. I don't know if they will. I think they're too simple. But who knows.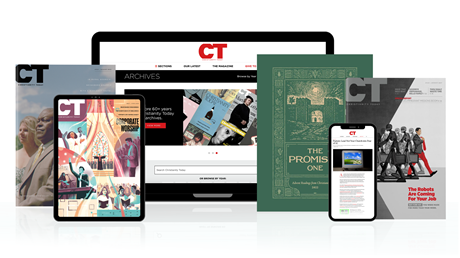 Annual & Monthly subscriptions available.
Print & Digital Issues of CT magazine
Complete access to every article on ChristianityToday.com
Unlimited access to 65+ years of CT's online archives
Member-only special issues
Subscribe
Read These Next
Trending

American Christians Should Stand with Israel under Attack

While we pray for peace, we need moral clarity about this war.

From the Magazine

God's Promises Are Clearest When We Turn Out the Lights

Christians have every reason to reduce light pollution.

Editor's Pick

Don't Miss These African Christmas Hits

Jam out this season to highlife, Afrobeats, jazz, a cappella, R & B, rap, dance, and hip-hop artists from Nigeria, South Africa, and more.
Tomlin: A Worship Song Machine
Tomlin: A Worship Song Machine