true
"The arts steer the culture, and it's time for the people of God to put their hand on the wheel."
So says Sam Cintron, singer, songwriter, sculptor, and painter when discussing Standing in Babylon, his two-act "theatrical concert" recently staged by the Hope Center for the Visual and Performing Arts in Jersey City, New Jersey. A unique blend of song, dance, dramatic monologue, and multi-media, the show is loosely adapted from Cintron's CD of the same name.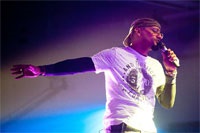 "House Arrest" was a high-energy, dramatic catapult into the show. Amidst a stage of televisions hanging from (and in) chains, Cintron makes his entrance in a shackled cage, wheeled onto the stage by dancers in prison uniforms. Visually and lyrically introducing one of the central motifs of the show—the embattled state of God's people and word in a circus culture—the piece, like most of the show, walks a tightrope between strident social critique and optimistic faith that believers still have the power to "be strong, be bold, [and] be holy." As the shackled television screens ironically play a clip from the World's Fair announcing the invention of the television ("a new art, bound to affect all society"), Cintron sings:
I've been on house arrest
By the virtual world.
Feeling like there's no other thing to do.
Oh the countless times,
I've called it family time.
But in reality, I was cutting quality time …
The second act's "The Bride" features Bethany Moxley costumed to resemble Cintron's sculptural piece (also called "The Bride"), where the bride of Christ (the Church) is symbolically depicted as hooked up to life-supporting medical equipment but still under the protection of God. Leading into a performance of Cintron's "Rekindle the Romance," where the singer is accompanied by Marisha Rodriguez, the concert's closing scenes perhaps most clearly illustrate the show's dual purpose—to minister to believers through arts, and to challenge them to consider to what extent they are conforming to modern culture rather than integrating their faith into all areas of their lives (particularly in their consumption and use of art and entertainment).
Cintron says we live in "a generation that hears through their eyes." Believing that, he has created a show that does not look at the staging as mere adornment for the songs, but as partners with the music in creating concert performance pieces. Lacking a thorough narrative that might classify it as musical theater, "Standing in Bablyon" can perhaps best be described as theatrical music videos.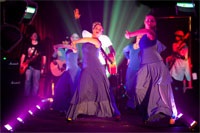 In order for the hybrid to be successful, all the elements must be of equally high quality. Hope Center President (and co-pastor of the Hope Tabernacle Ministry) Leigh Piatt-Gonzalez has surrounded Cintron with a team of professionally trained musicians, performing artists, and technicians who not only embellish or accompany Cintron's songs but actually enhance them. Special praise should go to choreographer Maria Francesca Arnaldo who, despite the limitations of an intimate venue, was able to incorporate multiple dance styles—jazz, ballet, Spanish—so that each performance piece is visually distinct. Even the adolescent dancers in Act II's "Circus" were surprisingly polished and effective.
Non-elitist, ministry-focused approach
Perhaps Hope Center's biggest challenge in promoting Standing in Babylon is that the show resists easy classifications that facilitate sound bite advertising. Gonzalez and Cintron seemed ambivalent about attempting to film or mass-produce the show, noting that the performer's interactions with the audience were an integral, unifying part of its essence that might not translate well to a mass-produced, consumer product. The show's producers clearly think of the Babylon as a ministry as much as, if not more than, a commodity. Commercial success is desirable, but not at the cost of changing the show in ways its power or purpose might be blunted.
"We believe God's design is to [work through] the local church," Piatt-Gonzalez said, noting that fine arts is too often an elitist endeavor. She adds that the Jersey City community has its share of economically disadvantaged members who might never go to live theater but are continually bombarded with mass-media, entertainment choices that tend to promote a secular worldview. (That attitude was also reflected in the pricing of the show; tickets were a surprisingly affordable $20.)
The ministry-focused approach to the presentation of the performing arts is also reflected in the Center's sponsorship of the Hope Center Arts Academy, a group of educators and artists who mentor and teach local youth. The ultimate goal is to raise up visual and performing artists who are grounded in faith—Cintron says that all true artists are truth seekers—and who can use their training to minister to the church and help shape their culture.
What's next for "Standing in Babylon"? A return to Times Square Church is slated for early 2012. Cintron has also used the "State of the Bride" as a mobile art exhibit to spark street discussions and possible evangelism. Mostly, though, Cintron wants to get back in the studio, creating new pieces.
Whatever it is, one can be sure that it will reflect Cintron's belief that "in spite of compromise, God has a deep, abiding love for his bride" and his desire to make those who listen ask, "Where do I stand?"
Photos by Reena Rose Sibayan.
Ken Morefield, a CT film critic, is an associate professor of English at Campbell University and editor of Faith and Spirituality in Masters of World Cinema (2008, Cambridge Scholars Publishing).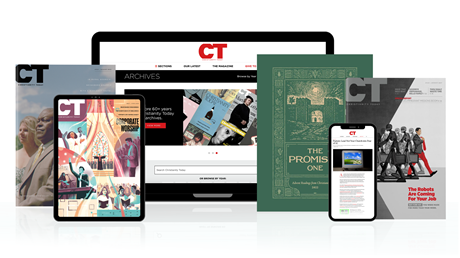 Subscribe to Christianity Today and get access to this article plus 65+ years of archives.
Home delivery of CT magazine
Complete access to articles on ChristianityToday.com
Over 120 years of magazine archives plus full access to all of CT's online archives
Subscribe Now
Standing in Babylon
Standing in Babylon