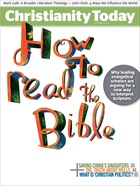 This article is from the October 2011 issue. Subscribers can read all of CT's digital archives.
Download a PDF of this article here
Related Elsewhere:
For more information about the "Passages" exhibition, visit the website.
Christianity Today previously spotlighted the lasting effects of your school, a poll of evangelical leaders, YouVersion, Osama bin Laden's death, Reformed hip-hop, church value, Christian names, how evangelicals give, evangelical vs. mainline politics, today's pilgrims, President Obama's faith, the future(s) of missions, health-care reform, Africa, American Idol, Haiti, Robert Park, persecution, Supreme Court and crosses, international religious liberty advocates, andchurch violence.
1
You have reached the end of this Article Preview
The Green Collection: Bibles and More