The Magazine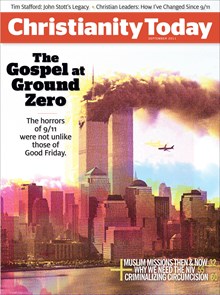 Read CT online anywhere you go.
Subscribers get full print and digital access, including:
10 award-winning print issues
PDFs of each issue
Full web access to ChristianityToday.com
60+ years of magazine archives
Table of Contents
In Every Issue
A Cross at the Bookends
The meaning of 9/11, and the motivation for missions.
DeVon Franklin Keeps the Faith in Hollywood
The studio exec says it's alive and well.
Also in this Issue:
'A Plain, Ordinary Christian'
The Virtues of Engagement
'Crazy, Bizarre, Wonderful'
Defending the Defenseless
Two Minutes with ... Jason Gray
More Media
The Song's the Thing