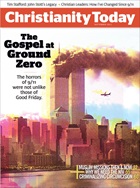 This article is from the September 2011 issue. Subscribers can read all of CT's digital archives.
Ministry
78% Americans who believe the presence of a church is "very" (53%) or "somewhat" (25%) positive for their community. Only 5% think the presence is negative.
21% Americans who can't name a way in which churches contribute positively to their communities.
Other Religions
Americans who believe more people practicing religions other than Christianity is a:
Good thing for society: 24%
Don't know: 3%
Doesn't make much difference: 51%
Bad thing for society: 22%
Life Ethics
80 Restrictions on abortion enacted in the first half of 2011.
23 Restrictions enacted in 2010.
34 Restrictions enacted in 2005, the previous record holder.
Related Elsewhere:
See our earlier "Go Figure" postings from August 2011, July 2011, June 2011, May 2011, April 2011, February 2011, January 2011, December 2010, November 2010, October 2010,September 2010, August 2010, July 2010, June 2010, May 2010, April 2010, March 2010, February 2010, January 2010, December 2009, and earlier issues.
1
Go Figure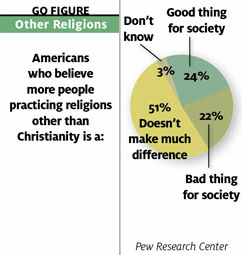 This slideshow is only available for subscribers.
Please log in or subscribe to view the slideshow.