President Obama will send his new jobs bill to Congress today, the recommendations he pushed during his address to a joint session of Congress last Thursday. The bill would direct more than $400 billion to programs the President hopes will improve the nation's unemployment, which remains stubbornly high.
The most recent political poll by the Pew Research Center for the People and the Press finds only seven percent of Americans say the economy is doing well. And the views of many evangelicals are more pessimistic than those of other Americans. But the economic perceptions are just that—perceptions.
Pew's April poll asked several questions about both personal finances and the national economy. When asked about their personal finances, few Americans say that their situation is poor. White evangelicals, however, stand out as having a worse view of their own finances, almost twice as likely as mainline Protestants to have a poor financial situation.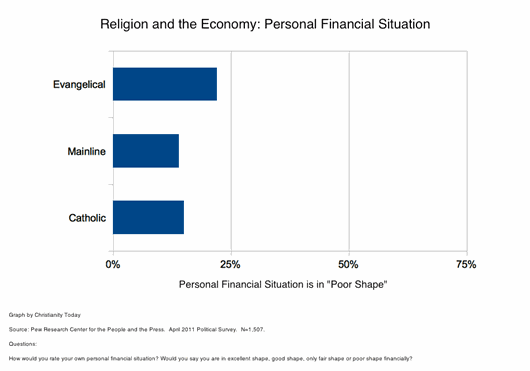 Moreover, evangelicals are much more pessimistic that this situation will improve. Pew asked Americans if their personal financial situations would improve or get worse. Among mainline Protestants and Catholics, a response of hope still outnumbers despair. Nearly half of evangelicals believe their financial situation will get worse over the course of the next year.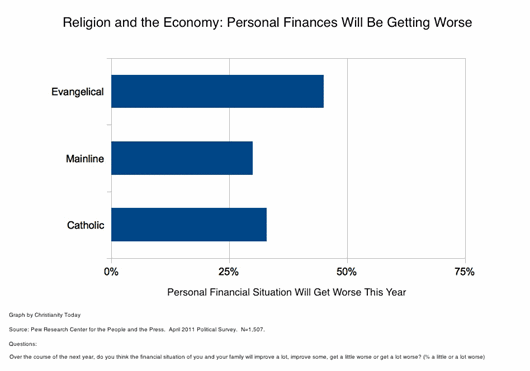 Like other Americans, evangelicals view the economic situation as dire. Less than 10 percent of Americans of any religion believe the economy is on sound footing. About half of Americans also believe that the economy is not recovering and will not recover for a long time. Evangelicals appear more pessimistic than most Americans. More than two-thirds of evangelicals said that it will be a long time before the U.S. economy recovers.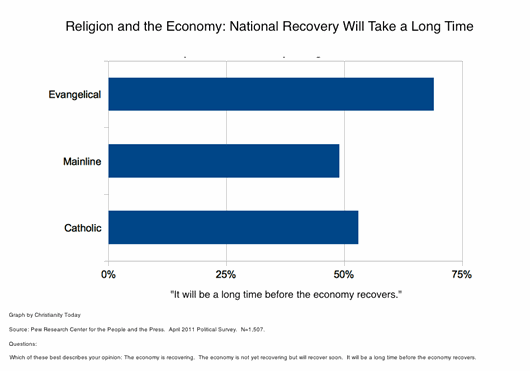 These perceptions of the economy are unlikely to be due to particular religious beliefs. Instead, the survey results suggest evangelicals see the economy differently due to a combination of partisanship and lower income levels. Public opinion research finds that people are more bullish about the economy when their party is in power. With a Democrat in the White House, Republicans will tend to view the economy as weaker than Democrats (the opposite pattern would occur with a Republican President). In the survey, 71 percent of evangelicals identified as Republicans or independents who favor the Republican party (49 percent identified as Republican; another 22 percent were independents who lean toward the Republican party).
Evangelicals may be affected in different ways by the economy than other Americans. In the same poll, evangelicals were more likely to say that their personal finances were affected by inflation and rising gas prices. One reason: evangelicals in this survey, on average, have lower incomes than other Americans. This income difference accounts for most of the differences in economic perceptions, according to the poll.
Regardless of reasons, evangelicals look at the economy differently than others, while some political activists criticize the current debate over the economy and jobs.
Family Research Council president Tony Perkins said both Republican and Democratic proposals need to include a discussion of the family.
"As the merits of these economic proposals are debated, there must be a realization that our nation's economic decline will not be reversed until we address the elephant in the room—the breakdown of the family," Perkins said. "The best economic program is the two parent family with children. These families will raise children who will drive our nation's future productivity which must steadily increase if we are to reverse economic decline."
Margaret Benefiel, writing on Sojourners's God's Politics blog, said there are "no easy answers" for the economy.
"We will need to experiment. We will need to hear opposing perspectives, listening for the wisdom in other points of view," Benefiel said. "We will need to work together across party lines for the good of all, rejecting entrenched, knee-jerk responses. We will need to find a new way forward."
Editor's Note: Data from the April Political Survey is publicly available. Results are based on Christianity Today's analysis of this data. CT is responsible for all analysis and interpretation of the results. Pew identifies evangelicals as white, non-Hispanic Protestants who described themselves as "born-again or evangelical." Around 18 percent of Americans are evangelicals by this definition. The margin of error for each religious group is larger than for the sample as a whole. The results are descriptive; religious differences could be due to partisanship, ideology, income, or other factors.
Related Elsewhere:
Previous Christianity Today coverage of the economy includes:
Ayn Rand: Goddess of the Great Recession | Why Christians should be wary of the late pop philosopher and her disciples. (August 27, 2010)
It Takes More Than a Recession to End Consumption | Though it's no longer conspicuous, 'feel-good' buying lives on in the U.S. (February 12, 2009)
Music in Recession | Can the Christian music industry survive the economic storm? (June 2, 2009)
Recession and Religiosity Redux | Do evangelical churches see more members during a recession? (January 2, 2009)
CT covers political developments on the politics blog.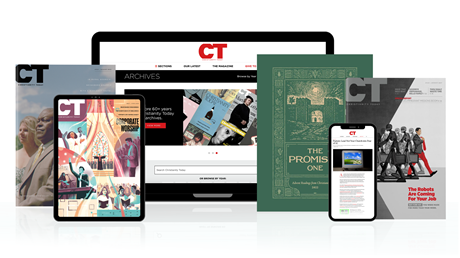 Subscribe to Christianity Today and get access to this article plus 65+ years of archives.
Home delivery of CT magazine
Complete access to articles on ChristianityToday.com
Over 120 years of magazine archives plus full access to all of CT's online archives
Subscribe Now
Evangelicals Hold Pessimistic Views of the Economy