Could fasting and prayer ever be a kind of sin? That was more or less the implication of one person's response to the news that I had joined a group who weekly fast and pray about marriage and singleness. (And yes, we're mostly female and mostly single.)
Perhaps it seemed like I'd committed myself to asking for a husband each Monday, that I'd found a spiritual guise in which to obsess about singleness and pester God to change things. But here's why I don't think we're a bunch of women trying to apply The Prayer of Jabez to our love lives.
My first encounter with the fasting-and-prayer group came in summer 2008, a few months after my memoir of reluctant chastity was released. The book had begun as a blog, launched in summer 2004, when I was an angry Christian single woman, committed to serving God but struggling with deep doubts that he was really good enough to be trusted with my love life. By the time that four-year writing project concluded, I had discovered a far deeper intimacy with God, but was as single as ever and staring down my 30s. With the book done, I didn't want to lose hope in God or drift away from trusting him with that part of my life, but I wasn't sure how to proceed.
Then a friend forwarded me an e-mail. A small group of people across the country, plus a few outside the States, were fasting and praying each Monday for God to bring marriages to those who desired them, to change and heal men in the ways they needed (but especially around their willingness to commit) and to do the same for women in the areas where we were most broken. To participate, I just had to sign up to receive the weekly e-mail meditations, skip at least one meal on Mondays (though other kinds of abstention were also possible), and pray. I joined them.
Of course, I hoped this might finally be the context where not just interior but also exterior, circumstantial change happened. Of course I did. The religious impulse to manipulate fate is strong. But I also knew God was God, and that beginning a spiritual discipline carried no obligation for him to work through that practice in the way I wanted. That was part of the appeal, in fact. Here was a way to invite him to work and bring life into a part of my life which, with each month I grew older, seemed more like a place where hopes, dreams—and fertility—were gradually dying.
From the start, it was far easier to fast than to pray. Often I felt guilty about this—especially as a former daily prayer-walker—but I started to see it as one way to acknowledge my ultimate weakness and lack of control with God.
Then one Monday, shortly before the end of 2009, I got the idea to take a "do-nothing" approach to my love life for 2010. You see, if relational life is like two adjoining rooms connected by a locked door, I had spent most of my time in the "single" room gazing through the door and scheming how I could get through to the other side. I'd never made a real, good-faith effort to inhabit the place where I was and be present in it. On the one hand, "doing nothing" scared me. In all my persistent doubt of God, it was easy to assume the only animating energy for change in my love life came from me.
But on the other hand, a commitment like that excited me. At a few specific times in my life, giving up trying to make something happen has been precisely the point when very good things, and not ones of my doing, happened. The lasting fruit of those experiences is a deep longing to see God move in my life; to see things change because and how he wants them to. We always get angry when our plans are thwarted (a move easily interpreted as divine spite and mismanagement), but boy, is it exciting to have something good come into your life that you had nothing to do with.
So the do-nothing approach became my 2010 resolution. I took down all my online dating profiles and tried to focus on inhabiting my singleness. This meant, of course, not asking for a husband, but that was actually the easiest part. The thing about this group, you see, is that I don't actually make a ton of requests for myself—at least not in such a specific sense. In fact, in the past few months, I've even become more cautious about specifically asking for marriage on behalf of others. How do I know that's best for them, after all?
It's one thing to pray that men as a group would become more willing to commit, but in practical terms, that means a lot of individuals changing, and the more I think about praying for some one person to change so specifically, the less comfortable I am asking for that. More and more I find myself praying around the postures of the Lord's prayer: sonship, worship, evangelism, generosity and contentment, mercy and justice, reconciliation, spiritual warfare (as the pastor John Smed has termed them). And when it comes to relational needs, I've become most comfortable asking that God establish that person in a community where he or she can most flourish and be a blessing. That may well include a relationship or even marriage, but it may not.
At this point, I wish I could say to you, "And by the way, meanwhile, my circumstances actually did change and I met So-and-So." But the changes I've undergone don't much resemble the plot I would have suggested to God. I can tell you he's at work at my life and that I love him. But there have been weeks when I've had to wash tear spots off my glasses almost daily.
I still hope it's possible to someday marry, and to do so while my body is still able to bear children without outside assistance (which I'm not sure I'd feel comfortable seeking). But "someday" is by definition the future. And if there's one thing I've learned through these three years of fasting and prayer about marriage, it's that I'm called to live in the present. I may not know what the future holds, but there is never a present into which God cannot come. And when in his presence, the present is well with my soul.
Anna Broadway is a writer and web editor living in the San Francisco Bay area. She is the author of Sexless in the City: A Memoir of Reluctant Chastity. She has written for Her.meneutics about vibrators, prayer, more prayer, Eat Pray Love, dating cards, and Mel Gibson.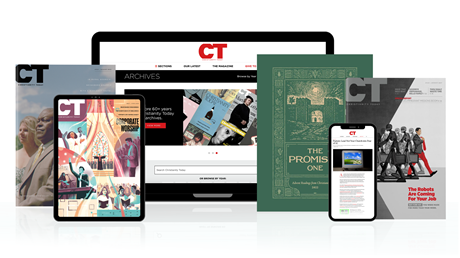 Annual & Monthly subscriptions available.
Print & Digital Issues of CT magazine
Complete access to every article on ChristianityToday.com
Unlimited access to 65+ years of CT's online archives
Member-only special issues
Subscribe
Why I No Longer Pray for a Husband
Why I No Longer Pray for a Husband