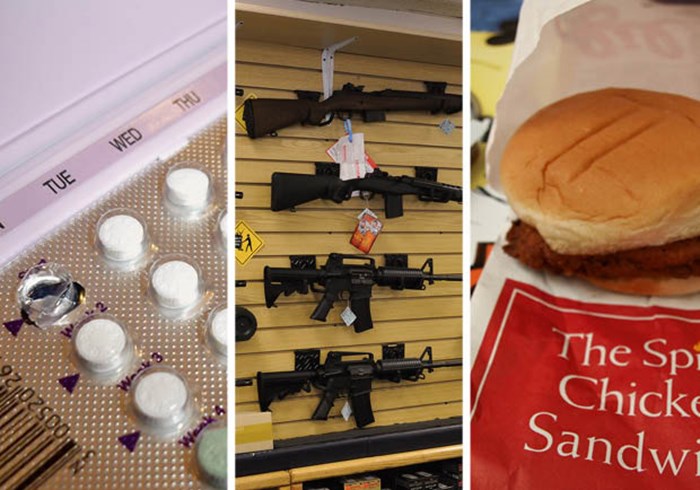 Image: Flickr: Sarah C/Mike Saechang/William Yurasko
Last week, CT released its editors' picks for the top 10 religion news stories of 2012. CT decided No. 1 was the controversy—and lawsuits—over the Obama administration's Affordable Care Act and its narrow exemption for employer-provided contraceptives (including emergency contraceptives that many evangelicals believe act as abortifacients).
LifeWay Research president Ed Stetzer also listed the contraceptive mandate as his top newsmaker. So did Associated Baptist Press.
Members of the Religion Newswriters Association (RNA) also voted that the legal battle over the contraceptive mandate was the No. 1 religion story of 2012—but that vote occurred before the December 14 school shooting in Newtown, Connecticut. In the release of its annual list on Dec. 18, RNA reported that "the No. 1 U.S. religion story in December 2012 was, without a doubt, the school attack and the mournful search for meaning that follows."
Religion News Service (RNS) ranked "Gun violence as a new 'pro-life' issue" as its top way religion made news in 2012, with the second being the rise of the "nones"—the religiously unaffiliated—as the fastest-growing portion of the population. RNS included contraceptive lawsuits over religious freedom as "unexpected entrants" into the 2012 news cycle.
Mass murder also made the list—coming in third place—for The Gospel Coalition's editorial director Collin Hansen. According to Hansen, though, the most important theology news of 2012 was President Obama's decision to back gay marriage. (In response to Hansen's list, Stetzer notes that the president's evolution on the controversial issue was "unsurprising, ...
1