true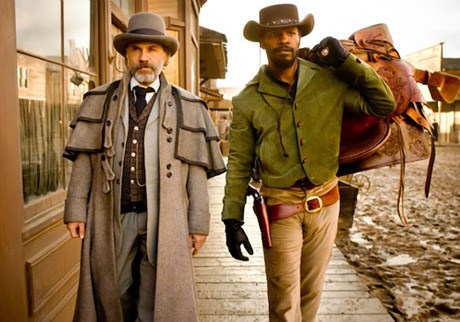 For some, Quentin Tarantino, the auteur who gave us Pulp Fiction, Kill Bill, and Inglorious Basterds, is the epitome of all that is wrong with modern media. Intentionally provocative, at times deliberately transgressive, his films explore themes that are too often taboo within our culture and exploit the discomfort we often feel when such explorations are not constrained within the boundaries of political correctness, or perhaps even good taste.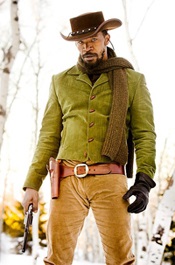 For others, Tarantino is Steven Spielberg's darker foil, a supremely skilled director who is most comfortable in traditional and familiar narrative genres, but whose talent and vision often elevate and invigorate the stories that have become stale with convention and cliché.
Both sides of that debate will find fodder for their arguments in Django Unchained, a (nearly) three-hour revenge quest/sting caper caked in blood and steeped in dark humor. The story begins when King Schultz (Christoph Waltz), a bounty hunter, buys the slave Django (Jamie Foxx) to help him identify a particularly valuable bounty. Schultz detests slavery, he explains, but he is willing to use it to his advantage. If Django will help him, he promises to give Django a percentage of his earnings and, eventually, his freedom.
Django turns out to be a natural at the bounty hunter profession—so much so that Schultz makes a deal with him to come on as a partner, promising that once they work for a season, Schultz will help Django find and free his wife. Most of the second half of the film depicts an elaborate con job conceived by Schultz to convince a notorious plantation owner, Calvin Candie (Leonardo DiCaprio), to sell them Django's wife, Broomhilda (Kerry Washington), without letting on just how much they are willing to pay for her.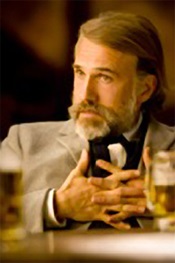 Some reviews have complained that the film is too long and the plot too loose, but the early episodes provide important contrasts to the latter half of the film, and Django's decisions need to be documented at various stages of freedom to infuse the film with its moral complexity. Early on Django is a slave and can hardly be held accountable for actions or endeavors undertaken to secure his survival. It is Schultz who is on morally compromised ground as he admits that he finds slavery conceptually repugnant but finds it personally advantageous to have Django in a position where he can be compelled to obey. In the first encounter with bounties, Django is unable to restrain himself from stopping a white man from whipping a slave even though his actions endanger himself and Schultz by revealing their intentions too quickly.
Part of Django's training, then, is to stifle his impulse to immediately intercede, to defer justice or aid, and to frame and make decisions relative to their legality rather than their morality. Nowhere is this underscored more than a scene in which Django acts as a sniper, killing a man plowing a field next to his son. When Django has reservations, Schultz shows him the man's wanted poster and walks him through the legal arguments for the righteousness of the killing. It turns out "killing white folks" for money isn't everything Django expected it to be. At least not at first.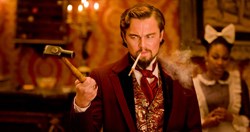 Where Django Unchained is at its most perceptive is in the recognition that violence blunts the moral sensitivities. Later, when a runaway slave is about to be torn apart by dogs, it is Schultz who blanches, offering to intercede and buy the slave and Django who insists that they let him be killed, hideously, so as not to threaten their cover (and, indirectly, his wife's chance for freedom). The ability to embed these sorts of moral conundrums into a somewhat conventional genre piece is what makes Tarantino excel as a writer. Later, when Candie insists that his legal ownership of Broomhilda allows him to do whatever he wants to her, Django's and Schultz's own use of the law to justify their own morally questionable actions make it harder for them to separate legal and moral claims without leaving themselves open to censure.
If there is a weakness to Django, and there is, it is the ending. Having assembled a compelling cast of characters and provided an emotionally clear conflict, Tarantino appears not to know how to deliver an emotional payoff commensurate with what the characters (and audience) have had to endure. As each potential ending proves big—but not big enough—he presses onward, long after the film has descended into bathos and bombast.
That flaw is not quite fatal, however. Even with the unsatisfying resolution, Django Unchained raises powerful and provocative questions. As hellish as its moral universe may be, those whose stomachs can handle the descent will find that even in Tarantino's world—perhaps especially in his world—those moral questions still matter.
Talk About It
1. Are Django's and Schultz's use of violence more justifiable than that of others in the film? What makes it so? The civil law? Some moral law?
2. Are there any places where Django or Schultz violate their own moral code(s) in pursuit of their desired ends? If so, where?
3. How do the conflicts between Django/Stephen and Schultz/Candie complicate the film's depiction of race and keep it from becoming simply a tale of white-on-black oppression?
The Family Corner
Django Unchained is rated R for strong graphic violence throughout, a vicious fight, language and some nudity. It is a brutal film that will make many viewers uncomfortable—typical of many Tarantino films. The sexual exploitation of female slaves is often referred to. A female slave, naked, is removed from a "hot box" as punishment and another is whipped while partially undressed. A male slave is torn apart by dogs and one character is hung from his ankles while nude. The use of racial slurs is pervasive and persistent. Several characters are shot at close range, with detailed blood spray, and others are shot at long range. Two slaves are forced to participate in a prolonged and brutal fight. Viewers are strongly cautioned.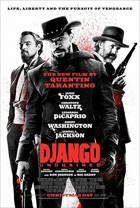 Browse All Movie Reviews By: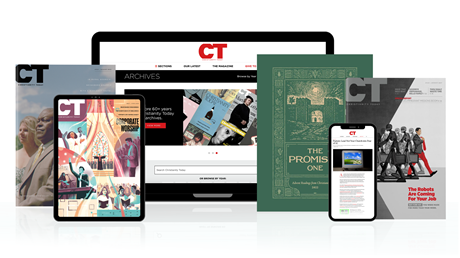 Annual & Monthly subscriptions available.
Print & Digital Issues of CT magazine
Complete access to every article on ChristianityToday.com
Unlimited access to 65+ years of CT's online archives
Member-only special issues
Subscribe
Django Unchained
Django Unchained