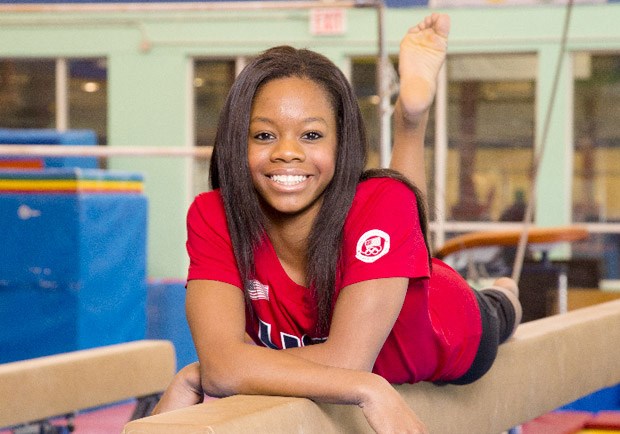 Gabrielle Douglas captured countless hearts at the 2012 Olympic Games, where she became the first African American to win the women's gymnastics individual all-around. Just 16, she dazzled during the gold-winning women's gymnastics team competition. But fewer spectators know of the Virginia native's difficult upbringing—and that faith in Christ helped get her through it.
Douglas recounts her childhood and hard-won athletic triumph in her new memoir, Grace, Gold & Glory: My Leap of Faith, newly out from Zondervan. Christianity Today contributor Cornelia Becker Seigneur spoke with Douglas about how she almost quit gymnastics, why she included her dad in the book, and why she credits God for it all—even when she loses.
What's behind the title of your new book?
Grace is the beauty of the sport, it's graceful, and also the grace of God. Gold means going for your dreams and achieving them. Glory means all the glory goes up to God. "My leap of faith" is about overcoming obstacles such as moving to Iowa [to train], being away from my family, and injuries.
You write that seven months before the Olympics, you were so homesick you wanted to quit gymnastics to move back home to Virginia and work at Chick-fil-A in Virginia Beach.
No one knew that about me, but yeah, I wanted to quit and try a different sport like track and field. I was really homesick and wanted to go home.
What turned you around?
My mom, my coach, my sister, my host family—everyone told me to keep fighting, that the Olympics were right around the corner. And my brother John. He and I are so close in age, we are like two peas in a pod. He kept telling me to keep fighting and pushing along. A couple days later, I went back to the gym and was on fire. I was just determined to get back and give 100 percent."
This idea of continuing to fight seems to be a theme of your life.
Definitely. You have to keep pushing, even though you get sick and have injuries. I learned from my mom to always keep pushing yourself.
Your mom, Natalie Hawkins, appears a lot in your memoir.
She has just been amazing, she has supported me throughout my gymnastics career. She sacrificed a lot, money, time, all the effort. I mean, she worked multiple jobs to help me fight for my dreams. I love her so much, I don't know where I would be without her.
Woven throughout the book are also references to your father [Timothy Douglas].
I decided to put him in the book. He wasn't really there, he wasn't in the picture, and he did not live up to my expectations. But I hope he'll know from Grace, Gold & Glory how I felt, and that I still have a future.
You describe a period in your early life when you were homeless.
I was very young so I don't remember [the details], but my mom and my siblings said it could be cold at times; we ate off the floor, off napkins. It was my motivation to accomplish my dreams. My family and I had to overcome a lot to get where we are today.
After winning your Olympic gold medal in the Women's Gymnastics Individual All-Around competition, a reporter asked you what it was like to win. You said, "I give all the glory to God. It's kind of a win-win situation. The glory goes up to him and the blessings fall down on me." Did you think of that statement in advance?
It means so much to me, it gives me chills when you repeat it. I thought I could put together all those Scriptures that my mom kept sending me and that I kept reading, and God gave me that quote to say, because it is true: God gave me this amazing talent, and of course I want to represent him.
How has your faith shaped you?
It has been a lifelong thing. My mom has always exposed me and my siblings to Christianity. I take my Bible with me, sometimes two of them, when I travel. I've watched myself at the Olympics, I watched the all-around finals, my grandfather DVR'ed it, and I saw my mouth moving—that was me praying. I always pray at every competition, when the judge's hand goes up I am praying, and there are little Scriptures I like to quote. That keeps me motivated when I am about to go out on the competition floor. I would say little short prayers, quoting Scriptures: I can do all things through Christ, don't fear, be courageous. Little things like that get me motivated.
What was it like to discover that your host family in Iowa told Coach Chow that they were willing to be a second home for an out-of-town gymnast, should there be a need, A few months later, there you were.
God works in mysterious ways. To have God lay on Travis's and Missy's hearts to host someone. Missy, my host mom, had lost her mom to cancer, and Travis said to me, that God loved us so much, that he brought me to their lives to help fill the void.
Has success since the Olympics changed you?
Absolutely not. I am still the same Gabby Douglas I was when I entered the Olympics, and had my last competition since the Olympics. I am still the same girl.
You mention in your book a competition where you did not win. When you don't win, are you still being blessed by God?
After the 2011 Visa Championships, I fell five times in the competition, and I told my mom, "I don't get it. Why didn't God answer my prayer?" Now I realize that even if I don't win, I am still blessed to be given this talent to be able to compete. It's all about perspective. It's been my mom's advice: Even if you don't win, you are still a fighter, you are still a champion. It motivated me when I was down, to get back into the gym and be on fire.
You've spoken of being the target of bullying and racism in your gym in Virginia and also growing up. How did you deal with that?
It was a long time ago. It was very painful to be made fun of, but I have a forgiving heart, I forgive them, and I've moved past that.
What's next, and are the Olympics on that agenda?
I am going back home to Virginia, and then in late spring, I get back into the gym in Iowa to continue to train with Chow for Rio. I will stay with the same host family. I hope to make the Olympics team in 2016. It would be thrilling to come back and do it again.
Cornelia Becker Seigneur is an Oregon-based journalist, author of two books, and faculty adviser for MUSE student publication at Multnomah University. Reach her at www.corneliaseigneur.com.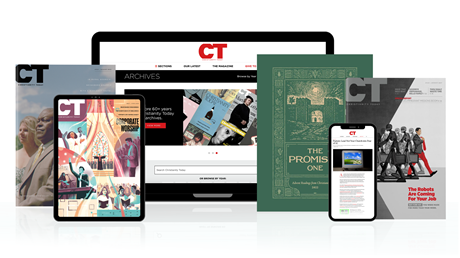 Annual & Monthly subscriptions available.
Print & Digital Issues of CT magazine
Complete access to every article on ChristianityToday.com
Unlimited access to 65+ years of CT's online archives
Member-only special issues
Subscribe
Why Gabby Douglas Almost Quit Before the Olympics
Why Gabby Douglas Almost Quit Before the Olympics