"All I Want for Christmas is a New iPhone"
"We Wish You a Merry Retweet"
"It's Beginning to Look a Lot Like Pinterest"
Indeed, these twists on classic holiday songs reflect the new reality of Christmas, at least if last month's Thanksgiving is any predictor. Until then, the one-day record for Instagram-related photos was the 800,000 pictures associated with Superstorm Sandy.
Multiply that by about 12 to calculate the number of Thanksgiving and/or turkey-related pictures that were shared a few weeks ago. On November 22, Instagram users posted 10 million photos, with a peak of 226 pictures per second.
That makes me cringe.
Don't get me wrong. I'm not a social media fuddy-duddy. I'm active on Twitter and Facebook. I will tweet this very article. I am a fan of picture posting. But I can't help wondering about the messages we as adults send to those nearby—especially our families—every time we send a text.
About 60 percent of Instagram users are under 34 years of age. Many (maybe even most) of the photos posted on Thanksgiving were by young people who use social media as an important channel for their developmentally appropriate radars.
But what about the 40 percent of users who are over 34? How does 6-year-old Tyler or 16-year-old Lauren feel when Mom, Uncle Roger, or Grandma pulls aside from a holiday meal or tradition to "quickly" post a picture?
In all candor, as a researcher on adolescents, we don't yet have a definitive answer to this question. We lack firm data exploring the effects of adult social media use on other members of their family or social circles. But we do know that lack of parental responsiveness in general can damage both relationships in the family and the self-concept of the child. We've also learned recently that 28 percent of teenagers whose parents have a mobile device perceive their parents as "addicted" to them, and that 21 percent of all teenagers wish their parents spent less time on their cell phones.
Most alarmingly, perhaps, many child development experts believe that the recent rise in nonfatal injuries for children under 5 is related to parents who are riveted on their cell phones instead of their children.
Sherry Turkle, a social scientist at MIT and author of Alone Together, well describes our tendency to turn to technology: because it makes us feel less alone. The irony, though, is that the very technology that makes adults feel less alone can make the young people sitting in the minivan or at the dinner table with them feel more alone.
All too often, as I'm enjoying a moment with my family, friends, or team, I get more focused on clicking and posting than on the conversation and events happening around me. Both in my personal and professional life, I find myself trying to master the skill of giving those around me enough eye contact that they feel like I'm paying attention to them while my real focus is on the technology in my hand.
I don't want my kids' primary image of me to be with my head down, engrossed in my laptop or cell phone. I'm guessing you don't want that either. So before you and I turn aside from our church's Advent celebration or our family's gift opening traditions to post a touching photo or clever tweet, we might take the following steps:
1. Ask the people you care about most how they feel about the amount of time you spend using social media and technology in general. One of my colleagues at Fuller Theological Seminary used to say that the best way to truly know if he was exhibiting the fruit of the spirit described by Paul in Galatians 5:22-23 was to go home and ask his wife and children. In the same spirit, our best mirror to reflect whether our technology use is damaging our relationships is to ask those closest to us whether we use it too much, too little, or the right amount.
2. Discuss with those closest to you how social media and technology can be good for your family during the holidays. If your kids are in elementary school, they might enjoy the idea that you're Facebooking about them (mine normally do; but I almost always ask their permission before I tweet or Facebook something related to them). If the young people closest to you are teenagers or emerging adults, they're likely to be more ambivalent or even anxious about how you might embarrass them. But they might be okay with you making your posts about your traditional "Christmas decorations with hot chocolate" a tradition themselves if they're involved in choosing how it's tagged. Honor them by honoring their wishes.
3. Decide ahead of time what days or times you will block off as "social media free." I refrained from picking up my phone for the majority of Thanksgiving Day because that's what felt right given my family time. Are there family, friend, or church gatherings that would be important to view as "social media free" for the benefit of those closest to you?
4. Debrief those technology tweaks afterward with those closest to you. One of the themes in the Fuller Youth Institute's recent Sticky Faith research is the power of families taking the time to debrief shared experiences. You might decide that the changes you made for December 25 would be helpful the rest of the year too.
If you Instagrammed, Linked-In, Pinterested, Facebooked, or Tweeted on Thanksgiving, odds are good it didn't affect your family all that negatively. It's just one day; one tweet. But perhaps one of the greatest gifts you could give those closest to you this holiday season is your tech-free attention. This time of year, when we are especially aware of the precious gift of God being fully present to us through Jesus Christ, may we offer the same gift of presence to those around us.
Kara Powell, PhD, is the Executive Director of the Fuller Youth Institute (FYI) and a faculty member at Fuller Theological Seminary. Named by CT as one of "50 Women to Watch," Kara serves as an adviser to Youth Specialties and speaks regularly at parenting and youth ministry conferences. Kara is the author or co-author of a number of books, including Sticky Faith, Sticky Faith Curriculum, Deep Justice Journeys, Essential Leadership, Deep Justice in a Broken World, Deep Ministry in a Shallow World, and The Good Sex Youth Ministry Curriculum.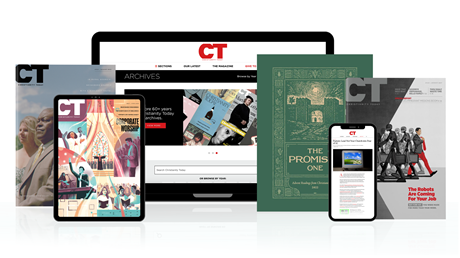 Subscribe to Christianity Today and get access to this article plus 65+ years of archives.
Home delivery of CT magazine
Complete access to articles on ChristianityToday.com
Over 120 years of magazine archives plus full access to all of CT's online archives
Subscribe Now
Why Your Social Media Use Hurts Your Kids
Why Your Social Media Use Hurts Your Kids