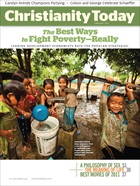 This article is from the February 2012 issue. Subscribers can read all of CT's digital archives.
Pro-life advocates cheer state court rulings
Utah's Supreme Court ruled that an unborn child qualifies as a minor under the state's wrongful death statute. The December decision came after a Utah couple sued a government-sponsored clinic in 2007, alleging their concerns and requests for an induced labor nearly a week before the baby was stillborn were ignored. The federal suit was halted while the state court decided if such a case could be heard.
Meanwhile, Pennsylvania's Supreme Court said a 17-year-old's decision not to tell her mother she was pregnant wasn't sufficient reason for a county judge to refuse to authorize an abortion. But pro-life advocates said the ruling indicated that judges' decisions on whether minors are "mature and capable of giving informed consent" should be taken seriously and should not be mere "rubber stamps" on minors' abortion requests.
Parliament reaffirms church de-registrations
HUNGARY Soon after the Hungarian Constitutional Court struck down a controversial religion law in December, lawmakers passed a new version that addressed the court's procedural concerns. The law recognizes only 14 faith groups and requires nearly 350 others to re-register for state approval. It also requires registered groups to have been present in Hungary for at least 20 years. Government officials say the law is intended to root out fraudulent organizations that operate under the protection of religion. Religious freedom advocates argue that the law will cause hardship for many smaller faith groups.
USCIRF reauthorized at the last minute
Congress reauthorized the U.S. Commission on International Religious Freedom (USCIRF) mere hours before it was set to shut down for good in December. The reauthorization until September ...
1
Pro-life Advocates Cheer State Court Rulings, Parliament Reaffirms Church De-Regulations, and More News
Pro-life Advocates Cheer State Court Rulings, ...