Editor's note: This is not today's only article on Komen and Planned Parenthood. You might also enjoy Albert Mohler's argument that there is "no neutral ground when it Comes to Planned Parenthood," Matthew Lee Anderson's examination of "The Politics of Breast Cancer," Mollie Ziegler Hemingway's look at "The Komen Fiasco's Silver Lining," and Russell Moore's warning on "the wrong lessons to draw from the Komen-Planned Parenthood debacle."
The Susan G. Komen Foundation announced that it has reversed its earlier decision to make Planned Parenthood ineligible for new funding.
Komen officials said that 19 existing agreements between Komen and Planned Parenthood will continue, and Planned Parenthood programs will not be barred from applying for new grants. The organization said in a statement groups applying for grants would be disqualified if they are under criminal investigation, reversing an earlier decision that made Planned Parenthood ineligible because it was under political investigation. A board member for Komen said the decision does not necessarily commit Komen to future Planned Parenthood funding.
Planned Parenthood, which conducts breast exams but not mammograms, received more than $600,000 from Komen last year. Pro-life groups will be watching to see if Komen does extend new grants to the organization, said Care Net president Melinda Delahoyde.
"As one person said, 'Planned Parenthood doesn't do anything more for women with breast cancer than what I can do in the shower,' " Delahoyde said. "You can find out in the shower you have a lump you want investigated, but why would you go to Planned Parenthood if they don't do mammograms?"
The decision reflects the "disgraceful and appalling" pressure Planned Parenthood has put on Komen, said Charmaine Yoest, president of Americans United for Life, who is a breast cancer survivor.
"I don't think it's that surprising, given that Planned Parenthood basically unleashed the hounds of hell this week," Yoest said. "They are trying to find a way to end the public flogging Planned Parenthood has indulged in."
Yoest had planned for a group in the D.C. Race for the Cure, but now she is considering pulling out as several people have called asking about a refund. Yoest ran a Komen race about a decade ago but stopped after learning of Komen's connection to Planned Parenthood.
The debacle between Komen and Planned Parenthood became more prominent in December after LifeWay Christian Resources halted sales of its breast cancer awareness Bible.
"I am deeply disappointed with today's announcement from Susan G. Komen for the Cure Foundation if it means a reversal of Komen's decision to stop funding Planned Parenthood," said LifeWay Christian Resources president Thom Rainer in a statement to Christianity Today. "I renew my strong encouragement of Komen's leadership to end that relationship permanently, and restate LifeWay's commitment to not be involved, even indirectly, with Planned Parenthood."
Komen Foundation CEO Nancy Brinker released an apologetic statement this morning. "We have been distressed at the presumption that the changes made to our funding criteria were done for political reasons or to specifically penalize Planned Parenthood. They were not," she said. "Our original desire was to fulfill our fiduciary duty to our donors by not funding grant applications made by organizations under investigation. We will amend the criteria to make clear that disqualifying investigations must be criminal and conclusive in nature and not political. That is what is right and fair."
Earlier this week, the breast cancer foundation had said Planned Parenthood would not be eligible for grants because it was under investigation. Rep. Cliff Stearns, among others, is looking into whether the organization spent public funds for abortions.
Komen's initial decision drew praise from several pro-life groups as it began to receive backlash from pro-choice groups. In a YouTube video posted on Wednesday that was made private this morning, Brinker had said her group would "never bow down to political pressure." In response to Komen's earlier decision, Planned Parenthood raised nearly $3 million in donations for its breast cancer program, including $400,000 from more than 6,000 online donors.
Contributions also included a $250,000 donation from New York City mayor Michael Bloomberg and $100,000 from the LiveStrong foundation, founded by cyclist Lance Armstrong. Planned Parenthood provided 329,445 abortions in 2010, according to its annual report.
Komen board member John Raffaelli suggested that Komen's decision does not necessarily mean Planned Parenthood will definitely see further funding, saying it would be unfair to expect the group to commit to future grants. "It would be highly unfair to ask us to commit to any organization that doesn't go through a grant process that shows that the money we raise is used to carry out our mission," Raffaelli told the Washington Post.
The Atlantic has posted internal documents of talking points Komen recommended that date back to December 16, when the organization initially decided Planned Parenthood could not apply for further funding. "Various authorities at both the state and federal levels are conducting investigations involving the organization and some of its local chapters, and the organization is barred from receiving government funding in numerous states," one of the talking points states. Komen received internal backlash from its earlier decision, with seven Komen affiliates in California opposing the earlier policy.
Attention for the initial decision focused on Komen's vice president for policy Karen Handel, who has advocated defunding Planned Parenthood.
Feb. 7 update: Handel has resigned from Komen after the dispute over whether the group should give Planned Parenthood funding. Several former Komen employees have suggested Handel drove the organization to exclude Planned Parenthood from grants, but Handel said grant decisions were made before she began at Komen.
"I am deeply disappointed by the gross mischaracterizations of the strategy, its rationale, and my involvement in it," Handel said on February 7. "I openly acknowledge my role in the matter and continue to believe our decision was the best one for Komen's future and the women we serve. However, the decision to update our granting model was made before I joined Komen, and the controversy related to Planned Parenthood has long been a concern to the organization."
The organization's top public-health official, Mollie Williams, reportedly resigned in protest.
Komen board member Raffaelli toldThe New York Times that Komen faces a seemingly intractable dilemma. "Is it possible for a women's health organization to stay out of the abortion issue and help all women?" he asked. "I don't know the answer to that yet. What we were doing before was angering the right-to-life crowd. Then, with our decision in December, we upset the pro-choice crowd. And now we're going to make the right-to-life crowd mad all over again. How do we stop doing that?"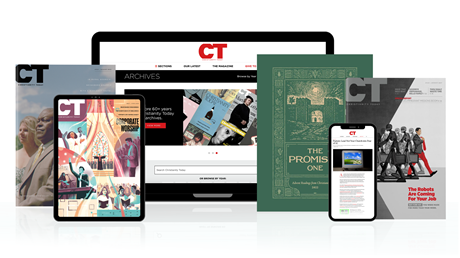 Subscribe to Christianity Today and get access to this article plus 65+ years of archives.
Home delivery of CT magazine
Complete access to articles on ChristianityToday.com
Over 120 years of magazine archives plus full access to all of CT's online archives
Subscribe Now
Komen Reverses Course, Will Not Ban Planned Parenthood from Applying for Funding
Komen Reverses Course, Will Not Ban Planned ...