true
John Eldredge didn't start the discussion on what it means to be a "real man," but his 2001 book Wild at Heart certainly ramped up the conversation in Christian circles. In the decade-plus since, pastors, scholars, pundits, and regular shmoes like me have all weighed in on what manhood really means in the context of Christian faith.
Eldredge wrote that for a boy to "become truly masculine," he ultimately needs "a battle to fight" and "a place for the warrior in him to come alive." Mars Hill Church pastor Mark Driscoll, fond of cage fighting and occasional cussing, believes in an "Ultimate Fighting Jesus," lamenting that the church has produced "nice, soft, tender, chickified church boys." Paul Coughlin, author of No More Christian Nice Guy, writes that "a meek and mild Jesus is a bore. He doesn't inspire us." Even Christianity Today senior managing editor Mark Galli joined the fray with the 2006 book Jesus Mean and Wild.
However such notions go down in the annals of scholarship on Christian masculinity, this is certain: Men of faith—studly, manly men—were everywhere on the big screen in 2011, ready to kick some butt and spill some blood. They were Schwarzenegger, Stallone, and Norris all at once.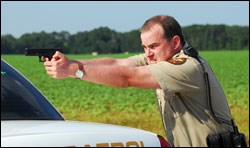 The trend even trickled down to Sherwood Pictures—the church production company behind Facing the Giants, Fireproof, and, now on DVD, Courageous—whose films are typically more "meek and mild" than "mean and wild." Leading men—a football coach, a fireman, cops—have always carried Sherwood's movies. But the coach in Giants was too whiny, and Fireproof's Kirk Cameron was too much of a pretty boy. Maybe we could relate to their issues, but not to a guy whose name is oft preceded by the phrase "former teen idol." Not until Courageous could most guys say, "Now there's a dude I could look up to."
And yet the cops in Courageous were also what I would call "attainable." Guys don't watch Rambo or Commando and think, Yeah, I could do that! But we can watch Courageous and think that way; these cops are tough, but no tougher than we could be in similar situations. They also looked like us—middle aged, a little paunchy, in need of a fashion makeover. Even their faith looked like ours—guys trying to be promise keepers but screwing up along the way. Courageous captured that vibe right from the start with an exciting cops-and-robbers chase scene, followed minutes later by scenes showing them as regular guys with real struggles: forgetting a daughter's recital, getting into an argument with the wife, and so on.
Courageous had plenty of company in 2011 as several films depicted Christian men who were not only rugged and brave but also struggling sinners just like me. We didn't get Mark Ruffalo as the hardnosed police investigator in Zodiac or the suave leading man in Just Like Heaven. Instead, we got the conflicted priest who trips over his own selfish ways in Sympathy for Delicious. We didn't get Gerard Butler as the godlike warrior in 300 or the debonair stud in P.S. I Love You, but rather a hot-tempered mercenary in Machine Gun Preacher. We didn't get Anthony Hopkins as the dignified butler in Remains of the Day, but rather an aging priest grappling with demons and doubts in The Rite.
The trend applied to Hollywood movies as well as those produced independently by Christians—everything from big budget blockbusters like Cowboys & Aliens ($163 million) to church-produced and on-the-cheap projects like Courageous ($2 million) and The Grace Card ($200,000). No matter the cost, the faith-based protagonists were similar: manly, but broken.
Masculinity, Even Among Monks
Depicting flawed characters—even Christian ones—in film is nothing new. But 2011's lineup included men of faith with an extra dose of bravado and machismo. Some were stereotypes: the cops in Courageous and The Grace Card, a racecar driver in Senna, a rugged former pro-golfer-turned-cowboy in Seven Days in Utopia. But it also included priests and preachers willing to put up a fight—against homelessness (Sympathy for Delicious), African warlords (Machine Gun Preacher), demons (The Rite, Priest), and extraterrestrials (Cowboys & Aliens).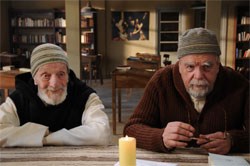 Even monks got in on the act. In the true-story drama Of Gods and Men, a small group of French Trappist monks in Algeria lived in peace with their Muslim neighbors until civil war broke out in 1996. The monks, aware of the dangers, had opportunities to flee, but opted to stay. Seven were later kidnapped and beheaded. Ultimate Fighting Jesus? Not quite, but you will never meet braver men on the big screen. You'll wonder, Could I have done the same? Am I willing to be martyred? Yet none of the men seem superpious or "holier than thou." They are regular guys who laugh, play, complain, tease, argue, sweat, and ache. They're much afraid when danger arrives at their doorstep, but their courage trumps it all.
The monastery leader pens what he believes will be his last words, later read in a voiceover: "Should it ever befall me, and it could happen today, to be a victim of the terrorism here, I would like my community, my church, my family, to remember that my life was given to God and to his country. That the Unique Master of all life was no stranger to this brutal departure …. I could never desire such a death. I could never feel gladdened that these people I love be accused randomly of my murder ….
"My death, of course, will quickly vindicate those who call me naïve or idealistic, but they must know that I will be freed of a burning curiosity and, God willing, will immerse my gaze in the Father's and contemplate with him his children of Islam as he sees them." Nothing "chickified" about that.
Priests were depicted as strong and wise in The Rite, a realistic treatment of exorcism in which Hopkins plays a veteran cleric mentoring a novice in the ways of supernatural warfare. ct's critic praised the film for its restraint, avoiding most typical Hollywood fare; Hopkins's character, Father Lucas, even mocks the genre when he asks his young protégé, "What were you expecting? Spinning heads and pea soup?" And while both priests are solid men of faith, they're hardly perfect; the younger is skeptical and doubting, and the older acknowledges the same: "At times I've experienced total loss of faith—days, months when I don't know what the hell I believe in—God or the Devil, Santa Claus or Tinker Bell. Yet there's something that keeps digging and scraping away inside of me. Seems like God's fingernail. And finally, I can take no more of the pain and I get shoved out from the darkness into the light."
For all The Rite's restraint, there's more than enough nonsense to make up for it in Priest, in which Paul Bettany plays a cleric who literally takes up his cross to fight vampires. CT critic Steven D. Greydanus says the cross in the film is "only a talisman, a charm, or a weapon," and that the church is depicted as "a despotic, Orwellian oligarchy, from much the same mold as Philip Pullman's Magisterium, brainwashing the masses with mantras." Bettany's character is essentially an ordained Terminator, wearing his spirituality like a supernatural leather jacket.
Cowboys & Aliens is even sillier—it's set in the Old West, and the title tells you the rest. But the town preacher, Meacham, is a sturdy man of God who wields a rifle to battle creatures from another world. CT critic Kenneth R. Morefield said Meacham's theology has "more in common with Ben Franklin than the apostle Paul, but at least he's a step up from the assortment of hypocrites or charlatans that inhabit many Hollywood films. Given the film's central thematic thrust—that when survival is at stake, all personal differences must be put aside so that we can work together for the common good—it was enough that the preacher was represented as a positive contributor to the team effort of overcoming the enemy." Christian masculinity, indeed.
Men of God, Rated R
Ministers were also front and center in Sympathy for Delicious and Machine Gun Preacher, both rated R and likely the year's least family-friendly films of faith. In the former, Ruffalo plays Father Joe, a priest with a heart for the homeless. When Dean, a paraplegic, develops the gift of faith healing—oddly, he can heal others but not himself—Father Joe begins to exploit Dean in an effort to raise funds for the ministry. Dean, fed up, decides to cash in for himself, taking his magic touch to the masses—at a price. It all adds up to a commentary on the evils of exploitation in the name of religion.(Televangelists are the easy target here.) But again, a character who fits the bill—a man of God who is rugged but real, faithful but flawed.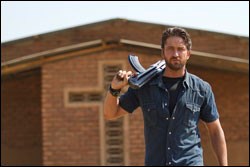 Only Machine Gun Preacher depicts an "unattainable" character who's more Hollywood macho than the rest—though, ironically, based on a real person. Sam Childers, a former drug-dealing thug, finds God and Africa's orphans, in that order. He decides to save the children at all costs, even wielding an AK-47. The ruggedly handsome Butler plays Childers, who claims that he battles the Lord's Resistance Army to rescue children—claims that are disputed by news stories (including CT'S own). But somewhere between the facts and fiction, it's a decent action movie, albeit with a character who's more Charles Bronson than Charles Chaplin. We just can't relate to this guy—before or after he comes to Jesus.
Do any of these guys reflect godly masculinity? Writing for The Journal for Biblical Manhood and Womanhood, Stuart W. Scott says most modern ideas on the topic have "forsaken the only dependable absolute there is—i.e., God's Word." He argues that a true man of God acknowledges that he's (1) created in God's image; (2) created to worship; (3) a sinner; (4) in need of grace; (5) in need of God and others; and (6) different from woman. "A man can go to the gym … and even gain the physique of Charles Atlas or Arnold Schwarzenegger, but this will not make him any more masculine. It is important to keep in mind A. B. Bruce's statement [from The Training of the Twelve], 'What tells ultimately is not what is without a man, but what is within.'"
Whether or not that includes a machine gun or a crucifix-as-weapon, let the debate rage on.
Mark Moring, CT senior associate editor, oversees our film coverage.
Have something to add about this? See something we missed? Share your feedback here.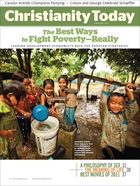 This article is from the February 2012 issue.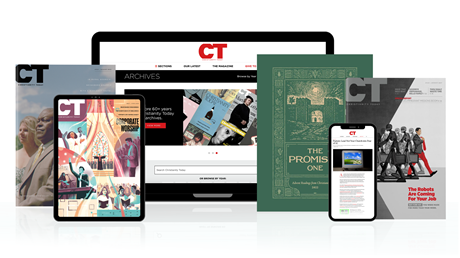 Annual & Monthly subscriptions available.
Print & Digital Issues of CT magazine
Complete access to every article on ChristianityToday.com
Unlimited access to 65+ years of CT's online archives
Member-only special issues
Subscribe
Masculinity in the Movies
Masculinity in the Movies