Yes, the end of summer is creeping closer and closer, but there's still time to get a few books read before the season ends.
We urge you to make time to stimulate your brain and keep reading a part of your life. No time? Consider logging off Pinterest or Facebook for a half an hour and all of a sudden, you'll find yourself getting through at least a few pages a day, maybe even more.
Find a comfortable place to curl up with the right book. Starbucks is eating away at your budget? Consider your couch, maybe not the most exotic location ever, but with the right book, you'll find yourself in another world.
Okay, fine, you say. Need some ideas for books to consider? What a coincidence. We've compiled a list of ideas of what we plan to read and what we recommend, from the serious to the silly.
Amy Julia Becker
What Happened to Sophie Wilder, by Christopher Beha (2009)
I'm reading What Happened to Sophie Wilder, by Christopher Beha, a novel about a struggling young writer who re-encounters his first love.
Noticing God, by Richard Peace (2012)
I'm also reading Noticing God by Richard Peace, and I'm very grateful for the insight it has offered in practicing the presence of God every day.
The Spirit Catches You and You Fall Down, by Anne Fadiman (1997)
This book is next on my list, a true story of a culture clash between American doctors and their Hmong patient.
Recommend:
MOMumental, by Jennifer Grant (2012)
I thoroughly enjoyed (and needed) Her.meneutics writer Jennifer Grant's MOMumental, a wonderful series of vignettes about family life that gives me hope for our sanity as our children get older and that gave me reassurance that I'm not the only mother of young children in need of help (or a day at a spa) all the time.
State of Wonder, by Ann Patchett (2011)
I also enjoyed Patchett's novel about fertility, medicine, love, and family.
Anna Broadway
To Read:
On Becoming a Novelist, by John Gardner (1999)
The Brothers Karamazov, by Fyodor Dostoevsky (1880)
I first discovered Dostoevsky in high school, when we had to read Crime and Punishment. Based on the story's description, I expected to hate it, but to my surprise, it was fast-moving and engrossing. It is still the book I remember better than any other from that year, and could even extrapolate some of the themes. Though Brothers is much longer, it's already had some amazing passages. Nor is it dull going, despite the long paragraphs in my translation, which is the highly praised new one.
Recommend:
Balzac and the Little Chinese Seamstress, by Dai Sijie (2002)
For fiction, either one of Dorothy Sayers's Lord Peter books, which are a very re-readable, sheer delight, or Balzac and the Little Chinese Seamstress, which I happened upon at the library a while back. This fascinating tale really transported me—again, into a world I didn't expect to like—and is possibly the best book about reading or engaging with literature that I've ever read.
Gina Dalfonzo
To Read:
God and Charles Dickens, by Gary Colledge (2012); The Jane Austen Guide to Life, by Lori Smith (2012)
Rediscovering the often-neglected spiritual aspects of the life and work of two of our greatest writers.
Jennifer Grant
To Read:
Foods of Ethiopia, by Barbara Sheen (2007)
There are some amazing "world cuisine" cookbooks that I hungrily grabbed from the children's department of my library. My favorite is Foods of Ethiopia by Barbara Sheen, and includes recipes and detailed information on the country's culture. My daughters and I plan to prepare a dinner to celebrate the birthplace of a young friend of ours.
Marriage and Other Acts of Charity, by Kate Braestrup (2010)
Braestrup is a minister who has been married twice and widowed once.
Veneer: Living Deeply in a Surface Society, by Timothy Dillard and Jason Locy (2011)
This is a book that calls us to disengage with culture and promises to draw readers to a deeper communion with God.
State of Wonder, by Ann Patchett (2011)
I love her novels (especially Bel Canto) and bought this one for myself for Mother's Day.
Recommend:
The Ambassadors by Henry James
This book requires focus, something that I've not had much of lately. Too often I rush or skim, but I can't get away with that with The Ambassadors. James demands that we read carefully, but rewards us by creating a world - and especially inner worlds - that are so real, we forget we aren't living in the minds of the characters.
Marlena Graves
To Read:
Lit: A Memoir (P.S.), by Mary Karr (2010)
I love good writing, especially good memoirs. Some of my favorite memoirs are by women: Madeleine L'Engle's Crosswicks Journals and all of Kathleen Norris's books. I haven't read any of Karr's work. However, I've started reading this book already; her craftmanship is jaw-dropping.
Portable Chekov, by Anton Chekhov (1977)
I am also slowly reading the Portable Chekhov. He's an author with whom I should be familiar.
Recommend:
Apprenticeship with Jesus: Learning to Live Like the Master, by Gary Moon (2009) Gary shows us what it means for us to live a "with God life" as an apprentice of Jesus and what salvation as a life looks like.
Abundant Simplicity: Discovering the Unhurried Rhythms of Grace, by Jan Johnson (2011)
In a noisy world with many of our lives crammed to the hilt, we grow irritable and exhausted. In this book, Jan Johnson shows us why this is not the Jesus way. Through beautiful reflection she provides practical steps and suggestions for us to declutter our lives—freeing us to follow Jesus and embrace peace.
Laura Leonard
To Read:
A Game of Thrones, by George R. R. Martin (2011)
In the summertime I just want a book I can get lost in. Fantasy isn't usually my "thing" but so many people have recommended these books to me that I have decided to give them a shot. With the added motivation of a critically-acclaimed TV version to look forward to, I feel extra motivated. I am also hoping to get to The Marriage Plot.
Seeking Spiritual Intimacy, by Glenn E. Meyers (2011)
A friend recommended to me Seeking Spiritual Intimacy, a book about medieval women who lived simply with Christ at the center of their lives, and I have a copy on my dresser that I'm really looking forward to digging into for my more devotional reading.
Recommend:
Just Kids, by Patti Smith (2010)
I absolutely devoured Just Kids by Patti Smith—the writing is so good it made me jealous, and her honest depiction of the starving artist lifestyle that preceded her success inspired me to create!
East of Eden, by John Steinbeck (1952)
My eternal recommendation for summer reading: East of Eden. There is no more beautiful, or more deeply Christian, novel in my mind.
Allison J. Althoff
To Read:
Jesus Calling, by Sarah Young (2004)
Everywhere I go, it seems like I meet another sister in Christ who shares my captivation with this daily devotional. I'm on my second year of going through this gem, and Young's extensive spiritual training and communion with the Spirit teach me new things with every turn of the page. Encouragement and inspiration come through daily in this devo that has connected with thousands of readers worldwide, and my mind and Spirit are immediately put at ease at the beginning of every day after reading her entries that are modeled after a conversation with Jesus.
Recommend:
Just Walk Across The Room: Simple Steps Pointing People To Faith, by Bill Hybels (2006)
The senior pastor of Willow Creek Community Church delivers in this poignant book on modern-day evangelism. By using captivating real-life examples, Hybels eliminates misconceptions of what it means to share faith in today's post-modern culture: instead of being afraid and intimidated of talking about faith with others, Hybels walks readers through how prayer can lead you to use a smile, friendship, or simple "hello" to build bridges to places you have never dreamed of connecting with both friends and strangers in Christ.
Michelle Van Loon
To Read:
A Cluttered Life: Searching For God, Serenity And My Missing Keys, by Pesi Dinnerstein (2011)
My recent trip to Israel was followed by a serious purge of our household's StuffMart franchise prior to our move. The themes of Jewish spiritual seeker Pesi Dinnerstein's A Cluttered Life include a reckoning with her own collection (hoard?) of stuff both comforting and stifling and her own soul-shifting journey to Israel.
Recommend:
Forgotten God: Reversing Our Tragic Neglect of the Holy Spirit, by Francis Chan (2009)
This simple, accessible book offers readers a helpful intro to the person and ministry of the Holy Spirit.
Sharon Hodde Miller
To Read:
Creating with God: The Holy Confusing Blessedness of Pregnancy, by Sarah Jobe (2011)
Although I have heard positive reviews of this book, what really grabbed me was the title. I will be welcoming my first child in mid-August, and as I have navigated the amazing yet crazy journey of pregnancy, God has blessed me with new insights into his nature and character. I look forward to reading about the author's own experience, and the theological lessons she gleaned along the way.
The Meaning of Marriage: Facing the Complexities of Commitment With the Wisdom of God, by Timothy and Kathy Keller (2011) Shortly after this book was published I received the following email from one of my old pastors: "As expected, best book I've ever read on the subject by a long shot. Run, don't walk, to get Keller's book." This summarizes most of the feedback I've heard about this book.
Ruth Moon
To Read:
Infinite Jest, by David Foster Wallace (1996)
I couldn't tell you anything about the plot, but according to my brother it's the book that best defines the current 20- to 30-something generation, which is high praise.
Dakota: A Spiritual Geography, by Kathleen Norris (1993) A series of essays on a theology of place and the beauty and hardship of life in small-town northern South Dakota.
Recommend:
The Marriage Plot, by Jeffrey Eugenides (2011)
This is a thoroughly entertaining read about three college graduates in the mid-1980s. Madeleine, the protagonist, graduates with a degree in English lit and writes her senior thesis on the importance of marriage in Victorian novels as a typical plot climax; the book follows Madeleine's own experiences with life and love (and a bipolar boyfriend) in a postmodern, post-college world.
Karen Swallow Prior
To Read:
The Remains of the Day, by Kazuo Ishiguro (1989)
I don't know how it is that I'm only now discovering the beautiful and insightful writing of British writer Ishiguro. The Remains of the Day captures exquisitely the voice of "the perfect English" butler as he reflects upon his service and the man he serves while considering the nature of calling, dignity, and humanity.
The Whipping Club, by Deborah Henry (2012)
This debut novel,centered on an interfaith marriage in 1960s Ireland, has been described a harrowing and gut-wrenching, dealing with child abuse, adoption, and family secrets. No wonder it made O magazine's list of top summer reads and earned a rave review from Kirkus.
Recommend:
Grumble Hallelujah, by Caryn Dahlstrand Rivadeneira (2011)
If you are as turned off as I am by what I call "happy clappy Christianity," and if you seek to embrace rather than deny the fact that being a Christian does not guarantee a perfect life, then you will find in this book a kindred spirit. The title captures it all: even in our lamentations (hey, there's a book in the Bible by that name!), we can come to know, honor, and praise God more.
Sarah Pulliam Bailey
To Read:
Let's Pretend This Never Happened: A Mostly True Memoir, by Jenny Lawson (2012): I have no idea if this will be any good, but I've laughed at Lawson's blog posts and her quirky humor. I'm a firm believer in making time for fun reading to get the creative juices in the brain flowing, especially when it involves poolside reading.
Recommend:
Drop Dead Healthy: One Man's Humble Quest for Bodily Perfection, by A. J. Jacobs (2012): I will read just about anything Jacobs writes, though I was mostly curious if his book would offer any follow-up thoughts on A Year of Living Biblically. It seems as though his experiment to live out the Bible has become a mere afterthought, like his occasional attempt at prayer before a meal. But if you want just want a good chuckle, fun storytelling, and a few thought provoking ideas about health and our mortal lives, enjoy Drop Dead Healthy for some light reading.
Courtney Reissig
To Read:
Almost Christian: What the Faith of Our Teenagers is Telling the American Church, by Kenda Creasy Dean
Think, by John Piper
How People Change, by Paul David Tripp and Tim Lane Catching Fire, by Suzanne Collins (2009)
Recommend:
Unbroken, by Laura Hillenbrand
When God Weeps, by Joni Eareckson Tada, Steve Estes (1997)
Rachel Marie Stone
To Read:
Lying-In, by Richard W. and Dorothy C. Wertz; Get Me Out, by Randi Hutter Epstein
I'm currently reading a number of histories of childbirth—my favorite is the more scholarly Lying-In by Richard W. Wertz and Dorothy C. Wertz, but Randi Hutter Epstein's Get Me Out is better poolside reading—it's as funny as one could reasonably expect a history involving forceps, ether, knives and chloroform to be.
Recommend:
The Grapes of Wrath, John Steinbeck (1939); The Minister's Wooing, Harriet Beecher Stowe (1859)
I'll have to follow Laura Leonard in recommending Steinbeck, though I'm going to tell you to read The Grapes of Wrath if you haven't, or if you suffered through it (as I did) in tenth grade. Not only does it have a beautiful depiction of social childbirth (see my bizarre interest above) it's a history of one family's time during the Great Depression that makes you care more than you thought possible. If 19th century literature is more your thing, I have to recommend Harriet Beecher Stowe's The Minister's Wooing—it's her sleeper hit, I'm telling you—with romance, theology, suspense and surprise.
Laura Ortberg Turner
When Women Were Birds, by Terry Tempest Williams (2012)
Starting a new MFA program this summer means that most of my reading for the next two years will be set for me, so I'm making the most of the next month and a half to get through the ever-growing stack of books on my nightstand. With a title like When Women Were Birds, how could you not be intrigued by Williams's latest collection of essays? The book deals primarily with the question of what it means to have a voice, a great question for any woman (or man) seeking to listen to God and self.
The Lords of Discipline (1980) / Prince of Tides (1986) / South of Broad (2009), all by Pat Conroy
The covers of his books would put off most sane people, but to miss out on any of Conroy's novels is nothing less than a tragedy. I have passed countless summer hours reading and re-reading Prince of Tides and South of Broad, and if you are planning on logging some hammock/porch-sitting time this summer, I can't recommend another author more highly. The Lords of Discipline forever changed the way I thought about friendship and sacrificial love, and Conroy writes with the most gorgeous, thrilling prose of any author of our day.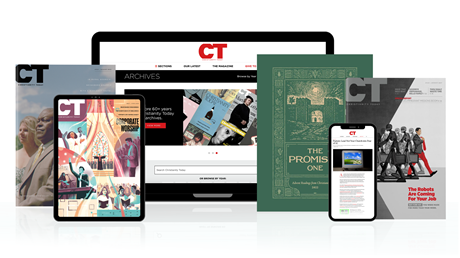 Annual & Monthly subscriptions available.
Print & Digital Issues of CT magazine
Complete access to every article on ChristianityToday.com
Unlimited access to 65+ years of CT's online archives
Member-only special issues
Subscribe
Get Moving, People. What Are You Reading This Summer?
Get Moving, People. What Are You Reading This Summer?