Sex, drugs, and rock and roll may have defined rock culture in the 1970s and '80s, but in Katy Perry's feature-length documentary, which released today, it's clear that a younger generation has embraced a more racy, sexually overt identity, one that Perry's music has encapsulated.
In Part of Me 3-D, thousands of Perry's fans turned out to hundreds of tour dates, dressed in colorful wigs and cupcake bras, dancing to a soundtrack created by a pop artist who has been rewarded for emerging from a sheltered, Pentecostal background to belt out lyrics that glorify same-sex hookups, drunkenness, and male anatomy as the pinnacle of ecstasy for this generation.
"She writes her lyrics straight from her diary," manager Bradford Cobb says in the film. "She speaks for her fans - for her generation."
Since Christianity Today last covered the life of Perry, 27, ("Katy Perry: 'I'm Still a Christian'") in 2010, her music career has rocketed to record heights, while her marriage to then-fiancfamp;copy; Russell Brand has crumbled. This juxtaposition is aptly portrayed in her documentary, showcasing her awards and credentials in the industry that are second to none, while including moments of tears and heartache on the road as her marriage falls apart.
Not only does Perry identify as the first female music star to have five number-one singles off of the same album (not even the Beatles have accomplished that - only Michael Jackson has), she has now successfully completed a global tour that grossed millions in revenue and boasts over 22 million Twitter followers of all races, shapes, and sizes.
"We're Katy Perry fans, and we don't care how old we are!" two baby boomer enthusiasts say at one of Perry's shows.
Some argue Perry's sexually overt identity is a reflection of culture, while others claim she embraces it on her own accord. Whatever the stance, it's clear that fame doesn't come without a price: For Perry, it was the loss of her marriage.
"When I was younger, girls would say, 'I don't want to have to choose between love and a career,' but I thought I would be able to have both," Perry said (see "Can Christian Women Have it All? Debunking the Work-Life Balance Myth"). "That fairy tale is not true for me though - I tried and I failed. I learned so much from that journey. But I feel like I have a second chance at a brilliant life."
Second chances are pretty biblical, but Perry has yet to publicly identify with Christianity in her mainstream music (she failed to launch a gospel career as a teen: see the fruits of her effort on self-titled LP Katy Hudson, released in 2001 from Red Hill Records). This may be a result of her running from a severely sheltered upbringing: according to Perry, everything was "church activities and church kids"; according to her grandmother, her parents were always "on the road preaching," and according to Perry's sister Angela, the Hudson children couldn't even eat Lucky Charms because her parents believed "luck was of Lucifer." So when Perry moved to Los Angeles at the young age of 18 after her gospel career flopped, she began to shape her identity as an individual for the first time in a culture ripe with experiences she had never seen before.
"It was like she was experiencing life for the first time, and it came out in her music," manager Cobb says.
Sure enough, her first hit single, "I Kissed a Girl," features partying and drinking as the main themes, and it became her first platinum single. After a lukewarm start in Christian circles as a teen gospel singer, the success was a welcome change for Perry, who had been working for years to "make it big," finally experiencing success by glorifying themes of brazen sexuality and edginess.
"Everyone loves the idea of a good girl gone bad," Perry says in the movie.
Indeed, "I Kissed a Girl" launched a string of hit singles for Perry that feature themes that make many conservative Christians shudder. The nature of her success stands in stark contrast to her religious upbringing, and Perry insists God still plays a role in her life (Rolling Stone's 2010 cover story, "Sex, God, and Katy Perry"). She doesn't mention Jesus or the cross in any of her music, though Esther merits a mention on 2008's "Who Am I Living For?" and being "born again" and the "lion's den" are two themes teased out on Perry's most recent single, "Wide Awake."
"I do believe in God," Perry said in Part of Me 3-D. "Maybe not all the details my mom believes, but I have a personal, one-on-one relationship with God, and it's continually evolving."
With "Jesus" tattooed in script on her left wrist and "Anuugacchati Pravaha," a Sanskrit phrase meaning "Go With the Flow" permanently etched on her right bicep (ex-husband Brand got a matching one), integrity, honesty, and vulnerability are the names of Perry's game, and instilling hope in her fans is her main passion in life.
"I want my fans to leave my show with a heart full of hope and happiness, with a shimmer in their eyes," Perry said on her California Dreams tour.
Sure enough, footage capturing several fans immediately following a show proves the intended effect was attained:
"Imagine being shot with an arrow of Katy Perry-ness," a teenage fan giggled. "So much excitement!"
The quality of the influence she holds over her fans is subject to debate, however. Her enthusiastic heart and authenticity at meet-and-greets as depicted in the movie are pure enough, but it also depicts three teenage girls belting out a line about taking shots and kissing each other outside one of Perry's tour venues. When YouTube clips of fans thanking Perry for how she encouraged them through tough times and helped them embrace their individuality were shown on the silver screen, however, it was a different story. Testimonies of freedom, creative expression, and individuality inspired by her music moved some audience members to tears.
More tears flow during the most moving scene of the movie that took place in Sao Paolo, Brazil, where Perry was set to play for the biggest crowd of the tour. She almost didn't make it on stage - doubled over, with tears streaming down her dolled-up face over stress and conflict she was experiencing with Brand at the time, the show was delayed as she attempted to pull herself together. When she finally emerged on stage, a crowd that chanted "Eu te amo," over and over warmly welcomed her, evoking an emotional response from the awe-struck artist.
Unfortunately for Perry, her marriage was not the fairy tale she had hoped it would be, but she currently has the love and support of 22 million plus fans waiting to see what she will reveal next. A much more lasting unconditional love and support comes from a Father in heaven, one who offers the redeeming power through salvation instead of fleeting one-night stands.
"I think I'm going to go into a cave after this, it might be appropriate," Perry said. "I would like to bring my little baby Taylor [guitar] and be in a beautiful unplugged place where there's not a lot going on so I can hopefully write some good songs."
Fortunately, God revealed Himself to Moses, David, and Elijah in caves, so perhaps Perry will come away from her break divinely inspired. Cinematically, Part of Me comes off well, but for Perry, it's worth considering whether she ever feels trapped inside of her own production.
Allison J. Althoff is an editorial intern at Christianity Today.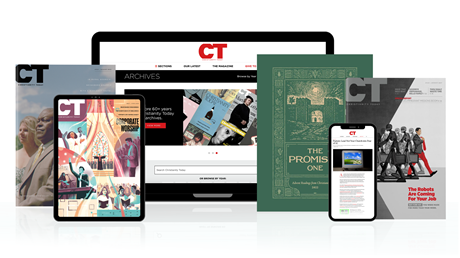 Subscribe to Christianity Today and get access to this article plus 65+ years of archives.
Home delivery of CT magazine
Complete access to articles on ChristianityToday.com
Over 120 years of magazine archives plus full access to all of CT's online archives
Subscribe Now
Katy Perry's Part of Me 3-D: Does Everyone Really Like a Good Girl Gone Bad?
Katy Perry's Part of Me 3-D: Does Everyone Really ...