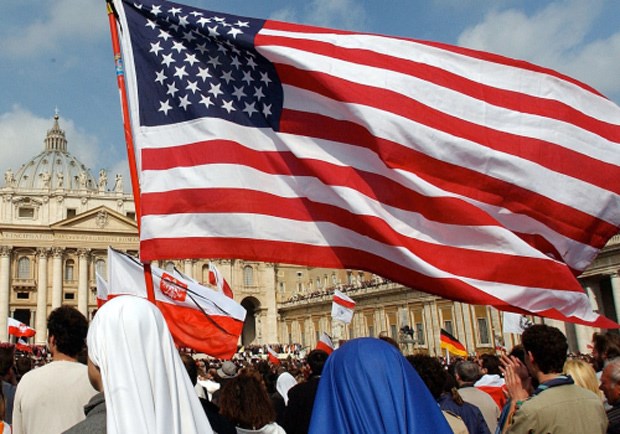 Image: Photo by Getty Images
The Vatican's effort to rein in American nuns achieved a new level of visibility over the last few weeks. On Monday, Stephen Colbert interviewed Sister Simone Campbell, director of Network—a Catholic social justice lobby. When asked about the church's recent censure, Campbell articulated the sisters' shared commitment to "the gospel," particularly "to live as Jesus did in relationship with people at the margins of our society." Colbert appeared to be impressed.
Shortly before that, the Catholic Theological Society of America defended Sister Margaret Farley, a Yale theologian whose book Just Love: A Framework for Christian Sexual Ethics recently raised the Vatican's ire. The board defended Farley as a "highly respected member of the theological community," and said that it was "simply a matter of fact that faithful Catholics in every corner of the Church are raising ethical questions like those Professor Farley has addressed."
The Vatican's censuring of Farley's work follows its denunciation in April of the Leadership Conference of Women Religious (LCWR), the umbrella group for female religious, representing most of the 57,000 nuns in the U.S. The LCWR, whom the Vatican described as "doctrinally problematic" for its alleged failure to uphold church teaching on abortion and same-sex marriage, rejected this critique defending the social justice work of its members as "the work of Jesus."
Meanwhile, leaders from seven Franciscan provinces in the U.S. expressed support for the LCWR by calling the Vatican's crackdown "excessive, given the evidence raised. … The efforts of LCWR to facilitate honest and faithful dialogue on critical issues of our times must not result in a level of ecclesial oversight that could, in effect, quash all further discernment."
The LCWR's response to the Vatican's criticism—using terms like "unsubstantiated" and a source of "scandal and pain"—along with a veritable chorus of dissent by likeminded Catholics easily casts a less than charitable light upon the Vatican in general and Pope Benedict XVI in particular. This, however, would be unfair. A careful reading of statements by the Congregation for the Doctrine of the Faith (CDF) reveals a sensitive balance of pastoral care and discipline.
Last month, the Pope praised female religious in the U.S., expressing "'deep gratitude' to American nuns for their 'fidelity and self-sacrifice.'" Addressing bishops from the United States in Rome, "Benedict said he hoped that the current phase of 'discernment' would bear 'abundant spiritual fruit' and revitalize women religious communities 'in fidelity to Christ and the Church.'" In a similar vein, the Prefect of the CDF, Cardinal William Levada, explained the Vatican's critique of these nuns as "aimed at fostering a patient and collaborative renewal of this conference of major superiors in order to provide a stronger doctrinal foundation for its many laudable initiatives and activities."
* * *
One question that asserts itself with increasing relevance is the extent to which members of religious communities are truly at liberty to resist Vatican input. When a nun professes her vow of obedience, for instance, the ceremony unfolds as a kind of wedding. It is not "till death do us part" but rather, "till death is one submitted to Christ and his church," a church at whose head stands the successor of St. Peter, the vicar of Christ, the Roman pontiff. Nuns have a ring placed on their finger and literally assume a posture of prostration as symbolic reminders of this submission.
In keeping with the marriage metaphor, it was in 1370 that Catherine of Siena (1347-1380) described her calling as a "mystical marriage" with Jesus. What's interesting is her analogy between personal consecration to Christ and obedient submission to the hierarchical structures of the church. In her famous Dialog she reminds the faithful that, "He [God] left you this sweet key of obedience; for as you know he left his vicar, the Christ, on earth, whom you are all obliged to obey until death."
Another famous nun, St. Teresa of Avila (1515-1582), admonished her fellow "sisters" and "daughters" that if one sincerely prays for God's kingdom to come, on earth as it is in heaven, she must "submit in all things to the teaching of the [Holy Roman] Church." Teresa's self-effacing and obedient submission to ecclesial authority was ultimately revealed when she was censured by Prior General John Baptist Rossi and ordered to remain in quiet retirement at a convent. Teresa's obedience revealed her commitment to church authority over personal conscience.
Not all nuns make this same choice. In July of 2010 I had the privilege of interviewing the Sorelle Evangeliche (Gospel Sisters) in Tuscany, Italy. Cristiana and Annamaria (a.k.a. the "Gospel Nuns") are known among Protestants throughout the peninsula as nuns who have resigned from their religious order after reaching a doctrinal impasse with the Magisterium. In good Protestant fashion, their consciences were captive to the word of God and they realized that it was neither safe nor wise to violate conscience. Despite the fact that these ladies no longer have a convent in which to live (goodbye community and retirement fund), they now have a ministry of itinerant evangelism throughout Europe in which they encourage congregations to pursue gospel-centered outreach.
The above-mentioned examples—Catherine and Teresa who submitted to church authority, and Cristiana and Annamaria who converted to Protestantism—raises the question of why American nuns feel the freedom to oppose the Vatican as nuns. The recent survey by sociologists at Catholic University, led by William D'Antonio, may provide some insight. Their article, titled, "Right and Wrong: Who Has Final Say?" reveals that upwards of half of Catholics surveyed believe that one's private judgment (and not magisterial authority) is best suited to make moral decisions on issues such as abortion, non-marital sex, and homosexuality. D'Antonio and his research team found that "majorities of Catholics surveyed say that the locus of moral authority resides with individuals, who should decide for themselves after taking church teachings into account. One in five Catholics or fewer says that church leaders such as the pope and bishops are the proper arbiters of right and wrong in these areas."
God bless America. We get to enjoy life, liberty, and the pursuit of happiness. But we don't get to enjoy it on our own terms apart from divine truth, at least not if we claim to be Christian. God gives us perimeters within which to enjoy his divine blessing, structures that endow life with meaning and genuine happiness. We recognize, for example, that fidelity to spouses and honor to parents are good things that enrich human experience and glorify God. Indeed, such freedom and blessing apply to the sisters of LCWR as much as to anyone. But religious orders, operating within the Catholic deposit of faith, have their own covenantal context, usually defined by the vows of poverty, obedience, and celibacy. No one in America forces nuns to take these vows. They do so willfully.
Most recently, the sisters of LCWR have insisted that the Vatican's concern be "addressed by the entire church community." This proposal, however, is a Protestant notion, not a Catholic one. Even with the conciliar emphasis of Vatican II, which values and promotes dialogue, there will come a point when nuns associated with this movement must choose whether they will kiss the pontiff's ring or remove their own.
Chris Castaldo serves as director of the Ministry of Gospel Renewal for the Billy Graham Center at Wheaton College. He is the author of Holy Ground: Walking with Jesus as a Former Catholic and a main contributor to Journeys of Faith: Evangelicalism, Eastern Orthodoxy, Catholicism, Anglicanism. He blogs at chriscastaldo.com.
"Speaking Out" is Christianity Today's guest opinion column and (unlike an editorial) does not necessarily represent the opinion of the magazine.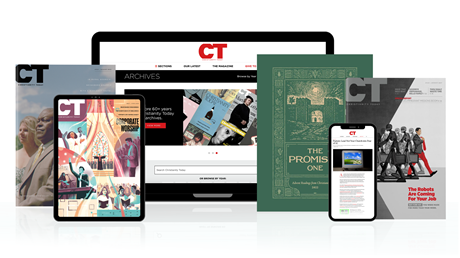 Annual & Monthly subscriptions available.
Print & Digital Issues of CT magazine
Complete access to every article on ChristianityToday.com
Unlimited access to 65+ years of CT's online archives
Member-only special issues
Subscribe
Nuns Facing the Ruler: A Protestant Perspective on the Vatican Conflict with the Sisters
Nuns Facing the Ruler: A Protestant Perspective on ...