true
"We're half the band we used to be," joked Michael Roe before he and bandmate David Leonhardt—playing as a duo for the first time in 15 years—started into the first song of a show on the Seventy Sevens' recent tour, supporting the re-release of their defining album, 1990's Sticks and Stones.
The statement is perhaps a bit truer than intended.
Roe's guitar chops are as good as ever, and his voice is remarkably unchanged after 30 years. But it's the bittersweet picture of watching a still-brilliant musician sing still-vital rock songs to a small crowd of largely fortysomethings, backed by a drum machine instead of Aaron Smith, passing the bucket for a love offering before the encore. The songs are still phenomenal. But the band—it's the Seventy Sevens, for crying out loud!—should be so much more.
Yet in a sense that's how it's always been with the Sevens, even in their heyday.
This is the band whose third album—intended to be their "breakthrough"—released in 1987 on Island Records just a few weeks before one of their label mates, a little Irish group named U2, unleashed a record called The Joshua Tree. Both albums met with rave reviews from Rolling Stone magazine.
One of those bands exploded. The other did not.
In the fallout, the Seventy Sevens lost two of their four members, landed back in the CCM scene where they had a fan base, and scratched together some leftover tracks for a release on Broken Records. The album was a collection of misfits and castoffs. Also-rans and runners-up. Sticks and Stones.
Yet in retrospect, that album, released in 1990, represents the high-water mark in the career of a band that Mark Allan Powell called "one of the two or three best Christian rock bands of all time" in the Encyclopedia of Contemporary Christian Music.
Stylistically, Sticks and Stones is all over the map, from Europop to blues to jazz to jangly '60s rock, sometimes in the same song. But a theme emerges. If nothing else—and perhaps unintentionally?—it's an album of startling honesty and naked brokenness, of the sort rarely found in Christian music. From the heartrending plea of "Don't, This Way," to the internal wrestle of "The Lust, The Flesh, The Eyes, and the Pride of Life," to the theology-in-plain-clothes of "This Is the Way Love Is," it is a remarkable collection of songs. Rebellious, penitent, hopeful.
But the question still lingers: Is it a Christian album? Are the Sevens a Christian band?
Twenty-two years ago, the Christian music scene was more diverse than the worship-dominated market of today, but it struggled even then to find a place for the rebel and the misfit. And here was a band that had little to offer Christian radio—boasting a "Jesus-per-minute" quotient of precisely zero, while talking about lust and flesh and sin. They apparently didn't get the memo about being "positive and encouraging."
Most other bands on the fringes of Christian music could be safely ignored. But not the Sevens, by sheer force of talent. Following the success of Sticks and Stones, they would go on to release three high-profile albums on Word Records imprints, including one on Myrrh Records, once home to Amy Grant.
So what do you do with The Seventy Sevens?
If you're their record company, you try to make them fit the mold. When the band attempted to call their next album Pray Naked, Word's execs retitled it The Seventy Sevens—making it their second "self-titled" album (1987's Island release was called 77's). When they attempted to sneak in a well-placed vulgarity, it was backmasked. When they turned in an album that was a bit too dark, they were sent back to the studio to give it a new epilogue.
Meaningless gestures, all, because this is unmistakably Christian music. No, the songs aren't neat-and-tidy, cross-referenced, or theologically watertight. But they are songs that could only come from a heart wrestling with the hard questions of faith. And in that regard, they surpass—to this day—much of what the Christian music industry produces.
Like all enduring art, Sticks and Stones was fearless. It shined a light into dark corners in the hearts of the band members, and in so doing, illuminated our own dark corners. That made us uncomfortable. But, as the truth is wont to do, it also set us free.
So what do you do with The Seventy Sevens? What do you do with Sticks and Stones?
You hit repeat, again and again, twenty-two years later.
Clay Anderson is Director of Web Development at Christianity Today. He worked in Christian music retail for 8 years.
The Seventy Sevens are scheduled to play Cornerstone 2012. Listen to Sticks and Stones here. Photo of Mike Roe by Kevin Fromer.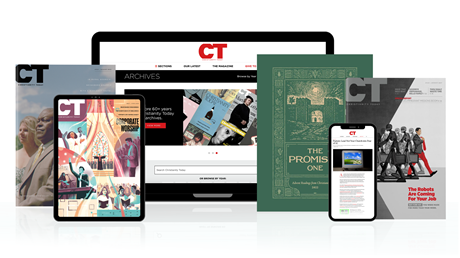 Annual & Monthly subscriptions available.
Print & Digital Issues of CT magazine
Complete access to every article on ChristianityToday.com
Unlimited access to 65+ years of CT's online archives
Member-only special issues
Subscribe
77's Still on the Edge
77's Still on the Edge