Reviews

|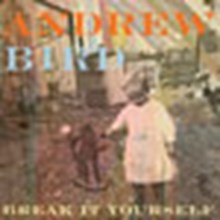 Style: Indie-folk-rock; compare to Sufjan Stevens, Mumford & Sons, Wilco
Top tracks: "Danse Caribe," "Eyeoneye," "Orpheo Looks Back"
A virtuoso of his generation, Andrew Bird has achieved what all artists desire but few ever attain: A unique style. It's a very simple formula (which is probably why it works so successfully)—he whistles, and he loops violin harmonies. But any other artist that attempts to mimic this formula will immediately be charged with thievery, and rightly so. Bird owns the monopoly, with hotels on Boardwalk and Park Place.
But it would be a mistake to say that whistling and violin looping is all there is to Bird's musical success. He has gracefully built up an aesthetic over the past decade. He surrounded himself equally skilled backing band members and visual artists. His handmade flower-shaped amplifiers are another distinctive image solely designed for the Andrew Bird experience. He is his own brand. An original artist in every way.
On Break It Yourself, his sixth full-length, Bird treats fans to delicately jazzy percussion, drawling vocals that sing of mystifyingly ambiguous topics, folky-as-ever strings, and that old standby of indie rock eclecticism (glockenspiel all day). It's more of the same from Bird, which is fine, because he has absolutely no reason to change his formula. He still sounds unlike anyone else, and he would be foolish to try to fix something that isn't broken—which beckons the album title.
Bird's lyrics have always playfully danced around themes of existential mortality, appropriately keeping the weight of his whimsical tunes low to the ground. "Fatal Shore" includes some of the most striking lines: "When are you comin' to shore / To never fear anymore / You never know ...
1