true
Though based on a young adult novel, The Hunger Games is no fluffy Twilight. This is not a "teen movie," but a movie about a teenager—a strong character whose story deserves to be told. This is also not an adaptation hastily thrown together to capitalize on a pop culture sensation. It is a well-crafted film with genuine inspiration, creative innovation, and a defined voice—with something real to say.
This is what teen lit adaptation can look like when the subject is respected, when the audience is not being pandered to, and when the source material is a strong story. The Hunger Games is a dark and engaging action/drama laced with social critique and dystopian sci-fi. But most of all, it's the story of a girl and crushed innocence.
Jennifer Lawrence, who plays the lead role of Katniss Everdeen, described Suzanne Collins' Hunger Games trilogy as holding up "a terrible kind of mirror: This is what our society could be like if we became desensitized to trauma and to each other's pain."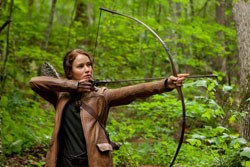 We see this society through the eyes of Katniss, a 16-year-old girl in Panem, an iron-fisted society that rose from the ashes of North America's collapse. Long ago, Panem's districts rebelled against its governing Capitol—and have paid dearly for it ever since. As a painful reminder of who they serve—or as President Snow (a reserved Donald Sutherland) says, a reminder of The Capitols's generosity and forgiveness—two children, called "tributes," from each district are selected each year to participate in the Hunger Games, a fight to the death. Most tributes are selected by lottery—and the odds of getting chosen increase each time they must borrow food from the government. Some kids, in districts closer to the Capitol, are born and bred as champions. Part entertainment, part brutal intimidation, the televised Hunger Games are reality TV gone amok: Survivor meets The Running Man meets The Most Dangerous Game.
Having read the books, I had two central questions for the film. The stories are told in Katniss's first-person voice, so we're always aware of her internal dialogue and inner turmoil. She might act one way for the Capitol's ubiquitous cameras, but she thinks another. From the books, we learn that Katniss is a strong, bright, complex young woman, driven by sacrificial love and responsibility for her family—but she is forced to mature beyond her years by poverty, loss, oppression, and burden. She experiences true grief, anger, and disgust over how the Capitol manipulates her. Would the film capture what's going on inside her head?
The answer is yes, thanks to excellent acting. Katniss's emotions are naturally and beautifully expressed in a twitch, an expression, a tremble, or a subtle inflection. Lawrence shows the nuance, depth, and professionalism that earned her an Oscar nomination for 2010's Winter's Bone. That film's character, Ree, is similar to Katniss; both hail from the impoverished American South. Both are sullen but loving, wounded but tough. Lawrence seems to excel in these roles.
My second question was how the film would handle violence committed to children. It's one thing to read it in a book, but another to watch it. In fact, the books communicate an anti-violence message through violence. Collins' editor said that the author brilliantly crafted "a critique of violence using violence to get that across, and that's a fine line." Could the films do the same—without glamorizing or whitewashing the violence?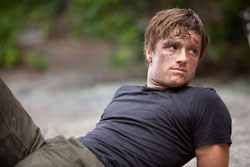 Again, yes, because director Gary Ross seems sensitive to this concern. He sets a foreboding tone—fear, devastation, heartbreak, and oppression, with glimpses of humanity. But there are no triumphant, crowd-pleasing kills, and few glamorized, movie-neat deaths (save for one notable one). Most of the actual death blows occur off camera or quickly in stark flashes. What we do see plainly and repeatedly are chilling shots of the lifeless bodies of bloody children—many with their dead eyes open. These shots are reminders that this is awful. Every life, and death, matters.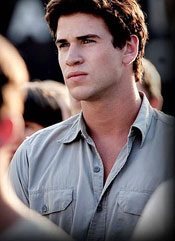 The team of writers deftly interprets the books' minimalist style. Collins, a former TV writer, worked on the script with writer Billy Ray (State of Play, Breach, Flightplan and another tricky adaptation, Shattered Glass) and director Ross (Dave, Pleasantville and Big). As with all book adaptations, some plots, relationships, and motivations are abbreviated, and some things are outright lost. But, overall the subtractions and simplifications work. For instance, the love story (though not major in the first book) is downplayed. The real victory though is in the additions. Fantastic scenes are added to better explain the context behind Katniss's decisions and illustrate President Snow's manipulations.
As in the book, characters' attitudes toward the Games are telling. Katniss does what is needed to protect those she loves—and she carries regret and disgust for what she is forced to do. Her fellow District 12 tribute Peeta (Josh Hutcherson) wishes only to stay who he is, to not be changed, to show the Capitol they do not own him. Tributes from other districts were raised only for this—to kill, to win. In them, we see a complete detachment and desensitization. Killing their peers is no more real than a video game. A striking scene comes as these "career" tributes jostle through the arena's forest with a casual, mocking attitude toward a girl they just massacred. In the end, one of them realizes that he too was played by the Capitol, twisted by lies and manipulation, raised only to die.
While the outer districts look upon the Games with horror and foreboding, the privileged, spoiled, and ridiculous citizens of the opulent Capitol love every minute—like we worship football or any given reality show. To them, these deaths are only a good show.
Like many good sci-fi fables, Hunger Games says a lot about us: our voyeuristic culture, the tempering distraction of mindless entertainment, the balance of compassion and self-preservation, the interconnectivity of the haves and have-nots, hope and fear as controlling agents, and children's loss of innocence.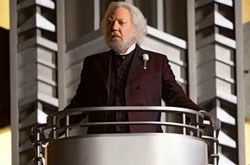 One of my favorite moments occurs just minutes after the Games begin. Children already lay dead. Katniss has fled to the forest. As she rests, a butterfly lands on her leg. For a split second, her face lightens. She is back home. Safe. Just a girl. And then—like a shot—she is snapped back to the harsh reality that she will never be carefree or innocent again.
Talk About It
Discussion starters
What do you think this film is saying about the use of violence?
How did the movie make you feel about reality TV? About the poor? Children forced into slavery or war? The government?
Does watching killing in a movie, TV show, or video game bother you? Should it? This movie seems to imagine a future where our entertainment centers on death. Could that happen? Gale says maybe people will stop watching. Katniss disagrees; they will always watch. What do you think? Why would we watch this?
Is it hypocritical for a movie (or book) to say it's wrong to be entertained by violence when it uses a great deal of violence? Why or why not?
The actress who plays Katniss said, "This is what our society could be like if we became desensitized to trauma and to each other's pain." What does she mean? What does it mean to you to be sensitive to others' pain? How do you practice compassion and empathy?
Haymitch tells the Game Maker to focus on romance to distract the people from their anger and riots. How does entertainment distract you from what matters?
President Snow talks about the need for hope and fear when controlling people. What did you think of that? Have you felt manipulated by hope or fear?
The Family Corner
For parents to consider
The Hunger Games is rated PG-13 for intense violent thematic material and disturbing images—all involving teens. Take the rating seriously. While most death blows occur off screen, the films shows many children dead or falling lifeless to the ground. One boy is shot in the chest with an arrow. A girl is stabbed by a spear. One boy has his neck brutally and suddenly snapped. One girl's body is grotesquely disfigured by insect venom. There are scenes of peril involving large dog-like beasts attacking kids.
Copyright © 2012 Christianity Today. Click for reprint information.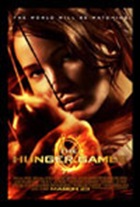 Browse All Movie Reviews By: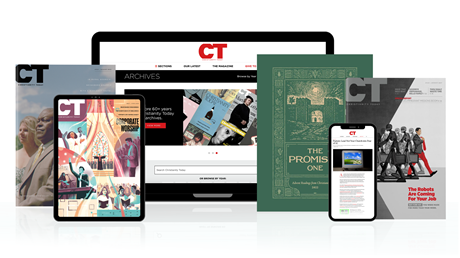 Annual & Monthly subscriptions available.
Print & Digital Issues of CT magazine
Complete access to every article on ChristianityToday.com
Unlimited access to 65+ years of CT's online archives
Member-only special issues
Subscribe
The Hunger Games
The Hunger Games