true
My Christian conversion roughly coincided with my discovery of Bruce Springsteen. My sinner's prayer ran something along the lines of "If you can do anything with this mess, Lord, go for it." A few days later I found myself in a packed auditorium, dazzled for the first but far from the last time by a rocker who played for three and a half hours without a break, basking in the glory of the songs from Born to Run a few months before the album was released. And I've been along for the ride ever since, a Christian who is convinced that Bruce Springsteen has more to say to me than any other songwriter.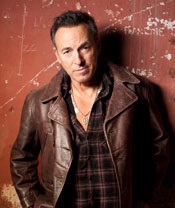 This is curious because, as far as I know, Springsteen does not claim to be a Christian. He grew up in the Catholic Church, left it in his teens, and never looked back. But Springsteen understands mess; the kind of mess that I was in, the relational conundrums that can trace their roots to unresolved dreams, the power of choices that set us off down a path from which it is often difficult to retreat, the gap between the people we would like to be and the people we often are. In spite of this, his songs offer an unbroken testimony to those who face adversity and strive to overcome it. And, increasingly, his work is characterized by a buoyant hope that can only be seen as rooted in the person of Jesus Christ. If you doubt that claim, you need to listen to his latest album Wrecking Ball, an album in which Jesus and his teachings inform virtually every song.
It needs to be reiterated that Springsteen, the multimillionaire rock star, writes character studies, and that the world his characters inhabit is one where the American Dream has been transformed into the American Nightmare. In this vision of the new America, the country is peopled with a few rich bankers and a lot of unemployed or underemployed individuals who struggle merely to survive. It is a world of shuttered factories, of jobs gone forever, and of hometowns turned to ghost towns. Assuming that you are not a multimillionaire rock star, it probably looks something like your world or mine. The conventional wisdom holds that these are songs of the common man, but the conventional wisdom is wrong. These people are anything but common. They have names like Joe and Mary, Miguel and Rosalita, and their stories are as unique and extraordinary as any and every human life.
This is Springsteen's extravagant gift; finding the spark of uniqueness and worth in particular human lives and holding those lives up as a mirror for us to see the reflection of ourselves, of the time and place in which we live. He does it on Wrecking Ball time and time again. He finds the spark in the nameless narrator of "Shackled and Drawn" who longs to feel the sun on his face and the sweat of honest labor on his shirt, but who cannot find work; in the defiant, angry Jersey swamp rat of the title track who is willing to take on the fat cat bankers singly or in bunches; in the desperate handyman of "Jack of All Trades," willing to do anything, even the most menial of tasks, to put food on the table. The handyman holds out for a wistful dream:
The hurricane blows, bring the hard rain
When the blue sky breaks
It feels like the world's gonna change
And we'll start caring for each other
Like Jesus said we might
I'm a Jack of all trades, we'll be all right
The vision finds its fulfillment in "Land of Hope and Dreams," the kind of arena-rattling anthem that Springsteen hasn't written in a while. This is an old song, one that he has been performing for well over a decade in his concerts, but it is fitting that it appears at the end of Wrecking Ball, the eventual victor in the usual Springsteen tug-of-war between despair and transcendent hope.
In Flannery O'Connor's great short story "Revelation," Mrs. Turpin, the self-righteous and judgmental protagonist, sees a vision in which white trash, freaks, lunatics, and "black niggers in white robes" lead the heavenly procession, while the pious churchgoers bring up the rear. Springsteen, in his most blatant gospel song, offers a similar vision of the train of glory, rumbling heavenward to where faith will be rewarded. It is a train that carries "saints and sinners, losers and winners, whores and gamblers, lost souls, fools and kings," and one in which "dreams will not be thwarted" and "faith will be rewarded." It's a glorious song, a perfect encapsulation of the greatness of its songwriter and singer. It's also the gospel; good news—the best news, in fact—for those who are weary and heavy-laden, uncommon men and women sorely in need of grace.
Random notes
A soundtrack to injustice. Dave Perkins' new album Deadline, the soundtrack to the movie of the same name, probes the lot of those who face racial discrimination and economic injustice. Perkins, a veteran Nashville session guitarist who has played with everyone from CCM's Steve Taylor to country's Jerry Jeff Walker to pop's Carole King, uses the blues as his foundation—everything from plaintive acoustic Delta blues to the kind of blistering blues-rock pyrotechnics that characterized the music of Stevie Ray Vaughan. Incorporating several songs from his stellar 2009 album Pistol City Holiness, the soundtrack to Deadline displays a wider sonic palette than Perkins has shown before. In addition to the usual guitars, Perkins plays banjo, bass, organ, synth, electric piano, and penny whistle. But the foundation is unmistakably the blues, and it's the perfect musical platform from which to explore these songs of temporal oppression and spiritual yearning, of characters who long to be redeemed this side of Zion. It's another very fine effort in a career that spans several decades, and that is marked by consistently excellent playing and songwriting.
These Girls are sweet. The latest from Girls, Father, Son, Holy Ghost, is a terrific, sweet, uplifting album. Their debut, Album, was a promising mess—more of a mess than promising. But Father, Son, Holy Ghost is better in every way—more focused, tighter songwriting, better production. Lead singer/songwriter Christopher Owens is the kind of guy who has absorbed the DNA of 50 years of rock music, and has a knack for rearranging those strands into something unique and compelling. It's the sweetness that ultimately wins me over, and makes me smile. This is a guy who writes not one, but two songs about his mother. It sounds as if he likes her. And "Forgiveness" gets it exactly right. I have no idea what this guy believes or does not believe. But it's refreshing to encounter someone who holds out the notion that bitterness, cynicism, and recrimination are not the answers.
Coming Up. I'm looking forward to new albums in the next month from Steve Earle's son Justin Townes Earle (March 27), one of the best roots musicians currently recording; veteran pop/blues musician Bonnie Raitt (April 10, produced by Joe Henry, and with covers of songs by Bob Dylan, Loudon Wainwright III, and Joe Henry); and morose but immensely talented folkie troubadour Sun Kil Moon (May 29).
Andy Whitman, a regular contributor to Paste magazine and Image journal, blogs at Razing the Bar.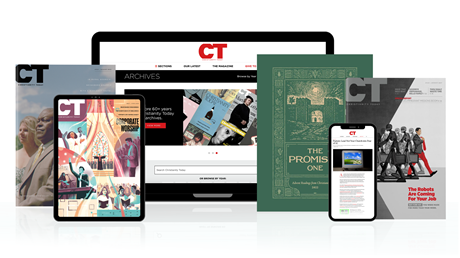 Subscribe to Christianity Today and get access to this article plus 65+ years of archives.
Home delivery of CT magazine
Complete access to articles on ChristianityToday.com
Over 120 years of magazine archives plus full access to all of CT's online archives
Subscribe Now
Bruce Springsteen: The Stations of the Boss
Bruce Springsteen: The Stations of the Boss