true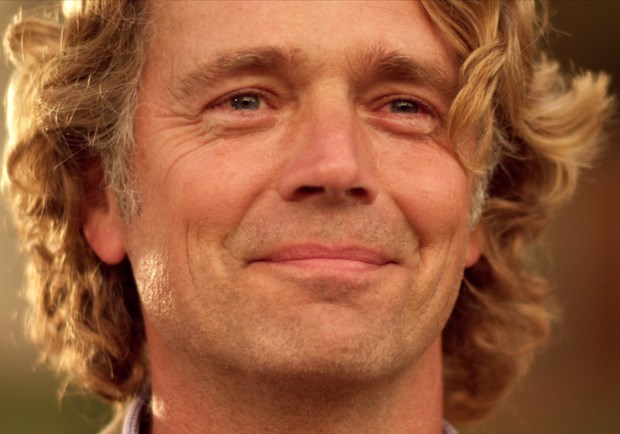 It's not like John Schneider is embarrassed about his run as the dashing, daring Bo Duke on the 1980s smash TV hit The Dukes of Hazzard. He remembers those days fondly, and appreciates the show's loyal fans. He even gladly mugs for photos, flashing that warm smile when 40-something women—who idolized him as teens—approach him with their old Tiger Beat magazines, seeking an autograph and a hug.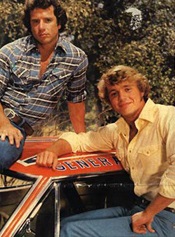 Schneider, still ruggedly handsome at 52, is okay with all that. He just doesn't want that one TV gig, three decades ago, to define his entire career.
"Every time somebody starts out, 'You know him best from The Dukes of Hazzard,' I just want to strangle them," Schneider says with a laugh. "I did a couple of radio interviews recently, and one guy said, 'We got Bo Duke on the line!' So there I am, on live radio, and I said, 'Really? Is that right? That's who you have on the phone right now? I'll do 'Yee haw!' for you later, but right now, let's talk about October Baby.'"
So we won't begin this story with Schneider's days with the Dukes. (We don't want to get strangled.) We'd rather talk about October Baby anyway … and a handful of other faith-based, life-affirming films starring Schneider in recent months. And how, remarkably, several of those movies mirror his own journey.
Take October Baby, for starters. A surprise indie hit (made for a reported $1 million, it has earned more than $5 million in two months in limited release), the film stars Schneider as the father of a 19-year-old girl who learns that she is not only adopted, but the survivor of a botched abortion. Her quest to find her biological mother yields a story rife with forgiveness and healing.
As it turns out, Schneider's own family saga has some similarities to October Baby. Long before he met Elly, his wife of 19 years, she had been faced with a difficult choice of her own. When she got pregnant at 15, several people advised her to get an abortion. But she opted to have the baby, a girl named Mandy, and gave her up for adoption.
Eighteen years later, while she and John were raising a couple of their own young children, Elly decided she wanted to reconnect with Mandy, but had no idea where to start. A few years later, after countless hours of research and digging, Elly found 21-year-old Mandy in Atlanta; mother and daughter reunited, and they have a strong bond today.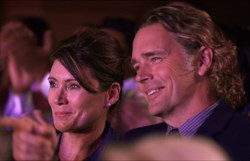 It gets even better: Mandy is now married, and recently had a baby of her own—John and Elly's first grandchild. "It's an amazing story, isn't it?" Schneider says, clearly marveling at how it turned out. "I think it's the coolest thing in the world."
He says he "applauds" his wife for "having the guts" to have a baby at the age of 15, when it "could not have been the popular thing to do" at that time. "But she made that choice," he says, "and gave that baby up for adoption, giving the gift of life to somebody else." Schneider says he and Elly—both Christians—are vocal proponents of "choosing life," of encouraging girls and young women who might otherwise abort to consider giving up their babies for adoption.
"I'm not a finger-pointer," Schneider says of his pro-life views. "But I think that taking that gift that God gives to you at the point of conception and throwing it away, it's a tremendous waste. It's the wrong thing to do with that gift. You have the right to do that wrong thing [by aborting]. But I offer up another choice: Adoption."
Four faith-based films
Schneider stars in another pro-life film called Doonby, slated for release sometime this fall. In that movie, he plays a mysterious drifter who visits a small town, somehow making all the people around him better. The pro-life theme emerges as a surprising twist near the end of the film; to say any more here would be a spoiler. But it's sort of like The Twilight Zone meets It's a Wonderful Life. (Tellingly, Doonby includes a small role with Norma McCorvey—who was "Jane Roe" in the 1973 Roe v. Wade Supreme Court decision that legalized abortion. McCorvey has since become a Christian and a voice for the pro-life movement.)
"Doonby is so sci-fi, so Twilight Zone," says Schneider. "It's like It's a Wonderful Life, only inverted. It's not, 'What would the world be like if you hadn't been born?' It's more like, 'What would this town be like if you had been born?' And I think that's cool."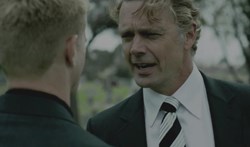 This week, Schneider stars in another film that celebrates life, though more subtly. In Hardflip, opening Friday in limited release, a young skater named Caleb (Randy Wayne of To Save a Life), raised by a single mom, is trying to find his way through life. When his mother becomes terminally ill, Caleb tries to reconnect with his long-absent father, played by Schneider, but the process is fraught with conflict and pain. Will they reconcile?
Later this year, Schneider appears in another movie focusing on the sanctity of life: Not Today turns its lens on the plight of the Dalits in India's caste system, particularly those trapped in slavery and sex trafficking.
Regarding his roles in four "faith-based" films, including several with clear pro-life themes, Schneider is reluctant to pigeonhole them as such.
"I honestly don't believe that these movies are making a pro-life statement," he says. "If you had a chip on your shoulder you could get aggravated and say these movies are making that statement. But to me, these movies, especially October Baby, are just a piece of education, shining a light on a different perspective.
"October Baby really infuriated a lot of pro-choice people. But it kind of is pro-choice, in that it's just highlighting another choice—to abort or not to abort. There are young people having babies every day that cannot possibly take care of them, and, as people who believe that every life is beautiful, we need to make them aware of another choice—to give that beautiful life up for adoption. People who are having children and don't want them should meet people who want children desperately but can't have them. That, for me, is what October Baby was about. And that's why I have a granddaughter today."
Schneider notes that he even played an "adoptive parent" as the father of Clark Kent in the popular TV series Smallville. "So you could say the wagons are circling [with these recent movies]. I've been involved in the offering-up-adoption-as-another-choice business for a long time."
Living with Johnny Cash
Past stories have noted that Schneider, who is also a fine musician (he plays guitar and sings), became a Christian while living with Johnny and June Cash in the 1980s, not long after Dukes of Hazzard wrapped in 1985. Schneider sets the record straight.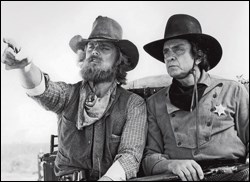 "I already was a Christian when I moved in with them," he says. "But living with Johnny solidified my understanding that you could be a believer and a man at the same time. Before that, it seemed that when you came to Christ, it came with kind of a salmon-colored sweater that you had to tie around your neck and tell everybody you loved them. And you had to slip the word just into everything, especially when you prayed: 'Lord, we just ask you …' Look. I'm asking for something really important, and I'm not going to diminish it by saying 'just.' Okay? That aggravates me to no end.
"Johnny was a man. A man's man. No paisley tie and a salmon sweater. Johnny had rough edges. He had a rough life. And he was held together by his love for Jesus—and his fear of June. He didn't pretend to be finished or to be fixed or to be good. Who the hell is good? We're all just working at it.
"Johnny knew it would take the rest of his life to really come to a relationship with Christ and to even begin to understand what a screw-up he was. And when you know that about yourself, you know that you don't have the time, let alone the right, to get into somebody else's deal. It infuriates me that when people forget what it's like not to be a Christian, and they get into other people's face about their life or their beliefs. It's amazing to me that people feel their relationship is so solid with God that they have enough time on their hands to question mine or to fix mine."
Schneider and the Cashes remained friends until they died—June in May 2003, Johnny four months later.
"My mother lives in Nashville, so I would see them occasionally," Schneider says. "Wonderful, real people, and I have wonderful, wonderful memories."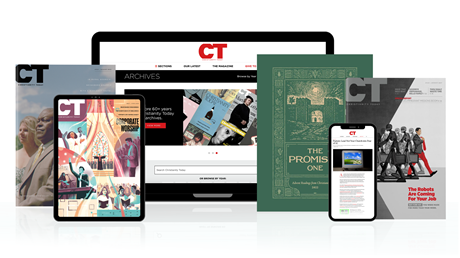 Annual & Monthly subscriptions available.
Print & Digital Issues of CT magazine
Complete access to every article on ChristianityToday.com
Unlimited access to 65+ years of CT's online archives
Member-only special issues
Subscribe
Bo Duke Grows Up
Bo Duke Grows Up