When people find out that I write about food, they frequently assume that I'm either about to pronounce judgment on what they eat, or that I'm about to dispense dietary wisdom. In fact I'm a bit of a dietary antinomian.
This isn't to say that I don't harbor my share of concerns about the state of agriculture, food, and eating in this country. I do. I'm concerned that diet-related disease and obesity disproportionately affect people who are poor. Government subsidies that make fast food cheaper than fresh produce also concern me, as does the blatant disregard for the life of God's creatures that's happening on factory farms. I don't like seeing cereal marketed to children that's 25 percent sugar by weight, or girls as young as three and four worrying about the 'childhood obesity epidemic.'
But I'm equally concerned when I see how easily the devotion to 'healthy' and 'righteous' eating can take a pernicious turn and become legalistic, judgmental, isolating and even crippling. Not long ago, I met a woman who was deeply concerned about her granddaughter. "She doesn't eat anything any more! It's not that she wants to be thin, she just thinks so many different things are unhealthy. She doesn't eat grains. She doesn't eat anything that comes from an animal. She tries to eat only things that are raw. She wouldn't even eat this," she said, gesturing to the home-cooked meal we were sharing.
The grandmother was putting her finger on a key aspect of food and eating as well as one of the dangers of dietary legalism: food is communal and community-forming, and restricted diets of all sorts tend to isolate and damage people. Dr. Stephen Bratman explores this dynamic. The author of Health Food Junkie, he coined the term "orthorexia nervosa" (from the Greek ortho, "correct,'" and orexis, "appetite") in 1997. In an essay, Bratman talks about his time as a cook in a commune. Some members were vegans, some vegetarians, some macrobiotic eaters, some who wouldn't eat anything from the onion family of vegetables and some who were raw foodists. All could marshal "experts" to support their dietary doctrines. And it was really, really hard for them to eat together.
Ultimately, Bratman realized that the irony was that the pursuit of ideal health through diet was making him (and others) profoundly unhealthy. He writes:
The need to obtain food free of meat, fat and artificial chemicals put nearly all social forms of eating out of reach. Furthermore, intrusive thoughts of sprouts came between me and good conversation. Perhaps most dismaying of all, I began to sense that the poetry of my life had diminished. All I could think about was food.
While orthorexia is not an officially recognized disorder (and thus it's hard to know how prevalent it is) in some ways it's merely the logical progression of the food anxiety that many, many people experience. I'll come clean and confess that I once found the pursuit of dietary purity and righteousness very compelling. I was convinced that honoring God with my body meant a devotion to principles of dietary goodness and health and ecological soundness—and I fervently believed that eating organic was a question of justice, too, which, of course, it can be. Problem was, I was getting more than a little picky about what I ate, and more than a little judgmental, too. Too many food rules can make it hard to love your neighbor.
Ultimately, a rules-based approach to food misses some of the most important things about food: that it is a gift of God to be received with gratitude and pleasure, and that food brings people together. It's no accident that Jesus gave us a meal by which to participate in being his body and blood: sharing a meal, in every culture, is a sign of community and belonging. Drinking the cup and eating the bread allows us to participate, somehow, in the life of God in Christ, but it also connects us to one another, and that's a kind of connection that doesn't happen only around the communion table. It happens every time food is shared.
Do some foods testify more clearly to the goodness of God by virtue of having been produced in ways that honor God's creation, God's creatures, and God's people? Certainly. But there remains that dietary 'perfection' is elusive, if not entirely illusory, and that our lives are much more than the food that sustains them.
Bratman tells the story of being offered a piece of processed cheese by an elderly gentleman, Mr. Davis, who he'd been caring for. To Bratman at that time, this food was total poison. But Mr. Davis would have been insulted by his refusal. Bratman writes:
"I chewed the dread processed product. To my great surprise, it seemed to have a healing effect. My cold symptoms disappeared within an hour. It was as if my acceptance of his gratitude healed me."
This is neither to endorse processed food, nor to say that anyone who follows a certain diet will end up having a pathological obsession with food. It's just that there's more to God's gift of food than its ability to confer health. It's a sign of love—of God's love for us, of our love for one another, and if there's anything we can say about love, it's this: love has no room for fear,and interferes with all rules.
Rachel Marie Stone lives in Greenport, New York. She blogs on food and faith at EatWithJoy.org. Her book, Eat With Joy: Redeeming God's Gift of Food, is forthcoming from InterVarsity Press in 2013.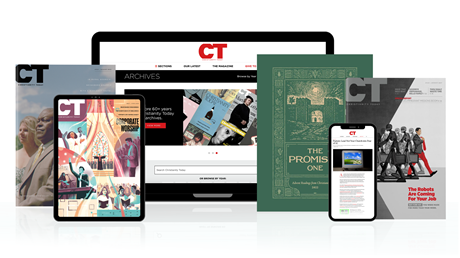 Subscribe to Christianity Today and get access to this article plus 65+ years of archives.
Home delivery of CT magazine
Complete access to articles on ChristianityToday.com
Over 120 years of magazine archives plus full access to all of CT's online archives
Subscribe Now
The Dark Side of Healthy Eating: Diagnosing 'Orthorexia' Eating Disorders
The Dark Side of Healthy Eating: Diagnosing ...