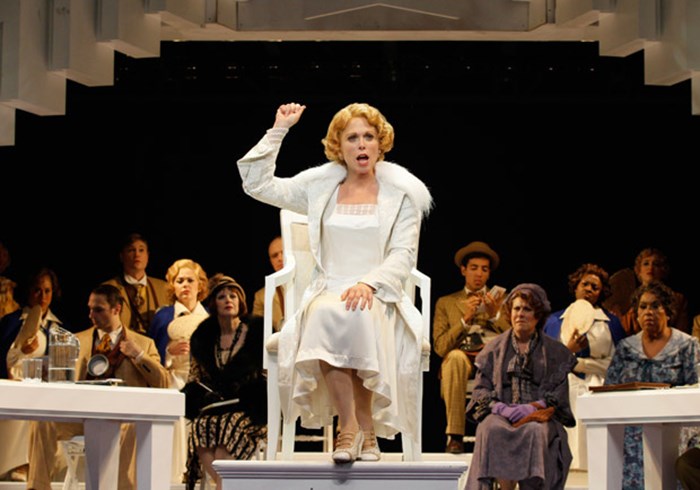 Broadway openings often feature a first—the debut of a new star, the premiere of a new playwright's work. On Thursday, theatergoers at the opening night performance of Scandalous will witness a never-before-seen trifecta.
Scandalous: The Life and Trials of Aimee Semple McPherson is the first Broadway musical about the showbiz-savvy revivalist whose ministry was rocked by scandal in the 1920s. It's also the first Broadway show with a book and lyrics written by Today show co-host Kathie Lee Gifford. And it marks the first time the Foursquare Foundation, which supports Pentecostal ministries, has invested in a Broadway show.
Whether Scandalous will become a financial or critical success remains unclear, but Gifford, who has worked on the musical for 12 years, said it's a story well suited to Broadway.
"Billy Graham would make a very bad musical," she said in interview. "I consider myself blessed to know him as a friend, but Billy's life is scandal-free. Aimee's wasn't. Aimee was a very theatrical person."
While McPherson may be known for allegations that she faked her own kidnapping, she was nonetheless a pioneer. She began traveling the country and leading revivals before women had the right to vote. Her Angelus Temple in Los Angeles was an early megachurch. She was one of the first women to receive a broadcast license, hobnobbed with celebrities and appeared briefly on Broadway in the 1930s.
The church she founded in the 1920s grew into The Foursquare Church, which now claims almost 8 million members worldwide.
"McPherson was the most famous evangelist or revivalist in the 1920s, '30s and '40s," said Matthew Sutton, author of Aimee Semple McPherson ...
1