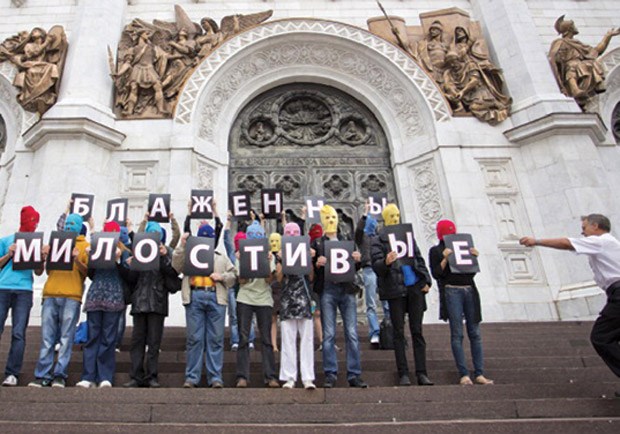 Image: Yevgeny Feldman / AFP / Getty
In February, Pussy Riot, an all-female Russian punk band, entered Christ the Savior Cathedral, the largest Orthodox church in Moscow. They disrupted the service and staged a mock "punk prayer." "Virgin Mary, Mother of God, put Putin away," they sang, adding, "Virgin Mary, Mother of God, become a feminist, become a feminist, become a feminist." They were arrested, tried, and found guilty of "hooliganism motivated by religious hatred." In August, they were sentenced to two years in prison.
Not since Aleksandr Solzhenitsyn was sent to Siberia has the West paid so much attention to anything on the Russian cultural scene. Pussy Riot has been extolled as champions of conscience and free expression in the tradition of Joan of Arc and Martin Luther. Support for the band has ranged from secular media elites and aging artists like Madonna and Paul McCartney to the U.S. State Department. Why did this punk prank become a catalyst for international protest?
The concept of sanctuary embedded in Western law means that sacred space should be protected space.
First, those who believe in democratic reform within the former Soviet Union find little to cheer in the increasingly brutal government of Vladimir Putin. Second, the cozy ties between Putin's state and the Russian Orthodox Church hamstring the church. With all due respect for the Eastern tradition for church-state relations, the Russian Orthodox Church will not become a real voice in civil society until it disentangles itself from state power. Finally, there is the legitimacy of dissent itself. Yet something else is at stake that ought to concern followers of Jesus, something violated by Pussy Riot's antics and almost ignored by their cheerleaders in the West: the sanctity of sacred space.
Orthodox writer Frederica Mathewes-Green explains why so many Orthodox Christians saw the punk band's stunt as sacrilege and not just protest. For many low-church evangelicals, worship in an auditorium or barn is just as good, maybe better, than in a cathedral. Jesus' statement that "where two or three are gathered together in my name, there am I in the midst of them" (KJV) makes every place of worship the Holy of Holies.
But the Orthodox see the iconostasis and the altar, before which the punk band performed, as a consecrated place of divine encounter. The band didn't just show disrespect for Jesus and his mother, which ought to concern Christians everywhere. Their performance was also an act of religious aggression against believers who had come to pray in a place of sanctuary. As Article 18 of the Universal Declaration of Human Rights puts it, "Everyone has the right … to manifest his religion or belief in teaching, practice, worship, and observance."
Pussy Riot's disruption was even more unconscionable because of the particular church in which it took place. Christ the Savior Cathedral holds a storied place in Russian history. Built to celebrate Napoleon's retreat from Moscow in 1812, the cathedral was finally dedicated in 1883. During Joseph Stalin's bloody suppression of the Orthodox Church, the cathedral and its beautiful icons were deliberately destroyed. The Communist worldview had no place for images of Jesus, his mother, and the saints. When plans to erect a giant statue of Vladimir Lenin at the site failed, the lot was abandoned, and later, during the Khrushchev era, became a swimming pool. In the 1990s, however, the people of Moscow raised funds to rebuild the cathedral, which was consecrated in 2000.
In part, this explains the deep devotion felt for this sacred place and the gravity of the offense. The concept of sanctuary embedded in Western law means that sacred space should be protected space. In 1978, the Illinois Supreme Court allowed neo-Nazis to march openly through the streets of Skokie, Illinois, but it did not grant permission for them to shout anti-Semitic slurs in the local synagogue. Nor should anti-Muslim fanatics be permitted to derogate the Qu'ran within a mosque. Jesus drove the moneychangers out of the temple but he did not cast aspersions on his mother nor defame his heavenly Father.
Nearly everyone agrees with Russian prime minister Dmitry Medvedev that Pussy Riot's punishment does not fit their crime. Surely there is a place for leniency in this story. But what the punkers did, and where and how they did it, should not be celebrated—or overlooked. Mathewes-Green has suggested that community service might be appropriate for the offenders. Perhaps they should collect the stories of Orthodox believers who survived the labor and prison camps of the Soviet era, or perhaps they should be required to sit contemplatively for 10 hours before the icon of the sorrowful, weeping mother of Jesus. If sacrilege no longer has any meaning in a culture, neither will sanctuary. And soon the sacred square will become as "naked" as the public square, and that will be to the detriment of both.
Have something to add about this? See something we missed? Share your feedback here.
Contra Mundum
Charles Colson was the founder of Prison Fellowship Ministries, an outreach to convicts, victims of crime, and justice officers. Colson, who converted to Christianity before he was indicted on Watergate-related charges, became one of evangelicalism's most influential voices. His books included Born Again and How Now Shall We Live? A Christianity Today columnist since 1985, Colson died in 2012.
Timothy George is the dean of Beeson Divinity School at Samford University and a member of Christianity Today's Editorial Council. His books include Reading Scripture with the Reformers and Is the Father of Jesus the God of Muhammad? Like Colson, George has been heavily involved in the Evangelicals and Catholics Together discussions. George began cowriting "Contra Mundum" with Colson in 2011.
Previous Contra Mundum Columns: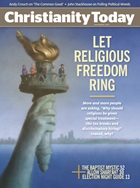 This article is from the November 2012 issue.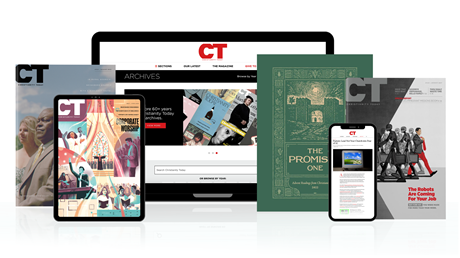 Subscribe to Christianity Today and get access to this article plus 65+ years of archives.
Home delivery of CT magazine
Complete access to articles on ChristianityToday.com
Over 120 years of magazine archives plus full access to all of CT's online archives
Subscribe Now
Sacrilege Is Real
Sacrilege Is Real