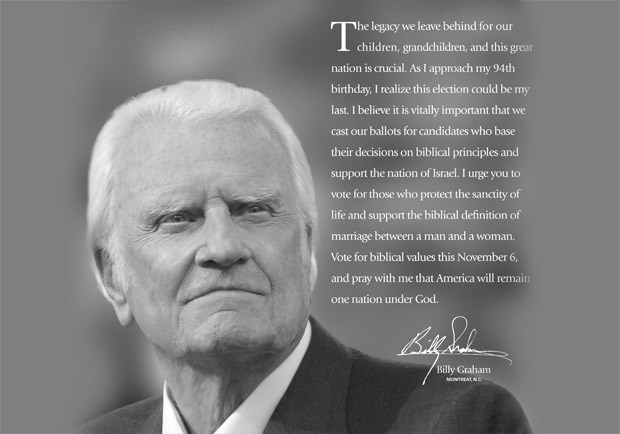 The Billy Graham Evangelistic Association (BGEA) launched a major ad campaign last week encouraging Americans to "vote for biblical values" this November.
The ads convey one of two messages from evangelist Billy Graham:
The legacy we leave behind for our children, grandchildren and this great nation is crucial. As I approach my 94th birthday, I realize this election could be my last. I believe it is vitally important that we cast our ballots for candidates who base their decisions on biblical principles and support the nation of Israel. I urge you to vote for those who protect the sanctity of life and support the biblical definition of marriage between a man and a woman. Vote for biblical values this November 6, and pray with me that America will remain one nation under God.
Or:
On November 6, the day before my 94th birthday, our nation will hold one of the most critical elections in my lifetime. We are at a crossroads and there are profound moral issues at stake. I strongly urge you to vote for candidates who support the biblical definition of marriage between a man and woman, protect the sanctity of life, and defend our religious freedoms. The Bible speaks clearly on these crucial issues. Please join me in praying for America, that we will turn our hearts back toward God.
The ad campaign is the latest in a series of public statements this year that have prompted questions on whether they truly reflect Billy Graham's concerns or whether they were initiated by his son Franklin Graham, who has been more outspoken than his father on political matters in recent years.
Earlier in the week, the BGEA removed an article listing Mormonism as a "cult" from its website. The move came after Graham welcomed Republican presidential candidate Mitt Romney at his home and reportedly promised, "I'll do all I can to help you." (An official statement followed.)
In July, Graham pledged to participate in former Arkansas governor Mike Huckabee's "Chick-fil-A Appreciation Day" when restaurant chain president Dan Cathy's comments on marriage drew a media firestorm. And in May, Graham urged North Carolina residents (in full-page newspaper ads) to vote for a state constitutional amendment on marriage.
In a press statement, the BGEA said the new ads "intentionally do not mention any candidate, political party, or contest, urging instead for readers to cast votes for candidates, at all levels, based on their support for biblical values. [Billy Graham] recently expressed a desire to publicly call America back to God and to prayer, and to draw attention to moral issues that are clearly addressed in the Bible and have increasingly become part of a national political dialog."
But Graham himself has earlier expressed wishes that he'd been more politically neutral and nonpartisan throughout his ministry.
When asked by CT in 2011 if he would "go back and do anything differently," Graham, whose relationship with President Richard Nixon drew considerable controversy, replied:
I also would have steered clear of politics. I'm grateful for the opportunities God gave me to minister to people in high places; people in power have spiritual and personal needs like everyone else, and often they have no one to talk to. But looking back I know I sometimes crossed the line, and I wouldn't do that now.
Similarly, in a 2008 CT interview, Graham said,"I'm not making any [political] endorsements, and I'm staying out of partisan politics. I'm grateful for our system of government, and I strongly urge people to vote—but I don't endorse any candidate."
After the 1984 presidential election, Graham told CT that baldly partisan political lobbying in many of America's churches has exacted a price, and explained that even the perception of partisan political activity weakens his credibility as a preacher.
Do Billy Graham's recent ads and statements really mark a siginificant departure for the evangelist? CT asked three experts: William Martin (author of the Graham biography A Prophet With Honor), Michael Hamilton (a historian of the evangelical movement and Graham's influence), and Graham spokesman A. Larry Ross.
It May Be Franklin, Not Billy, Speaking
William Martin is the author of A Prophet With Honor: The Billy Graham Story
I have been repeatedly surprised this year by the active political involvement of Billy Graham, Franklin Graham, and, by extension, the Billy Graham Evangelistic Association (BGEA). After realizing that he had been cynically manipulated by Richard Nixon and his aides, resulting in a stain on his ministry that has never fully faded, Billy Graham resisted joining the Religious Right in the late 1970s and warned religious leaders "to be wary of exercising political influence" lest they lose their spiritual impact.
The BGEA has produced full-page ads bearing Billy Graham's iconic visage and signature alongside copy urging voters to support "those who protect the sanctity of life and support the biblical definition of marriage between a man a woman." The ads appeared in USA Today, The Wall Street Journal, and newspapers in battleground states, with smaller versions sent to churches to insert in their Sunday bulletins. Billy Graham representatives note that the ads do not mention a specific candidate or party—an observation intended more for the IRS than for the target audience. Given that former Gov. Mitt Romney opposes same-sex marriage and President Barack Obama supports it (and by doing so, has—to use Franklin Graham's words—"shaken his fist" at God), the ads leave no doubt about their intent. To clarify matters further, Franklin Graham wrote an article in the October issue of Decision explaining "Why Evangelicals can vote for a Mormon," and the BGEA website deleted a long-running item identifying Mormonism as a cult. The explanation offered for the latter action was that the BGEA did not want "to participate in a theological debate about something that has become politicized during this campaign."
In addition to my surprise that Billy Graham would explicitly offer his support to a candidate, particularly at this late stage in his life, I am even more surprised that homosexuality (to speak of issues that have become politicized during this campaign) would be the issue that would bring him back into the political arena in such a public way. I have heard Franklin Graham use the well-worn observation "It was Adam and Eve, not Adam and Steve," always getting the desired laughter and applause. His father Billy Graham has said more on the subject than Jesus did, but homosexuality was clearly not an obsession for him. "I think that the Bible teaches that homosexuality is a sin," said Billy Graham on 20/20 in 1997, "but the Bible also teaches that pride is a sin, jealousy is a sin, and hate is a sin, evil thoughts are a sin. So I don't think that homosexuality should be chosen as the overwhelming sin that we are doing today." At a conference the same year, he said, "There are other sins. Why do we jump on that sin as though it's the greatest sin?" And on another occasion, he said, "In my judgment, [it's] not that big."
The increasing acceptance of homosexuality as a normal variant rather than a deviant choice is obviously troubling to many people, but it is difficult to understand why they appear to be even more threatened by the specter of homosexuals wanting to form stable, legal families. And given the relative weight assigned to themes in the Bible, how did economic injustice and concern for the poor lose out to homosexuality as the causes for which "values voters" should be most concerned?
Because of Billy Graham's reentering the political arena "out of due season" and focusing on a topic that was never central to his ministry when he was active, some have suspected that Franklin Graham has steered his father in this direction, perhaps against his will or at least without full enthusiasm. Skeptics, notably including former BGEA employee and Billy Graham admirer Steve Knight, wonder if Billy Graham actually even made the pro-Romney statements attributed to him or had much to do with the advertising campaign.
Franklin Graham is said to have turned away reporters seeking direct confirmation or clarification from Billy Graham himself, on the grounds that his father's infirmities make that impossible. They do not, however, make half-hour visits with presidential candidates impossible. Louisville Courier-Journal veteran religion writer Peter Smith has suggested that Billy Graham's legacy will be best served, or at least the record set straight on the matter, if a small group of trustworthy reporterswere permitted to spend a few minutes with the revered evangelist, "conducted with whatever reasonable accommodations are needed for his deteriorated health and hearing." Without posing any threat or burden on Billy Graham, they should be able to determine the extent of his participation in and commitment to the efforts to make same-sex marriage a determining issue and Governor Romney the only presidential candidate a Christian can support in this election.
As a biographer who has closely tracked Billy Graham's career for more than 30 years, this strikes me as an excellent idea. If requests for direct communication with Billy Graham continue to be declined, then perhaps we can decide, as one person who has followed his ministry even longer than I has put it, "to remember him as he was for most of his ministry."
The Statements Certainly Reflect the BGEA
Michael S. Hamilton is chair of the history department at Seattle Pacific University.
Billy Graham has long been a registered Democrat and has supported politicians on both sides of the aisle. In the 1980s and 1990s, he declined to embrace the Religious Right. The exposure of Richard Nixon's corruption made Graham wary of future involvement in political partisanship, and he privately warned leaders of the Religious Right to stay away from politics.
His son Franklin, however, has had close relations with leaders of the Religious Right, and has been much more willing than his father to openly identify with their agenda. In the 1990s, Franklin and his father began working together more closely, with Franklin becoming CEO of the Billy Graham Evangelistic Association (BGEA) in 2000. That same year, Franklin shepherded his father into a meeting with George W. Bush where the elder Graham all but endorsed the Republican candidate.
Recent press releases issued by spokespersons for Mitt Romney's presidential campaign and for the BGEA seem to be de facto endorsements of Romney; and the BGEA's new "Vote Biblical Values" campaign repeats the slogans of the Religious Right in a way that Graham himself has never done before—at least not before the death of his wife and recent health problems left him all but incapacitated. This may represent a change of views on the part of a frail 93-year-old man. Or they may represent the views of his son, who is now president and CEO of the BGEA. Since Graham himself no longer speaks in public, we simply cannot know for certain.
So while it is possible that Graham has recently changed his approach to politics, it would be more responsible for the media—and readers—to treat these statements as the position of the BGEA rather than the position of Graham himself. In a January 2011 interview with Christianity Today, Graham said one of the things he would have done differently in his life is that he "would have steered clear of politics. … Looking back I know I sometimes crossed the line…. I wouldn't do that now."
Billy Graham Is Truly Involved With These Statements
A. Larry Ross has served as Graham's director of public relations since 1981.
I don't think one can make the assumption about any sudden changes relative to Billy Graham. Throughout his public ministry spanning more than six decades, the evangelist has been careful to remain non-partisan, but has been a consistent advocate for a biblical worldview and taken a strong stand for biblical values with respect to political issues.
During this time, a number of political leaders and candidates have stopped by to visit Billy Graham in his home as their travels would bring them to the region, including President Obama in April 2010 and Sen. John McCain while the presumptive Republican presidential nominee prior to the 2008 campaign.
Though Billy Graham's warm, cordial meeting with Gov. Mitt Romney last week was the first time the two men had ever met, it stemmed from his longstanding relationship with Romney's father, former Michigan Gov. George Romney, whom Billy Graham knew well. As with his other political visitors, the evangelist maintained his usual pastoral role, focusing on the spiritual state of our nation and the world.
During Romney's 30-minute visit—which also included Franklin Graham—the men discussed a wide range of topics, including broad issues affecting our society in general and the faith community in particular. At the close of the meeting, in response to his query about what he could do to help, Billy Graham provided spiritual support by offering a prayer for the governor, his family, and our nation.
Despite physical limitations that come with his life stage (such as macular degeneration, hearing loss, and limited mobility), evangelist Billy Graham is a productive 93-year-old (who turns 94 on November 7) with an active mind who continues to enjoy good general health and remain engaged in the overall ministry that bears his name. He is working on another book that will likely come out next spring, and is still involved with his syndicated newspaper column, "My Answer."
The full-page ad campaigns sponsored this year by the Billy Graham Evangelistic Association (BGEA) are consistent with both the corporate mission of the organization and Billy Graham's personal methodology throughout his public ministry.
Billy Graham's quotations incorporated into the layouts are not driven by timely issues, but rather are an extension of the timeless message of the Gospel he faithfully preached to crusade audiences around the globe for more than six decades.
In the years since his last public crusade, Billy Graham has been increasingly burdened by society's moral decline and the need for renewal in our culture and revival in the church. Because he considers the institution of marriage as the cornerstone of society, he is opposed to any redefinition of marriage—which he sees not as a political issue but rather a matter of religious freedom. It is one of the foundational moral concerns of our time, about which God has clearly spoken in Scripture.
The first campaign in advance of the North Carolina primary included Billy Graham's quotation, "At 93, I never thought we would have to debate the definition of marriage." For decades, the evangelist's biblical stance on marriage was never controversial, as it is consistent with the position currently held by most fellow Evangelical pastors, and a view maintained by every culture—and every religion—around the world for more than 5,000 years.
At virtually every one of his crusades, the evangelist held a "Family Night" during which he preached a sermon on the home. Billy Graham's message hasn't changed, but obviously our society and culture have—which is his concern. His expressed support of the traditional family from a moral and theological perspective only became political after President Barack Obama made his views known the day after the primary.
The second "Vote Biblical Values" campaign is also consistent with Billy Graham's personal posture to diligently and consistently remain politically neutral and non-partisan throughout his public ministry.The ads are a similar extension of the strong stand for the biblical position on moral issues that Billy Graham emphasized in his preaching and encouraged other Christian leaders to take for more than 60 years. He is challenging citizens, particularly the faith community, on how to vote, rather than for whom to vote—not in the context of either political party, but rather the Kingdom of God.
Throughout his inclusive ministry, Billy Graham has stood as a paramedic, rather than a policeman, for the Kingdom of God. He is an optimist who brings a message of hope, not despair, because he serves a God of second chances who wants to invite people to heaven, not send them to hell.
(Editor's note: Material in the third response has been rearranged and augmented by its author.)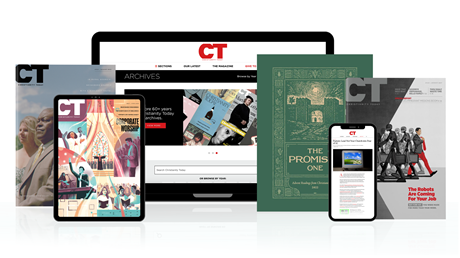 Subscribe to Christianity Today and get access to this article plus 65+ years of archives.
Home delivery of CT magazine
Complete access to articles on ChristianityToday.com
Over 120 years of magazine archives plus full access to all of CT's online archives
Subscribe Now
Has Billy Graham Suddenly Turned Political?
Has Billy Graham Suddenly Turned Political?